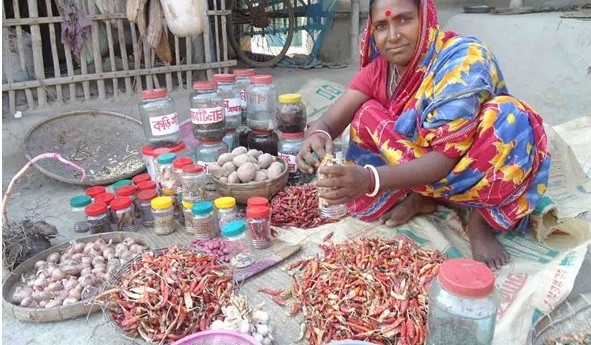 Alpona Rani Mistri and her sparkling journey
---
By Pavel Partha
"Gachpala, mati, pani, pakhi, goru sob niyei amader grameen sangsar. Eikhane ekjoner kothe bhable hoina, sobar kotha bhabte hoi. Ei shiksha ami amar gram theke paichi. BARCIK theke ami atmabiswas paichi, amader goriber je nana sampad ache seita niya kibhabe bhalo bhave kaj kora jai seita bujhte parchi. Ami ekhon bhalo achi, amake dekhe gramer onek nari ekhon eibhabe bachte shikhche. Amar swami dinmajuri chere ekhon amar sathe krishikaj kore. Ami bujhte parchi manushke nijei nijer poribortoner daitto nite hoi, nijer shaktike abiskar korte hoi''.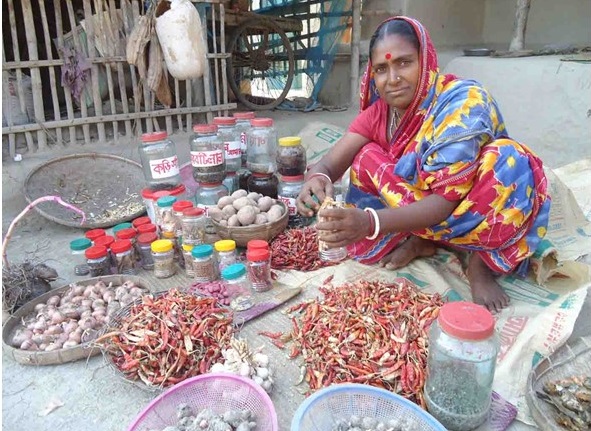 (…. 'plants, soil, water, bird, cow we are all parts of our rural family. It is not possible to live well without anyone. I learnt this idea of pluralism and inclusion from my surroundings. BARCIK helped me to strengthen my confidence and facilitated to explore our resources in our so-called poor family. Now I'm happy with my family and everyday am trying to draw my dream drops. There are many poor women in my village who are motivated from my story and already started their sustainable integrated farm. My husband also is involved in my farming from his previous day labor work. Now I feel that all people have their own strength and can change their life if they take their responsibilities. I learnt that I can do something for myself, for my family, for my community, for my village and also for my society. Once upon a time I was a poor neglected women but now I'm doing something for a real social change'')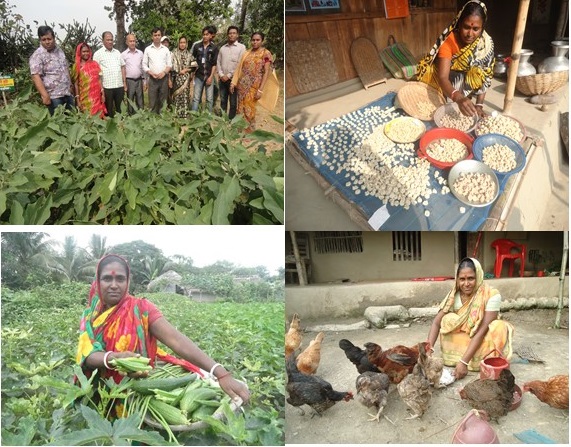 Alpona Rani Mistri (45) a rural innovative farmer is living in the extreme saline zone in Bangladesh. Her Village Dhumghat under Iswaripur Union of Shyamnagar Upazilla of Satkhira District is one of most vulnerable areas due to climate induced disaster. She was born in a rural poor farming family and got early marriage. It is very difficult to survive for a four member family without any permanent income. When Alpona entered into her conjugal life her husband already lost their inherited land property. Alpona started to grow something in her homestead garden. Lastly her husband was involved as a day labor and occasionally migrated from her family. Alpona was also occupied as a day labor in share cropper's rice field. In 2009 they lost their houses and everything for devastating cyclone Aila. Not only agro-land also their 33 decimal homestead land was affected by saline water.
Own resources and confidence
Alpona started to cultivate some vegetables in her homestead after Aila but faced local seed scarcity and organic inputs. In 2012 she participated in a village agro-biodiversity fair facilitated by BARCIK. She communicated with farmer organizations facilitated by BARCIK and received some local seeds of different crops and received also some organic farming process. She then developed an integrated agricultural plan and started her journey in her 33 decimal homestead land.
Innovation and adaptation
Alpona Rani is proving her skill and confidence day by day. Not only production she is trying to search climate adaptive crop varieties and also resilient farming techniques. She has started an experiment on bean diversity and also uncultivated food conservation. Now she is growing seasonal vegetables in organic way and raring livestock. She has planted rare trees, medicinal plants and fruit trees in her surroundings. She is producing vermi-compost and botanicals and selling to other farmer. Alpona is one of the pioneers to introduce energy saving friendly woven in her village. Now her village is also renowned for as `friendly woven village''. Alpona is also practicing traditional healing and helping the poor people with free primary healthcare.
Recognition and Rejection
Alpona was recognized as an inspiring farmer for the first time in a public program organized by BARCIK. Already she got national agricultural prize from the Honorable Prime Minister, crest from agricultural department, national women award and lots of regional and national recognition. Firstly she is recognized by her family member and her husband also returned back home and left his day labor work. Now they are practicing their sustainable family farming. Alpona has organized rural women and formed a women change maker group in her village. Agricultural department already acknowledged her contribution and process and involved her as a trainer in their organic farming training. Alpona has empowered herself and taken lots of trainings and participated in different activities arranged by BARCIK. She is now strongly rejecting hybrid seeds and chemicals and exchanging local seeds and organic techniques to other women. Alpona is now challenging the market driven chemical agriculture and helping rural families for their organic farm expansion. Local government and local administrations are also giving her space in their different decision making process. She is treating as an iconic sustainable farmer character in the national media of Bangladesh.
happy wheels 2