Nutrition Bank (Shoto Bari) fulfills rural people's nutrition need
---
Muktar Hossain from Harirampur, Manikganj
Along with her husband, Sanjida Begum of horihordia village under lechraganj union in harirampur almost whole day busy with agriculture. They are working hard but looking cheerful and quite enthusiastic. They are using every corner of courtyard properly, cultivating varieties of seasonal vegetables. Sanjida is the main actor of this initiative. She is cultivating various vegetables, producing seedling, conserving seed along with other agriculture related work. Sanjida has made her house exemplary wealthy in agriculture.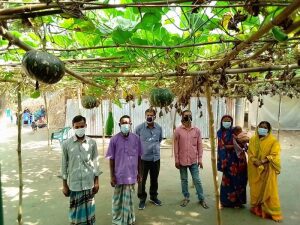 Sanjida said "I am growing almost every type of seasonal vegetables and have different fruit trees in my premises. We are living in char; every year flood makes the land of char very fertile. We are using cow dung and organic-insecticide. So, we have good production with low cost. Vegetables and other crops of char have good demand for their nutrition value and market price is high. Shoto Bari will contribute a lot to fulfill people's nutrition.'
She also said, 'In my house premises I have cultivated potol (a vegetable) in 33 decimals of land. I have made macha (bamboo frame to climb creeper) to climb potol plants. My land is not affected by flood; so, every week we are harvesting 2 mons (80kg) potol and sell it for TK 1800-2000 per mon. Farmers of Gangadhradi, Baliachar, Nutunhat, Notakhola, Baniajuri-Manikgonj, Ghior, Bathimuri and Mohammadpur-Dhaka collected seedlings from me and cultivated potol.'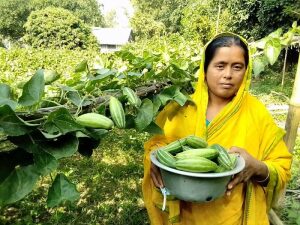 However, during this pandemic situation BARCIK has facilitated farmers, women and community people to make the proper use of their lands leaving nothing uncultivated. The initiative called Shoto Bari (Hundred houses as BARCIK targets to transforms 100 hundred houses as nutrition banks in each its 4 working areas). In that process a discussion was held with the enlisted farmers of Shoto Bari at Horihorodia village. Bimal Roy coordinator BARCIK Manikganj discussed about the importance of nutrition sensitive agriculture and mentioned that BARCIK has selected 100 farmers' houses as 'Shoto Bari' in Manikganj. He mentioned that Shoto Bari is rich in agrobiodiversity , where famers should grow plenty of diversified seasonal vegetables and fruits; have cow, goat and poultry. These food productions are contributing to marginalized people's nutrition need and also ensure safe food for them.
Selected farmers of Shoto Bari have taken measures to make their home as a model. Farmer Lutfur Rahman thus said, 'Round the year I am growing different vegetables such as potol, eggplant, chili, tomato, potato. I cultivated potol in highland beside my home. I have mango, jackfruit, guava, pani fol, wood apple, pomelo tree. I am also cultivating rice and wheat. There are pigeon, goat, cow, chicken, duck in my house. My family mostly depends on our own agriculture production rather than market. I request everyone to make proper use of every inch of their lands to meet nutrition demands of us all.'
Translated by Rumaisa Samad
happy wheels 2