By Md. Alamgir, from Netrakona
Introduction
Hawa lives at Ramjibanpur village of Swarmushia union under Atpara sub-district of Netrakona with her 5 family members. She was born in 1968 at Giduria village and studied at nearby Madrasha up to 8 grade. She married Kobir Hoessien of Ramjibonpur village after the completion of 8 grade. The courageous initiatives of Hawa Akter has supported and made the rural people brave. Under her leadership an organization of landless community was formed at Giduria village in 1985. Some landless community got government land allocation as result of her movement. The leadership quality of Hawa Akter amazed rural people and they dare to dream.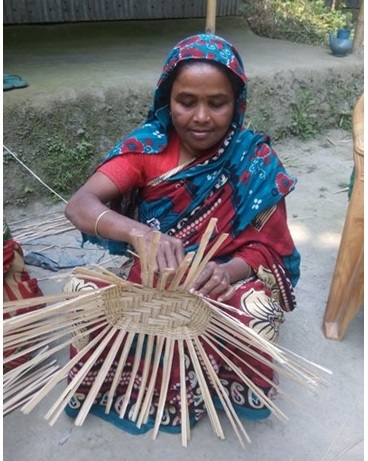 This success has also motivated her to do something for marginal women. Thus after her marriage she took some initiatives at Ramjibon village to build the confidence of marginal women. She realizes that due to having no cash in hands the women seldom could fulfill their wish. Thus, she motivates the marginal women to get involved in bamboo cane works for earning cash. BARCIK provided materials support to make the dream of the women true. The marginal women then got involved in this small cottage industry to change their luck. In order to make their initiatives more dynamic with the leadership of Hawa Akter these women formed 'Habada' an organization of women cottage industry in 2005 with the involvement of 25 households of Ramjibonpur village.
The dynamic leadership of Hawa Akter
Hawa Akter in order to lead the organization successfully divides the village into 4 blocks and assigned the skilled women to oversee the activities of the organization. Hawa Akter herself was involved in village police training to ensure security of the village people. The village people though never like a women to get involved in village police activities yet Hawa Akter took this challenge by performing her duty sincerely. Including leading Hababa Hawa Akter does extend helping hand to Swarmushia Union Parisod by facilitating family disputes, being member of the standing committee of women and children welfare, takes part in social forestation and becomes member of Netrakona district people's coordination committee. In addition, she is a trained midwife, human right activist and active member of BARCIK's Netrakona Resource centre's management and monitoring committee. He raises her voice in each of the committee's meetings to establish marginal women's right. She said, 'The boys and girls of villages should have equal rights, opportunity and dignity so that they could grow up confidently. This will play role to wipe out gender discrimination and helpful for building a pluralistic society where all are treated equally in the society.
Hawa Akter is a social worker
Hawa Akter has become a brave and skilled social worker through her series of social works such as facilitating to resolve family dispute, standing beside the helpless women, helping women to fight for their rights and motivating women to improve their livelihood etc. So far, she helped 73 pregnant women to give birth of their children, stopped many early marriages, played important role to help poor students getting education materials and stipends, helped marginal women getting access to government and NGOs skill development training, helped 70 poor women receiving sanitary latrines with free of cost from the government, provided midwife training for 25 women, facilitated to arranged health and vaccination camps at villages, helped 100 women to become members of government's different committees, helped 50 women to get VGD and VGF and she provided supports to different marginal and poor communities so that they could have access to different private and public facilities and services available in the area. She always thinks of the welfare of the marginal women that leads her to stay and stand beside them during their needs. Her initiatives and caring attitude has earned her respect and trust of the marginal women in her locality.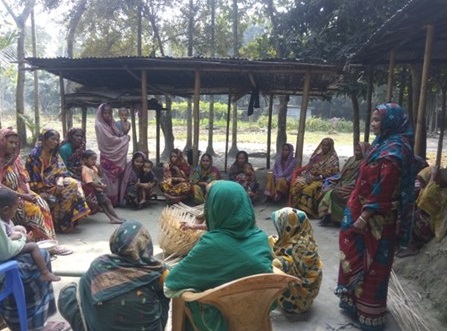 Hawa Akter is presently works as village police at Sarmushia village where she prioritizes the security of women and children. She always stays and stands beside the poor and marginal women during the crisis. Thus. Hawa Akter is not only known to her family members and villagers but also to the other people in other villages. She has become and living example for establishing marginal women's rights.
Translated by Silvanus Lamin
happy wheels 2