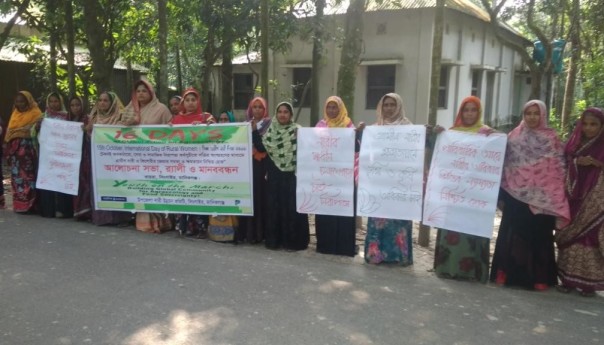 Respect rural women, recognize their contribution
---
By Silvanus Lamin
BARCIK observed international rural women day on 15 October with different types of activities in its working areas. The main message of this day in 2019 is 'Rural women and girls building climate resilience'. It is true that the rural women and girls, through their low carbon life and livelihood have been building climate resilience. The activities and life related actions of the rural women and girls seldom emit carbon rather through practicing sustainable life and livelihood they have been contributing to combating climate change. BARCIK recognizing their roles and contribution in diverse ways of life and livelihood, has been making effort to empower them and raise their confidence to solve and address their own problems and concerns through adopting People led development approach in facilitating development endeavor. Thus, the rural women and girls in the working areas of BARCIK are now able to address their own problems, they are confident and have the knowledge and experience to claim their rights. The observance of different national and international days and event along with this international rural women days has reflected their increased confidence and capacity.
Recognize women's contribution
The women in Satkhira area with facilitative role of BARCIK observed the international rural women day with the demand to recognize rural women's contribution in the society and state. Meena Rani Modal thus said, 'We the rural women work hard both inside our house and outside. We have more than two folds of workforce compared to the men but our works have never been seen as productive one. We are involved in food production, rearing livestock, taking care of kids, cooking, conserving different plants and herbs as well as other household works.'

'But our works have never been recognized by the male members in the society. We sleep only 3-4 hours a day and have to get ourselves engaged in different works. She added. She went on saying, 'Working as day labor in the field and do the same works as men do but we are not the paid the same as men have been paid. We have been deprived from everything. So, it is time to recognize our contribution.'
Rural women the conservers of biodiversity
The rural women of Rajshahi to mark the international rural women day arranged cooking contest in Tanore of Rajshahi with the support from BARCIK where uncultivated plants are the main cooking ingredients. The UNO of Tanore attended in the event as chief guest. The participants in the cooking contest collected the uncultivated plants, which they have been conserving for years as foods and medicines, for the contest to let others know that these plants have nutritional and medicinal values. The women mainly participated in the cooking contest and displayed different types of foods menu to the other participants in the events.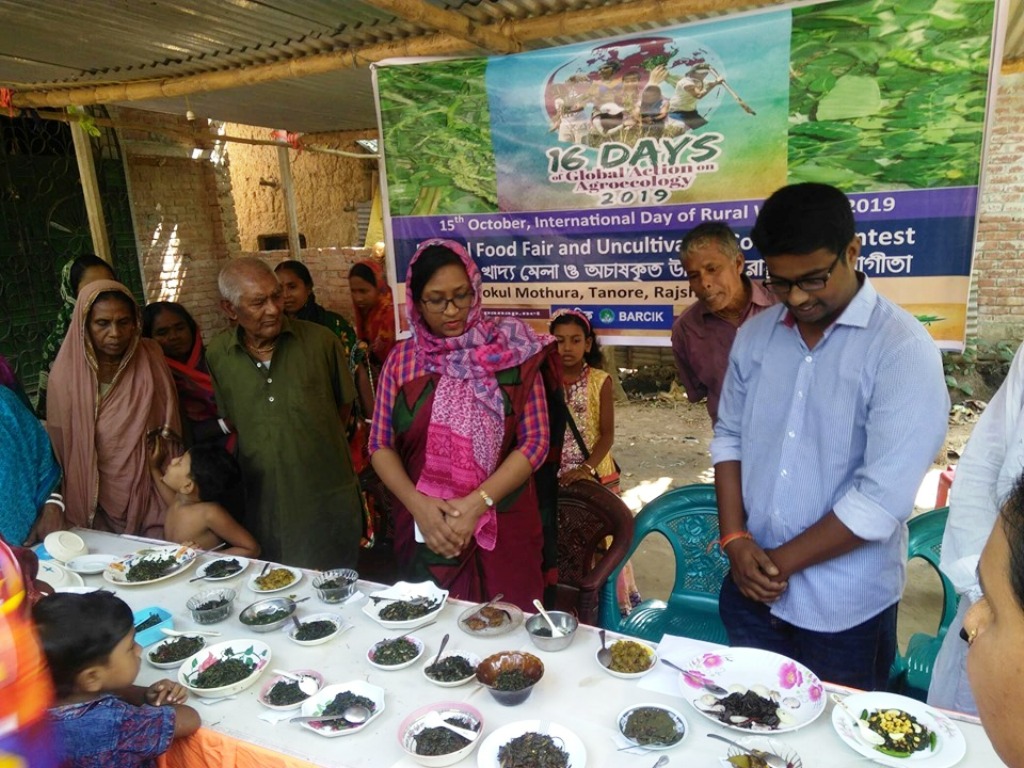 The people who do not know regarding the food value of these plants get the knowledge regarding the food value of these plants and learn the technique to cook these plants to consume as foods. They also learn that these plants are not grass and they need to conserve these plants to ensure food security as well as safe food for themselves. The UNO (Upazila Nirbahi Officer) Nasrin Banu said, 'These plants are the safest foods. The chemicals and pesticides used in food production have almost made our life miserable. But these uncultivated plants are free from chemicals and pesticides and these plants have both nutritional and medicinal values. Therefore, we need to conserve these plants to save ourselves and the nature.'
Rural women deserve respect and recognition
The rural women in Manikgonj with the facilitation support from BARCIK organized different activities that include: rally, human chain and discussion to mark the international rural women day. They urged the state authorities, social leaders and other concerns state departments and agencies to take initiative respecting rural women and recognize their works and contribution for the society and state development. Including grassroots community's women who gained success and achievement in their life participated in the events to encourage and inspired the grassroots rural women who are striving to establish their rights and access to different services and facilities either provided by state or private service delivery agencies. District women development committee Shamima China while delivering her speech as chief guest of the event said, 'If women have the will they can work both at home and outside of their home. I am the burning example of this. I was the victim of early marriage but I worked hard in my family and have been succeeded in making my position in the society. This has been happened due to my sincere effort and fearless attitude. I have to tackle all the hindrance to come into this position.' 'Women have to find their own ways to establish themselves in the society.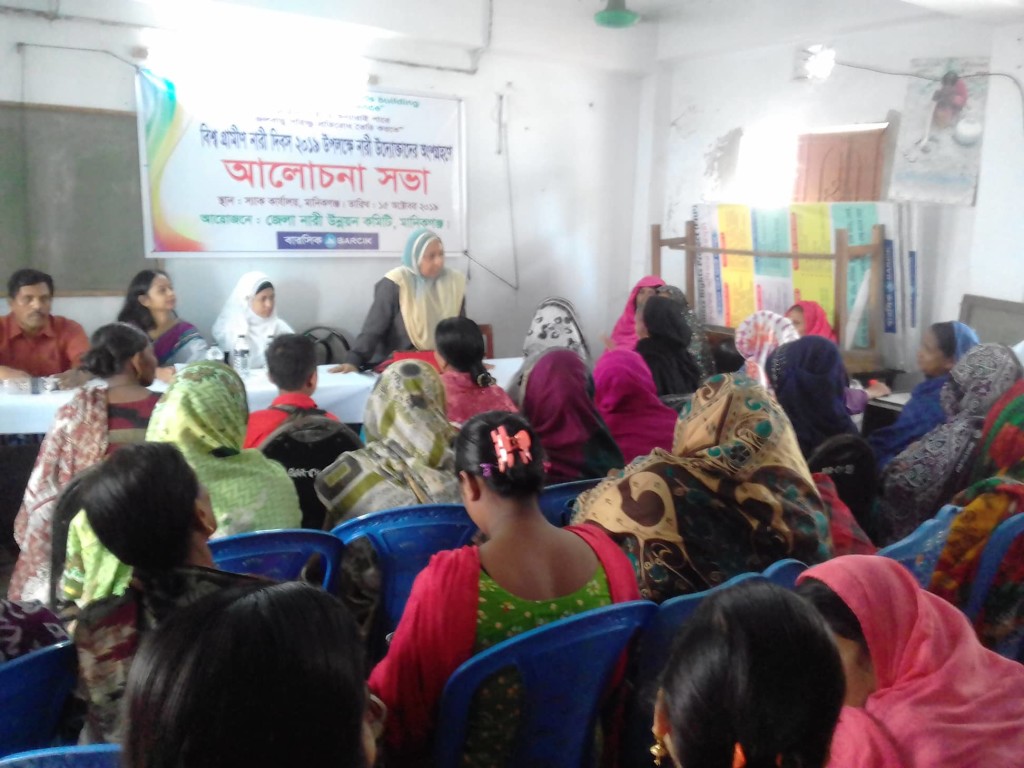 They have to be curious and eager as well as will to fight for their rights. When you are socially and economically sufficient and solvent your husband and male members in the society respect you and will recognize your contribution.' She added.
 Conclusion
Women can do anything if they are committed to their will and eagerness. There might be barriers and hindrances but the self-determination will earn them success and recognition. Many women both in rural and metro life have proved this. However, having said that it does not mean that women do not want congenial environment for themselves. The rural women in Bangladesh, particularly need friendly environment to flourish their dream and utilize their unique skills and knowledge for their own and state development. Both rural and metro women have to face many difficulties when they take initiative to do development works for their own and the society. They sometimes do not have access to state and private services and facilities that could help them to make difference in their life and family. In fact, women many times are deprived and oppressed because of their being women. There are many good works and outstanding development have done by women but they do not get their deserved respect and recognition for their works and contribution. Rural women have been making lot of progress in fighting climate change and its negative impacts that resulted in natural disasters.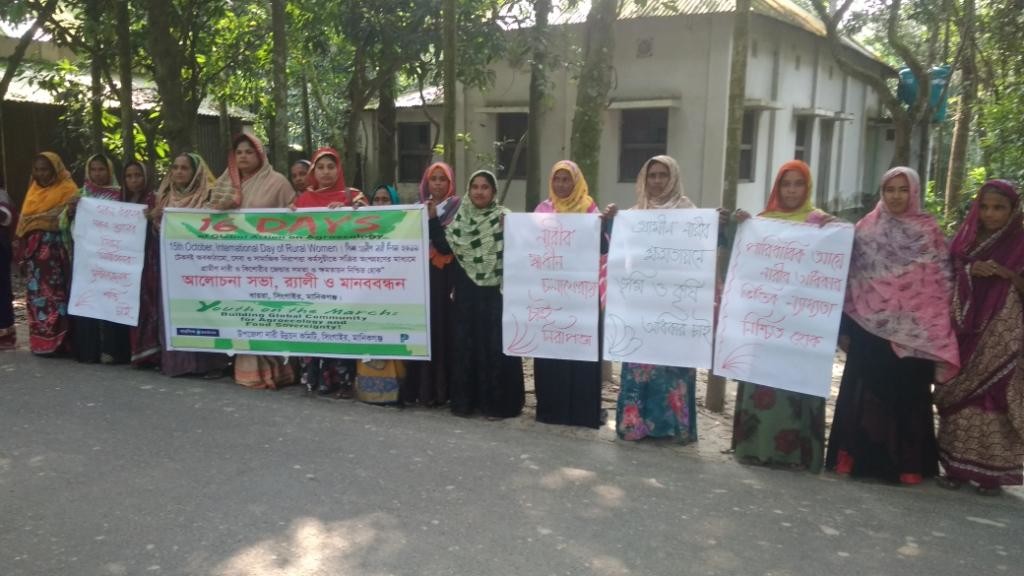 Thus, it is the responsibility of the state as well as ours to create friendly environment for women so that they could make more progress and development in their life and society. We should respect them, recognize their contribution and inspire them to become change makers of their life without depending on others.
happy wheels 2