Without you it's difficult to cope with disaster
---
BARCIKnews desk:
Bangladesh is disaster prone country but the people of Bangladesh have the capacity and skill to cope with disasters. Natural disaster like floods, cyclones, storms surges, droughts, sea level rise, early flood, flash floods and thunderstorms and manmade disaster have created more vulnerable situations in Bangladesh. Disasters do not only damage biodiversity, eco-system services and human beings but also displace a large number of people who migrate from rural to urban slums and engage themselves in risky jobs and create pressure on urban resources. The female, older, indigenous people and physically challenged people face severe vulnerable situation due to disaster induced migration. Related government ministries, departments, local governments, NGOs, local administration of Bangladesh have been working to manage the disasters risks. Nevertheless, the disastrous early warning systems and preparedness are not functioning properly at community level. On the other the community people are not much more aware on early warning systems which are also causing climate vulnerability of community people. The post disaster activities of Bangladesh do not consider the different eco-systems, culture and local demands. The coastal cyclone centers of Bangladesh are not developed gender friendly and do not have enough spaces for livestock also. Due to social structure change and climate induced migration, the local knowledge and practices are not disseminating among the new generations.
As a result, the new generations will face severe problems on indigenous knowledge based natural resource management, services, facilitations and coordination mechanisms in future. Non-government development research organization BARCIK has been exploring, incorporating, and facilitating indigenous knowledge based participatory natural resource management considering local needs and demands and coordinating among related departments, local governments, CBOs, youth organizations, volunteer organizations, cultural organizations and Medias for greater platforms. BARCIK has been facilitating "Peoples led Development Program" (PLDP) in Manikganj, Netrakona, Rajshahi and Satkhira with the support of Misereor-Germany and Diakonia-Sweden, though the ecological conditions and livelihoods are different and the dynamics of disasters and coping strategies are also different in four areas. BARCIK has been trying to incorporate local level disaster related successful story in the national level disaster management strategies and policy frameworks for sustainable disaster management. In consonance with it strategy and stance, BARCIK recently took initiative to create awareness among the community people about the negative impact of disaster through observing international disaster mitigation day in its working areas where people of all stakes, government officials, civil society members, journalists, youths and students participated. Following is the gist description of the event observed in different working areas of BARCIK
Rajshahi
With the slogan 'We need you to mitigate disaster' international disaster mitigation day' was observed in Tanore, Poba and Godagari sub-districts of Rajshahi where people of almost all stakes participated and shared their views in regard to mitigate disaster.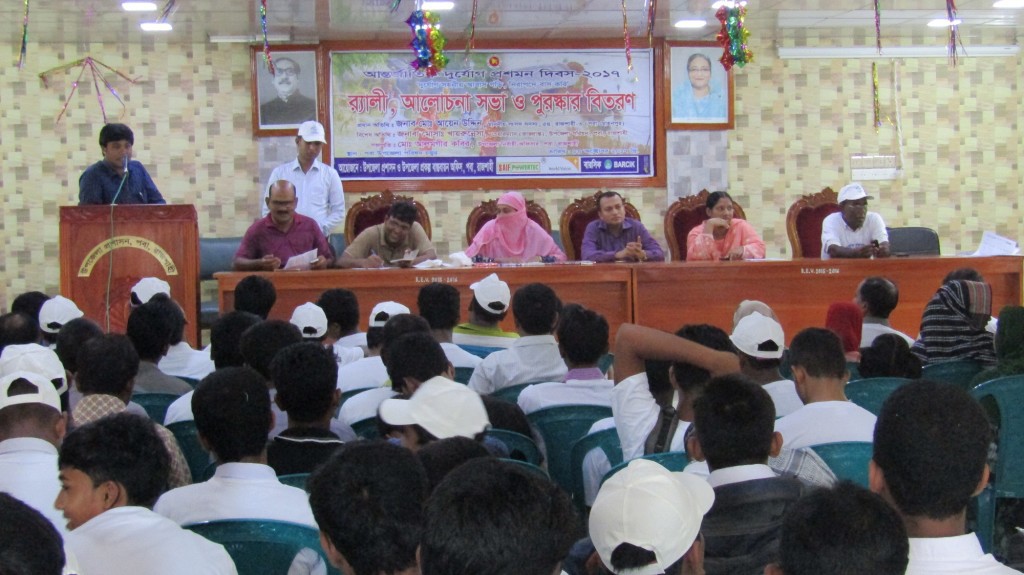 The upazilla administrations of the 3 sub-districts along with assistance from BARCIK organized the event successfully. Activities carried out to mark the day as well to create awareness among the students and other stakes of people include: drawing competition among the students of different secondary schools in the areas, palm tree plantations, discussions and rally. Students who participated in the drawing competitions portrayed the impact and mitigation process of disasters in their drawing.
Manikgonj
International disaster mitigation day was observed in Ghior, Singair and Sadar sub-districts of Manikgonj on 13 October, 2017. Government officials, representatives of different NGOs, school and college students, and teachers, journalists, women, cultural activists and farmers participated in the event and shared their concerns and views regarding mitigating disasters in the discussions and dialogues arranged on this day.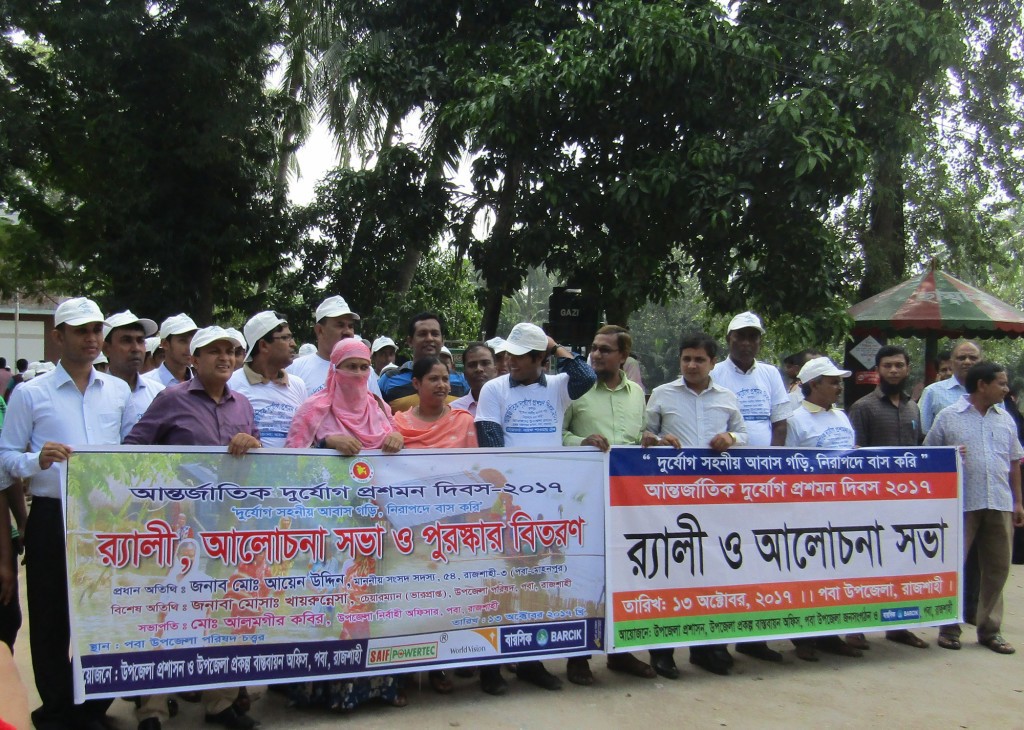 Besides, the cultural activities presented different songs to the participants with the view to create awareness among people about the negative impacts of disaster in the life and livelihood of the farmers and affected people. In addition, palm tree plantation was taken place with the objectives to protect people from different disaster as well as to strengthen the mitigation initiatives of disasters. Among other activities include cultural event, dialogue and consultation meeting.
Netrakona
International disaster mitigation day was observed in Atpara sub-district of Netrakona on 13th October, 2017. Union Parishod disaster management committee, Kadamtoli youth organization, Baghra farmer's organization, Janma Upazilla committee, Atpara education, culture and diversity protection team and BARCIK jointly observed this day.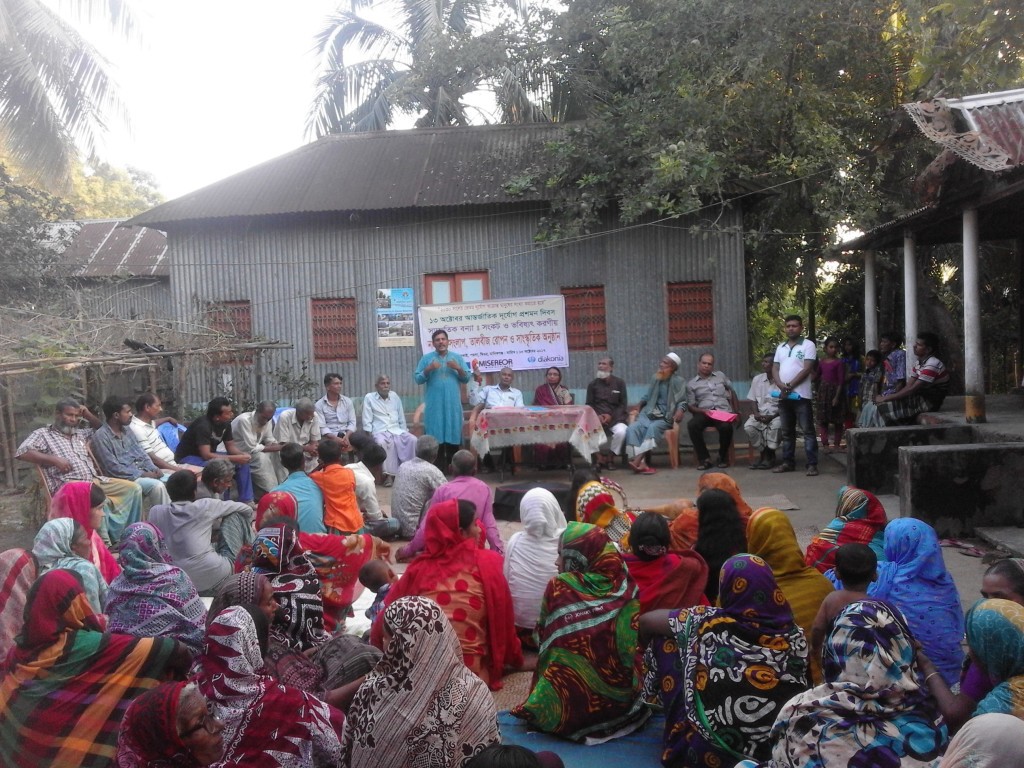 People comprise farmers, women, NGOs representatives, journalists, members of Union parisod, fishermen, youth and students participated in the event. An open discussion was arranged on this day to discuss regarding the role of women and men in mitigating disasters. The open discussion also focused on discrimination and equality between women and men. In addition, palm trees were planted in 3 kilometer distance of the area to mark the day successfully where all the participants spontaneously participated in planting palm tree seeds in road sides and fallow lands.
Satkira
International disaster mitigation day was observed in Shymanagar sub-district of Satkhira on 13th of October, 2017. With the slogan titled "Let us make disaster tolerant house and live safely" the Upazilla administration along other social organizations and NGOs jointly arranged different activities such as discussions, rally, and display of rural technique to mitigate disaster to mark the day successfully.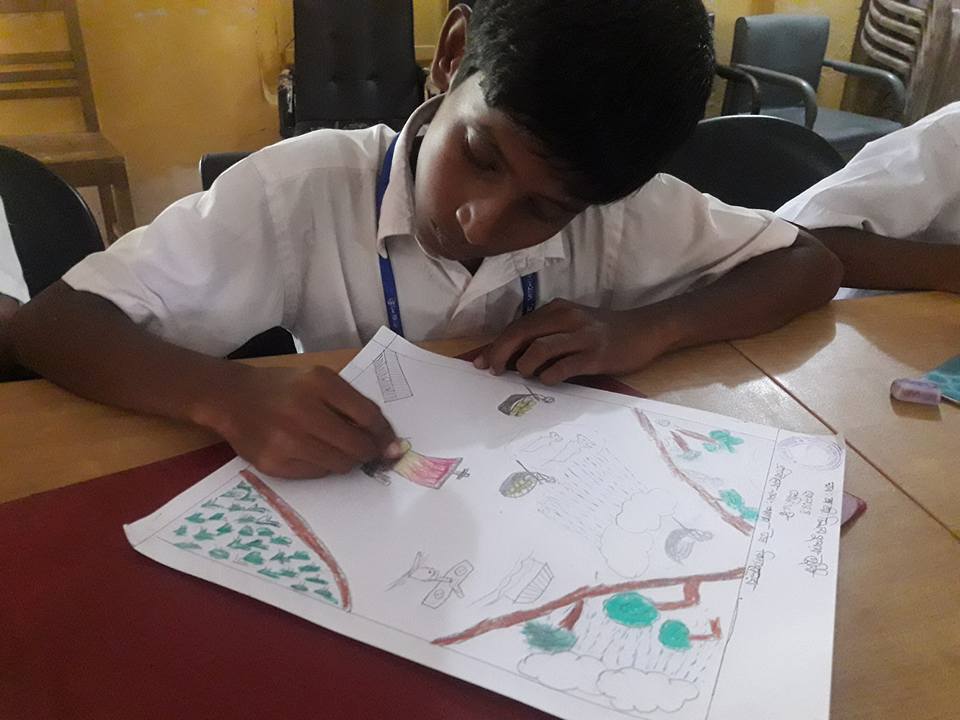 People of different occupations, women, students, teachers, farmers, representatives of government bodies, civil society members and journalists participated in different event arranged on this day and shared their views in regard to mitigate disasters.
Translated by Silvanus Lamin
happy wheels 2