Haor farmers got three varieties of crops suitable for the area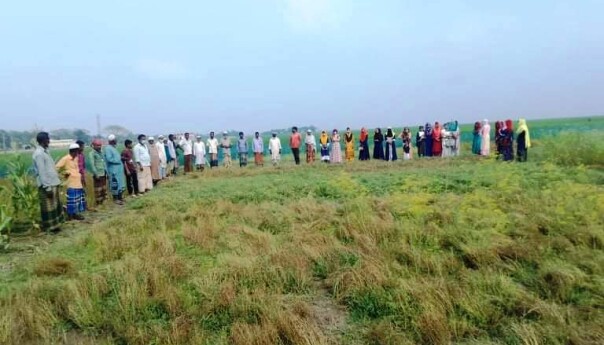 Haor farmers got three varieties of crops suitable for the area
---
By Suman Talukder from Madan, Netrakona
BARCIK organized field day at Gobindshree village of Gobindshree union, in Madan upazilla of Netrakona district where Upazila Extension Agriculture Officer Raihanul Haque, Deputy Assistant Agriculture Officer Didarul Islam,  and 35 farmers from 11 villages and neighborhoods of the two unions participated.
The Field Day was organized mainly through on-the-spot field inspection of crops, discussion meetings and selection of crop varieties. Addressing the farmers participating in the field day, Raihanul Haque said, 'BARCIK is conducting such research for the benefit of agriculture and farmers in the area. Haor farmers will benefit from the research if any suitable variety is found for the haor area. 'He added,' He further said, 'There are many benefits of cultivating Rabi crops to deal with the disasters (early floods, droughts, cold injuries) in the haor agriculture sector. Rabi grains are drought and cold tolerant and can be harvested long before the early floods, so there is no possibility of damage, can be cultivated at low cost. Pulses and oilseeds do not require much irrigation, these crops are drought and cold tolerant. So there is no problem in yield. Cultivation of diversified crops is essential for food security for all and for dealing with natural disasters. If one crop is damaged, the damage can be dealt with by another crop.' He advised the farmers to cultivate paddy as well as other crops on relatively higher lands instead of relying on single crop Boro paddy to deal with the disaster in the field of haor agriculture. He assured BARCIK that he would provide agricultural inputs and technology to the farmers as per his ability.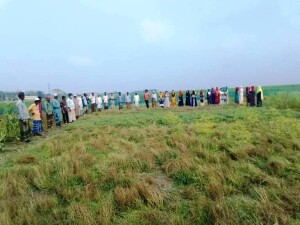 The participating farmers, including the Agriculture Officer, inspected the PVS (Participatory Varietals Selection) plots where 17 crops were grown under applied research. Farmers monitor the crop condition of the plot (tree condition, yield, disease-pests, fruit nutrition, etc.) and they selected 3 crop varieties (lentil, khesari and Beans) to farm in their lands in the next season. According to farmers, these three varieties of pulses yield well at very low cost, the farmers expressed interest in cultivating more pulses in the coming Rabi season and sought seed assistance from BARCIK and the Department of Agriculture.
Expressing gratitude to BARCIK, president of Gobindshree Balai Par Krishak Sangathan, farmer Zakir Hossain said, "BARCIK arranges a meeting in our village and advises the farmers to work for protecting their rights and present their views and demands to the concerned department. We have formed our own organization called 'Balai Parer Krishak Sangathan being guided and motivated by BARCIK. We have grown mustard in almost all the villages this Rabi season with the help of mustard seeds from BARCIK.' He went on saying, 'Mustard yield has also been good. By cultivating mustard, I got mustard yield as well as fuel. Those who have not cultivated mustard this time have also asked us to keep seeds for them so that they could cultivate in the next season.'
Earlier, at the beginning of the Field Day program, BARCIK representative Sumon Talukder greeted all the participating farmers, including the agricultural officers, and discussed the objectives of the applied research and research methods of Rabi season crops. He apprised the farmers on the importance of cultivating diversified crops in dealing with disasters in the field of haor agriculture and emphasized on the cultivation of rabi crops as an alternative crop to deal with the loss of paddy crop in natural disasters.
Translated by Silvanus Lamin
happy wheels 2