The future of Wooden Wheel is at stake
---
Iqbal Kabir Ranzu from Chatmohar, Pabna :
Human beings are affectionate to discover or invent new inventions since ancient times. The next generation is enjoying the advantages of their contribution to the development of civilization. The progress of civilization has led speed in slow life after the invention of the wheel, ever than before. But there has no documentary evidence that who and where the wheel was invented, first. It is assumed that the first wheel was discovered in ancient Mesopotamia almost five thousand years before the birth of Jesus Christ.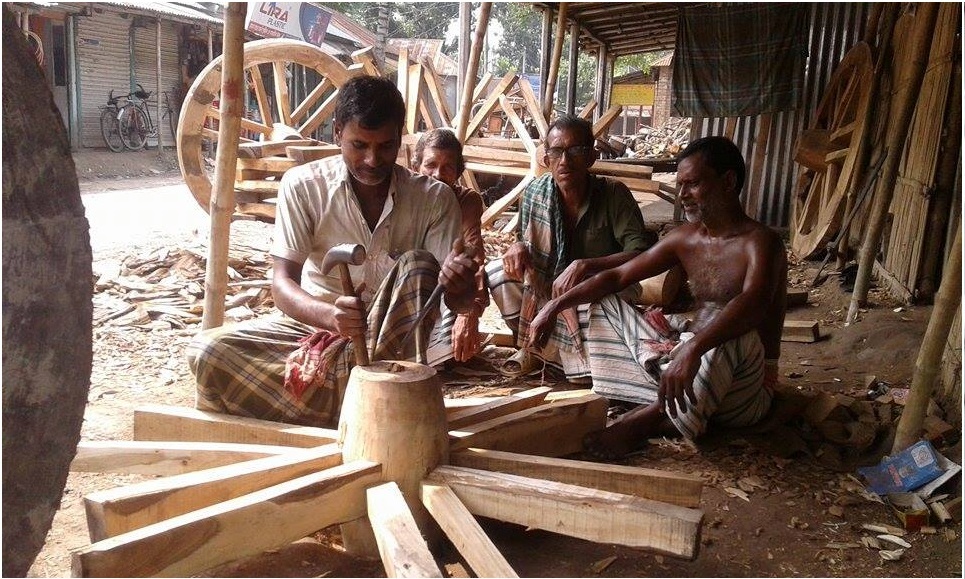 The use of the wheels is constantly expanding. In the fourth millennium BC, the circulation of wheels started in various parts of western Asia and Europe. The use of the wheel in mechanical work began in Egypt in 3 thousand two hundred years BC. In order to facilitate communication, the Scottish detector John Dunlop invented the motor supported wheel used in motor vehicles in 1888. Wheels are being used in various vehicles, including trains, aircrafts, wagons, automobiles, cows and buffalos pulling car, bicycles, rickshaws, vans, motorcycles, etc.
However, I went to Atlanka market of Mulgram union parishad, around 15-kilometer far from Chatmohor municipality to do research on wooden wheel's craftsmen recently. My objective was to know how are the fate of the wheels craftsmen running? On the way met a buffalo carrier Jamal. He was going to Atlanka market to build a pair of a wheel for his buffalo cart. The market is 20 kilometers away from Charpara village in Gunaigacha union of Chatmohar. Jamal Carrier said, "I have been running a buffalo cart for thirty years. The price of the wheels is increasing day by day. Earlier, many people in this area made wooden wheels, but now everyone left." He also said, "A pair of wheels lasted for two to three years. There is no wheel without `babla' wood.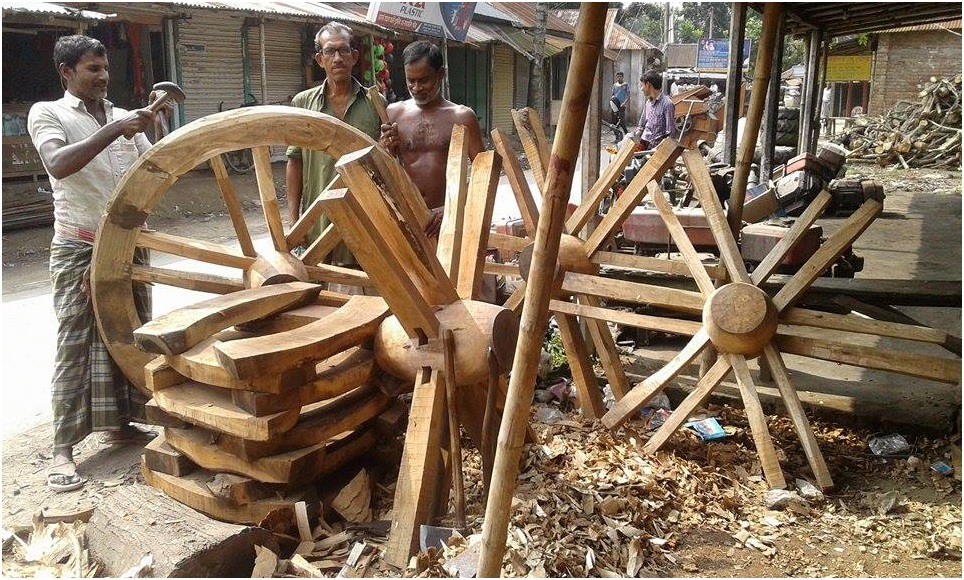 One or two wheels craftsman also make wooden wheels of nearby Jagatla of Bhangura upazila and kachikata and Canchkoir of Gurdaspur upazila. "He also said, "harvesting period of aman paddy is Kartik (7 month of Bengali calendar) month. Although limited cow and buffalo carts are still used to bring rice from the field. So during this time, the use of the wooden cow and buffalo carts increases slightly. Now to save time, people bring crops from rubber wheel cart, like Pickup, Lasimon, and Kariman." Through discussion him I reached the factory of wooden wheel craftsmen.
Mizanur Rahman (45) son of Mozaffar Hossain of Chakkunkhali village in Shibganj upazila of Chapainawabganj, a businessman, and craftsman of the wooden wheel. He made a factory at this market by renting a house. He also works in his factory. Besides, he has placed another worker for a monthly salary of nine thousand Taka. They made and sold the wheel together. He has been working for thirty-two years in this profession. Before this, he worked for two years in wheel making in Dhanughata area. He has been dealing  with cattle buffalo cartwheels for 15 years in Atlanka.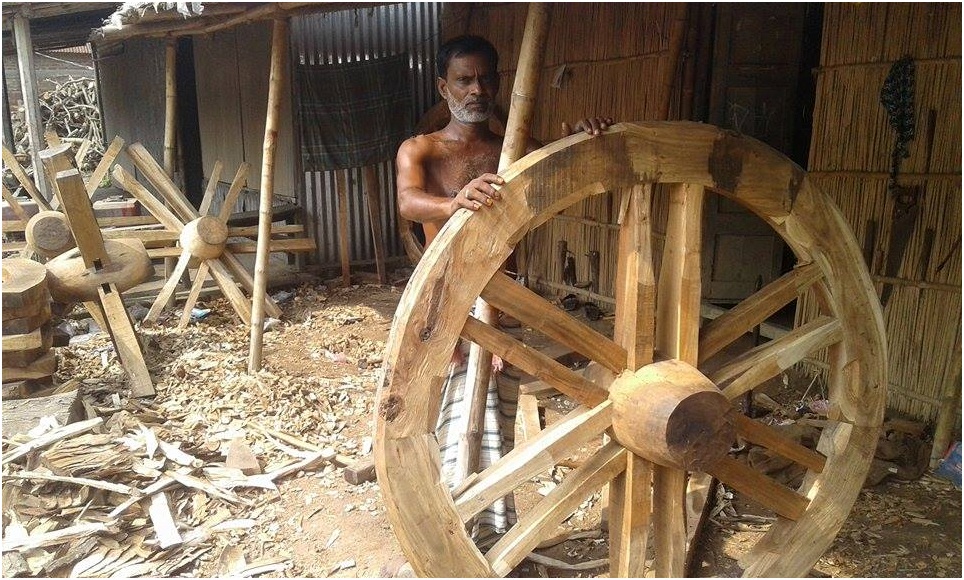 Mizanur said, "The main ingredients of the wooden wheel is 'babla' tree wood. I used to buy this wood from the villagers. Sometimes I buy from mill traders of Chapainawabganj.  At present, every CFT wood is sold at Taka 600. Eight to nine CFT wood takes to make a pair of wheels. A craftsman takes 6 days to build a pair of a wheel. If the cost of one's daily labor is Taka 300, then the labor cost comes after one pair wheel of Taka 1,800. The price of every pair of wheels is eight to eight and half thousand taka. Only seven to eight hundred taka would be of profit if I add labor value of myself."
He also said, "there are not many artisans to make wheel in Chatmohar area. Besides the demand for the wooden wheels has decreased more than the previous day. The demand for the wheel is increased in the rice harvesting season. Generally, we have work for 6 months from Chaitra to Joystha (last to the second month of Bengali calendar) and Kartik to Paush (seven to nine month of Bengali calendar). The rest of the time, I sold agricultural labor in the home area."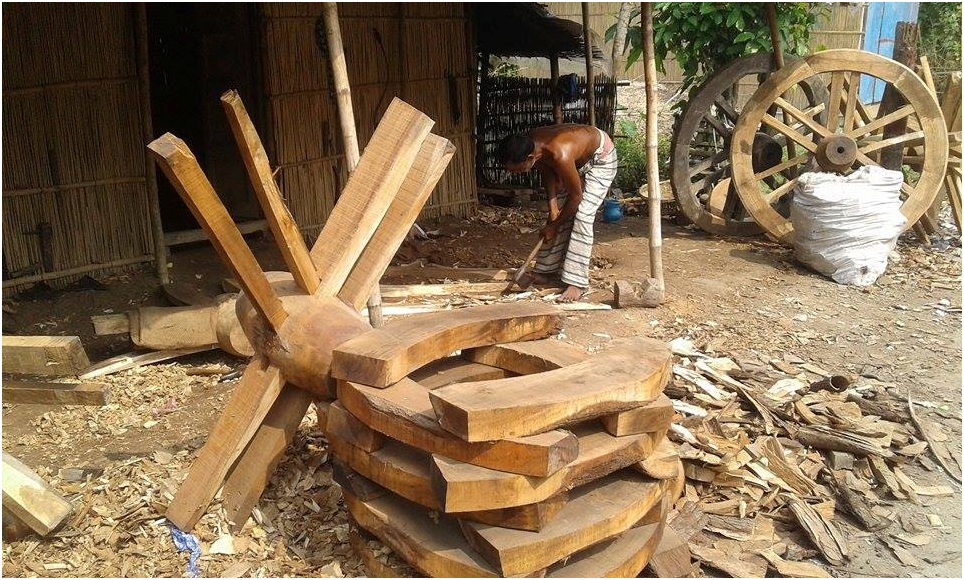 Mizanur Rahman further said, "We have been working in this area for many days. There is a contact in the area of mine. People come from far and wide to make wheels from me. I came from the house after the Eid-ul-Fitr. I have one son and one daughter. The eldest daughter Tania studies in class eight. Little boy Shihab studies in class four." He added, "My father had a house of 13 decimal land. We are three brothers. Each brother gets a little more than 4 decimals of lands. I live there with family. We take care of our mother severally. We worked tirelessly for day-to-day for raising our children. In all life is running somehow. In no way, the wheel of fortune is moving around ".
 "The house was in the stomach of the Padma, along with hundred decimal of land.  Now there is no own home. I'm in trouble. There is no land to build a house. Forced to take shelter at uncle's house. My family now lives there. For the last twenty-eight years, I used to work as wheel craftsman and do farm work in my own land. Now I work in this factory for six months a year. Daily payment is Tk 300. I Run an auto van for the remaining 6 months." Abdul Mannan Sarkar of Pallidah village in Lalpur upazilla of Natore, said how he is engaged in the wheel craftsman, how he is walking the wheel of his own life.
He added, "I have two daughters and one son. Elder daughter Maya Khatun got her marriage. Sumaiyya (12), the second daughter, studies in the seventh grade in high school. The younger son studies in a local primary school. My living cost is being maintained by the factory. Apart from me, another three-member in the house share the income. The daily family maintains cost is around 300 taka. All the money that is earned is spent. "
Eldest people said, two to three decades ago the wheel was created in different areas of Chatmohar. Nowadays, People are more interested in using the machine-driven vehicle to save time and labor. But in the area on the banks of Chalanbil, many farmers in this area still bring crops home from the field by using cow buffalo cart. The interest of using the old vehicle with wheels carried by cow and buffalo is decreasing and the machine driven transport is being intensified. Therefore, it is not possible to reduce the use of wheels. However, due to the problem of artisans and components of cow and buffalo cart, the future of this industry is now at stake.
–Translated by Bahauddin Bahar
happy wheels 2