Vermin compost enhances the nutritional fertility and production of crops
---
Iqbal Kabir Ranzu from Chatmohor, Pabna
A large farm has been built by 5 entrepreneurs named Progga Agro Enterprise on 100 decimal of land at Ichakhali village of Mathurapur union of Chatmohar, Pabna. Apart from rearing about 100 cattle, the vermin Compost is being made in 22 houses under a corrugate-shed building in this farm.  13 workers have been employed by this farm.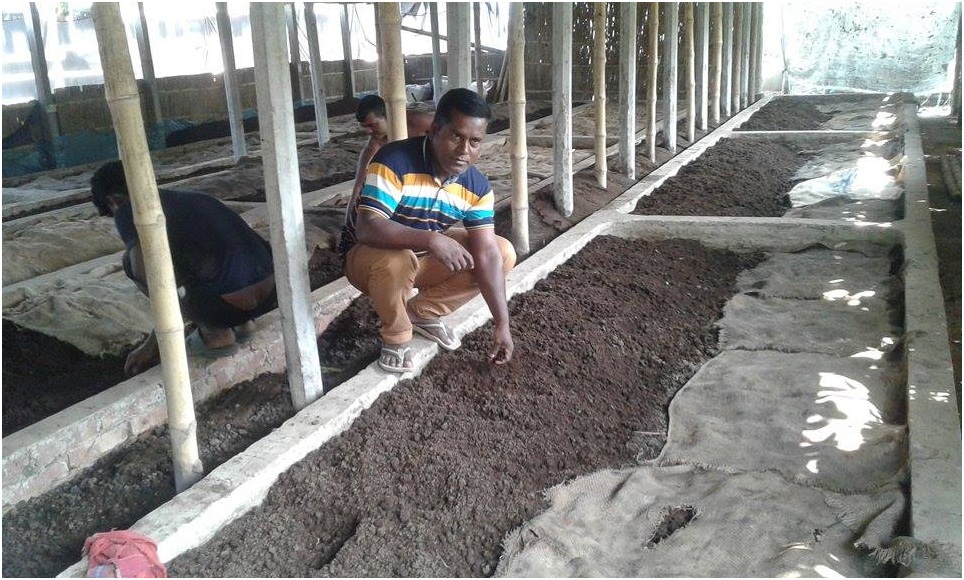 Chief Executive Officer of the farm Shamsul Alam said, "We have been preparing vermin compost in the farm since two years ago. Initially, we collected Thailand earthworms from Meherpur and Australasian earthworms from Bogra and started a limited amount of vermin compost production in five sanitary ring slabs on an experimental basis. We bought 10 thousand worms of Seven and a half thousands Taka." He also said, "the number of earthworms grow with Our experiences. We increase the number of the compost house day by day. Instead of the sanitary ring slabs, we created four feet by eight feet of a house. Department of Agricultural Extension of Chatmohar supervised this vermin compost production.  We sell our vermin Compost at 15 taka per Kg. Department of Agricultural Extension of Chatmohar, Bhanguura and Faridpur Upazila bought our vermin Compost and distributed among farmers." Shamsul Alam mentioned that besides this year, he sold three tonnes of fertilizers in Rajshahi. The farmers are motivated by agricultural offices as they are going to buy compost. The farm will produce at least 8 tonnes vermin composts this year.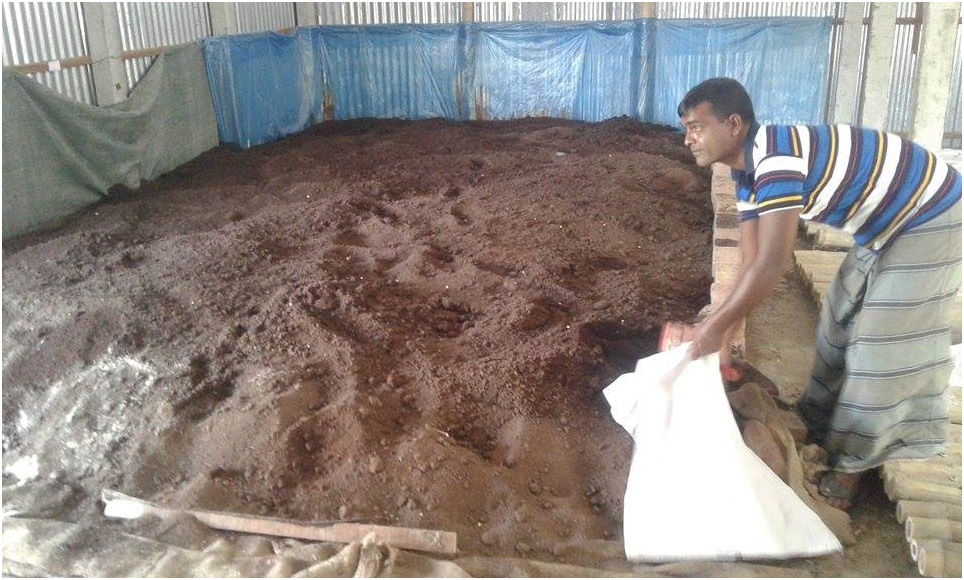 To make vermin Compost, cow dung is kept in the outer house for more than sixty days. Tyco derma is being sprayed with dung to be odorless and purified. After cleansing,  the worm is placed in the house with dung. One kilogram of worms in one house is about 25 thousand in number. Australia's worm is a little overweight due to its size. Earthworms naturally lay eggs in winter. Five to six earthworms have come out from each egg. The worm comes out from the egg from twenty-five to twenty-eight days. After one-month fertilizer was collected from the house. During this time, if there are raw eggs in the compost, it is separated by the use of raw dung under any other house. Paste top with raw dung. According to the size of the house, 400 kg dung is given in one house. About 180 kg vermin composts are found from a house in a month.
Manager of Progga Agro Enterprise Jahurul Islam said that, he himself achieved success by applying 150 kg vermin compost per 33 decimal to his garlic and paddy field. Farmers have been interested in using vermin compost as a result of better yields than other farmers. But due to lack of awareness and not the virtue of Vermin Compost, many farmers are still not using Vermin compost. It reduces the use of chemical fertilizers.
Vermin compost Assistant Mahitul Islam of the farm said that he has been working on the farm for two years. Water is sprayed, if the temperature of the house is increased due to high heat. In the rainy season sometimes the ants and large black ants can cause damage to the worms. Besides, rats, small bats and frogs are the big enemies of earthworms. Jewel Rana, another worker in vermin sector of the farm also helped him.
Many small entrepreneurs are encouraged to produce vermin compost to know the benefits of vermin compost. Fifteen small farms have started producing vermin composts recently under the supervision of the Agricultural Office of Chatmohar. Shariful Islam of Pachuria village of DBgram union is one of them. Highly educated youth Shariful said, "I am trying to get a job after passing B.com from Professor Boyen Uddin Degree College as well as giving private tuition to students. I started producing vermin compost in the first three sanitary ring slabs for applying our jute field.  A 250 gm worm has given in one ring slab. Wish to apply this vermin compost on vegetables and garlic field. The Department of Agricultural Extension has given all the costs and technology.  If I achieve success, then I have a plan to produce vermin compost on a commercial basis."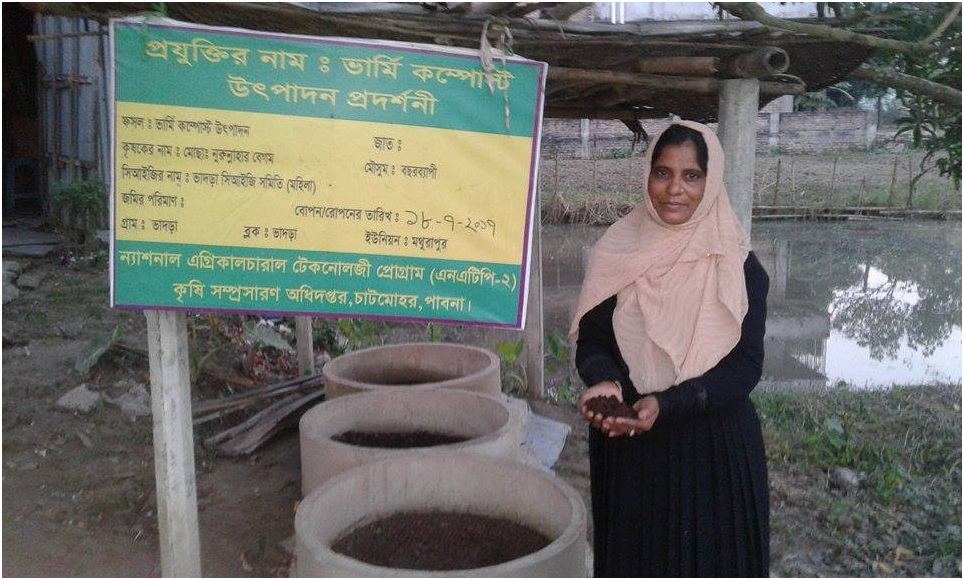 In the year of 2013, Nurunnunnahar Begum, daughter of late Jahir Mollah of Bhadra village, was elected as the best 'Joyita' in the economic category in Chatmohar upazila organized by the Women Affairs Department. After studying up to the ninth grade, there was no scope for further study due to different reasons. She got married in 1986. There are several sewing machines in her house. Few women work there. She also has cow and fish farm. Her son helped these things. Besides working as a training instructor of the Youth Development Department, she has been working experimental work in vermin compost production. Nurunnahar said, "I am a member of the CIG Association of Agricultural Offices. With the assistance of the office, I started vermin compost production in three sanitary ring slabs at the end of July. The Upazila Agriculture Office encouraged me to produce vermin compost. I got a good result by using vermin compost to my own vegetable field. Hopefully, I will start producing vermin compost in large quantities in near future. "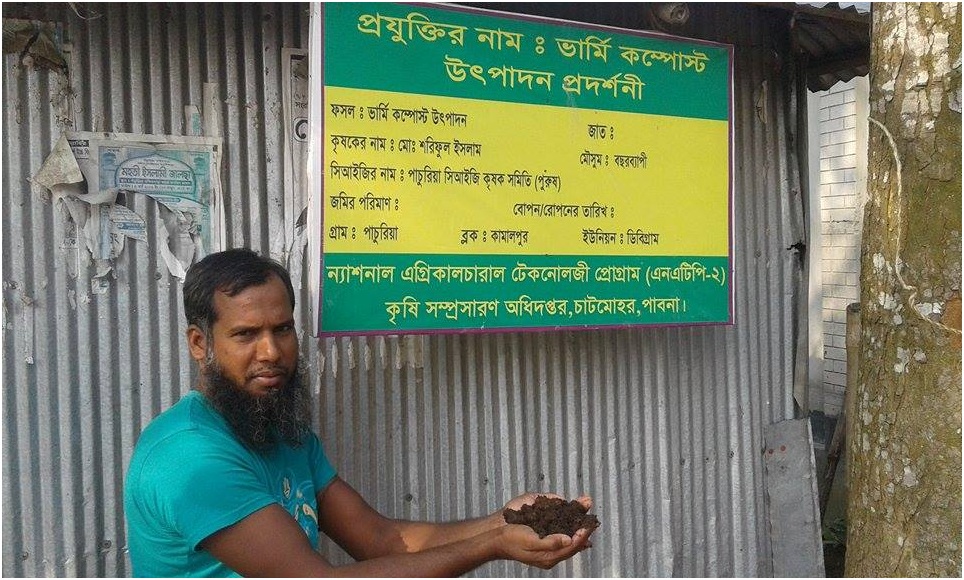 13 people like Shariful and Nurunnahar are producing vermin composts with the help of upazila agricultural offices. Though, farmers of Chatmohar have not yet been aware of the use of vermin compost. It is found that, some farmers still do not know what the vermin compost is! They are not aware of quality of vermin compost.
Assistant Agriculture Officer of Chatmohar Asaduzzaman said, "vermin compost can be produced from cow or buffalo dung, vegetables, garbage, spinach, paper, water hyacinth and even banana shells through the red worms called Eisenia fetida.
To reduce the use of chemical fertilizers vermin compost can be used as organic fertilizer, crops and trees. It increases the nutritional value of the crops, because vermin compost has 16 essentials elements for the plants. It increases the soil water capacity and thus absorbs less water. It also increases soil fertility. The compost controls the pH level of the soil. Because there is some cocoon inside the vermin compost, it increases the number of earthworms in the soil. Since earthworm is capable to increase the soil molecule; therefore, it is useful for plants. The use of vermin compost reduces the incidence of plant diseases. Vermin compost increases the physical-chemical and biological virtues of the soil.
-Translated by Bahauddin Bahar
happy wheels 2