Green energy and youth climate festival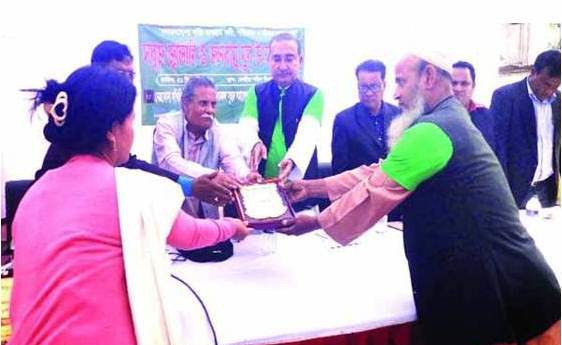 Green energy and youth climate festival
---
Khalilur Rahman, Netrakona Correspondents
 Green energy and youth climate festival was organized by BARCIK in collaboration with local youth and Samakal Suhrid Samabesh (youth wing of a renowned Bengali Daily news paper) on recently at Choto Bazar Shahid Minar (Monument of language martyr) premises of Netrakona district. The slogan of the program was "renewable energy for environment and safe life". The festival was inaugurated by Mr. Aziz Haider Bhyiyan, Additional Magistrate, Netrakona.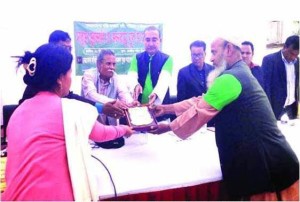 In the program, legendary columnist and researcher Mr. Jatin Sarkar said, 'Natural gas is a valuable national resources and plays a vital role in the economy of our country. Conservation of natural gas is running off gradually.' He added, 'Natural gas is a vital indigenous resource of Bangladesh. It has been  dominating the country's energy generation and economic development for several decades.' He mentioned that there are about 14.16 trillion cft. Natural gas reserves in Bangladesh whereas daily collection rate is 2 thousand and 50 million cft. In other words, Bangladesh is likely to exhaust its gas reserve by about 16 years. It is used almost 58 per cent in the electricity generation and 12 percent in household purpose in urban areas. In this context, unless finding any other sources, we must rely on renewable energy. He stressed 'today's festival would only be meaningful when we raise awareness among mass and start judicious use of electricity.'
 The speakers address that today's world is vulnerable to climate change impacts in order to natural disaster as well as man-made and development disasters. There is a criticism goes around that how long will lasts today's fossil fuel based development? What will be our role and responsibilities to save our only planet? Although it has been proved already that, countries like Bangladesh has little contribution to climate change impact but they are sufferings a lot.
 Resource poor farmers and marginal people from all occupational groups in Bangladesh have been trying to adopt to climate change vulnerabilities and taking different initiatives at their level best. People from all walks of life in Bangladesh have been contributing in minimizing climate induced sufferings at their level. BARCIK also has been facilitating propels initiatives and efforts since 1997 and has a dream to untie concerned all for taking necessary initiatives in this regards.
 A total of 27 youth organizations participated and showcased their sustainable initiatives and innovations at different stalls in the festival. Of which, 7  participants were awarded for outstanding contribution in reducing environmental degradation, sustainable agricultural practices, reducing carbon emission etc.. The program was presided over by Mr. Abdul Helim, president, cducation and cultural diversity team, Atpara, Netrakona while Mr. Mr. Mizanur Rahman, Deputy Director for the Youth and Development was present as chief guest. Mr. Golam Earshadur Rahman, folklore Scientist, Mr. Anowar Hossain, Principal Jobaida Rahman women College,Modon, Mr.Topon Kumar Saha, president, Samakal Suhrid Samabesh, Mr. Azharul Islam, teacher, Mr.Syed Ali Biswas, Coordinator, BARCIK also spoke in the program. The program was moderated by Rony Khan, member of Netrakona youth society. At the end, local youth vowed to protect environment and declare their plan of actions in relation to protect environmental degradation for coming days.
Translated by ABM Touhidul Alam
happy wheels 2