We are very happy for the tailoring machines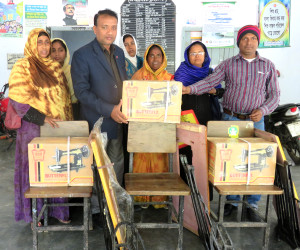 We are very happy for the tailoring machines
---
Mononjay Mondal from Shatkhira
Unity is the best policy. It helps to improve the overall socio-economic development as well as the livelihood of the people. Bearing this in mind with the objective to safeguard life and environment marginal agricultural community women's organization "Dhumghat Shapla Nari Unnoyon Shongothon" thus conducts consultation, training, savings, sustainable agricultural management, organic vegetable cultivation methods, seed conservation and expansion of all types of forests for medicinal plant use and conservation, resource conservation and expansion of animals, biological and vermin-compost production, training and use, environment conservation and use of environment friendly furnace and training assistance, dry storage for food crisis, use and motivate the locals, local varieties of pond fish farming and other developing works throughout the year.
Besides working on various contemporary developing projects the members of the organization are playing an active role to earn which is necessary to them. Very often they are going on with communication, discussion, advice and co-ordination with government and non-government organizations. At first they established a place for their sitting/meeting. The Shyamnagar Upozilla Engineering Institute from their APD budget endorsed BDT 50,000 to pave the floor and walls.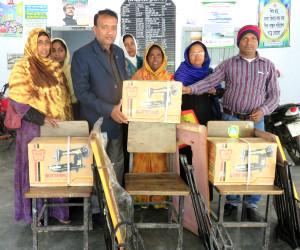 The members of the organization applied to the local UP Chairman to get the equipment and training for tailoring work, arijuri cottage industries and boutique etc. As a follow-through the Chairman helped with a sewing machine on behalf of the UP on 11th January 2017.  At "Dhumghat Shapla Nari Unnoyon Shongothon" when the machine was honored Chairman of the union and the members Bakul Begum, Rupia Azeem and Baracik program officer Mananjay Mondal attended the ceremony. On behalf of the organization the machine was received by the chairman of the organisation Alpana Rani Mistri. At the ceremony the UP Chairman Advocate G M Shokor Ali said, "This organization did a great job uniting the women together. For now we are helping with one sewing machine on behalf of the UP, later we will provide one more machine and some clothes. Essentially I want to be involved with this organization's good deeds".
On behalf of the organization Alpana Rani said, "We are very happy that we have a sewing machine for the women of our organization. This will help us earning money with our own works."
Being united the Dhumghat  Shapla Nari Unnoyon Shangothon are making efforts to get government and non-government services and facilities which will help women being independent, economically stronger and it will increase the quality of their lives.
Translated by Hasnain Al Morshed
happy wheels 2