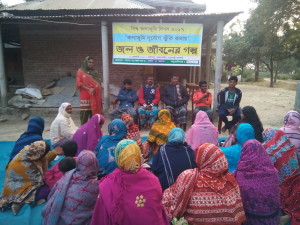 Wetland areas need to be preserved
---
Ismot Jerin from Rajshashi
The bay flows through the heart of Godagari Upazila, Gogram Union Parishad of Varendra. Everyone calls it Gogram Bay. The farmers grow their crops from the water of this Bay; the fishermen catch delicious local fish. A variety of aquatic life form flourishes of the bay. But with time the depth and the flow of the water has reduced. The variety of life and cultivation is being hampered because of the lack of water.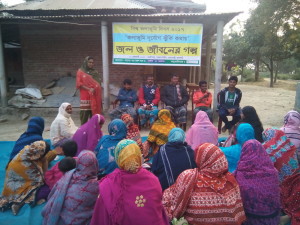 On demand to preserve the swamp, on 2nd February 2017 the members of 'Alor pothe torun shongho' celebrated the world swamp land day. In the program a farmer named Hasan Habib said, '30 years ago in these bay 15 kg Chital fish was available but now only small size fish roam here, even the water for cultivation is scarce in lots of places. In this situation the swamps like the Gogram Bay needs to be protected.
We know that the Barind Tract is a rather dry area.  However, these swamp lands play special role to reduce the effect of the drought, so it is necessary to take social and state initiative to protect this swamps. The youth could play vital role in regard to preserve wetlands, swamp in the area and it is their role and responsibility to come forward for serving the community people.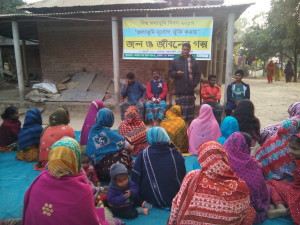 The guests who came in the program said, 'just like our veins help the blood flow through our body and if they fail our body becomes useless, the depth of life in Bangladesh is found in its waters. If these water lands dry out then the economy, culture and environment will be shaken and will be difficult to preserve."
On behalf of the 'Alor pothe torun shongho' their chairman Md. Halim announced to do a campaign to stop polluting the waters and to stop the extermination of fish. He demanded to consider the current situation to re-excavate the swamps so that waters could remain to uphold the existence of life in these lands.
Translated by Hasnain Al Morshed
happy wheels 2