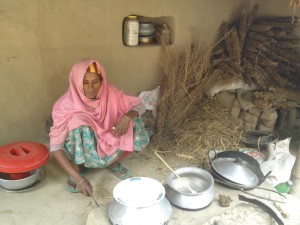 Nayema Begum goes door to door to make environment friendly oven
---
Anita Barman from Rajshashi
Women play a very important role to maintain a balance between technology and the environment. They do lots of things using their knowledge which makes the village life easier using simple and effective techniques.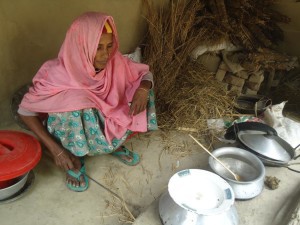 One of those things is to make oven out of mud with different models and designs and they also have different names. Because of the destruction of natural elements, the people who are dependent on natural resources are being suffered with the lack of resources. As a result everywhere in Bangladesh burning wood is scarce now. The rural people of our country uses wood, cane, straw, leaves, bushes and grasses and cow dung as burning material. But these resources are reducing in drastic numbers. That's why the local people are concentrating on reducing the usage. On that case, improved oven is needed through which ones can use less materials to burn. But only a handful of people can make these ovens. And the lack of improved ovens is making it difficult to save energy.
To challenge this situation Nayema Begum (36) from Nachol, Chapainobabgonj comes forward. She is an expert of making environment friendly oven. She is making these ovens for two years. It uses less fuel, cooks faster and it doesn't make much smoke so there is no dark stain on the roof as well. The expenses of making these ovens are cheap. A cement pipe (3 inches in diameter and 6/7 feet tall), iron teachers / rod-shaped one foot 5/7 pieces and 6/8 basket of soft clay is needed. The cost of the oven is only 3-4 hundred taka.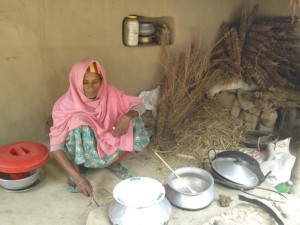 She mentions this oven as a fuel saving climate friendly oven and said, "I learned to make this oven after a lots of hard work. I learned it from a trainer Nobahar, in a training workshop. After that I started using this oven at my house." She also said, "These ovens can operate with all kinds of burning material. Moreover, there is no smoke in the house even the pan doesn't get stained that much. To reach this oven to every home I started to talk to the villagers about the goodness of the oven. I want to save this craft."
Nayema Begum also said, "I taught this craft to the women of the near villages Barenda, Dakatpukur, Pukuria Para and Phulkuri. Other than that, from Nachol Upozilla, Masterpara, and from Koshba UP's Khoribona village 4 women came to be trained. I also went to Rajshahi and Godagari to help making the oven. I made about 60-70 stoves so far." She did not just make her own oven but she also made 24 other ovens with her own hands in her village. She wants to spread this knowledge of making climate friendly ovens to others.
Translated by Hasnain Al Morshed
happy wheels 2