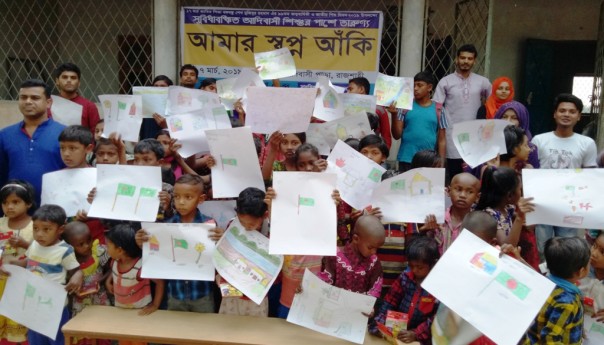 … Of the people led development
---
By Silvanus Lamin
Most recently I went to visit the city known to many of us as 'Green and clean city' of Bangladesh Rajshahi with my colleague Mr. Touhidul Alam. BARCIK has been facilitating development programs in the heart and rural areas of the city since 2010 adopting people led development approach, well-known as PLD. We started our journey from Dhaka getting on one of the most fascinating bus service of the green & clean city named 'Desh Travel'. I asked Mr. Alam to let me have a seat in widow corner so that I could see the wonderful and charming places and scenario of the Barind Tract while travelling. It was really a good journey for me as I saw the Chalan Beel, the green shaped paddy fields, grazing livestock, working people in their own fields, natural setting such as canals, peeping trees due to gentle breeze, overflowed ponds, mighty Jomuna River, mango orchards, herbs, flora & fauna, human-made different vehicles on the wide and clean roads, busy people to get into their destination. I saw also rural boys and girls playing in the fields, fisher-folk communities hunting fishes on the natural water bodies, I saw farmers being busy nourishing their croplands, day laborers being busy to earn their bred, women having chats regarding different issues and subjects. I also saw birds flying in the sky, small huts of the poor people where dozens of their family members take harbor on! I saw many things which really enchanted me. I did not even feel tired when I was on the bus due to these things seen by me which reminded me of my boyhood in a remote rural village. Additionally, the cordial talks and vast experienced of Mr. Alam, which he shared during that time, allowed me to feel at ease.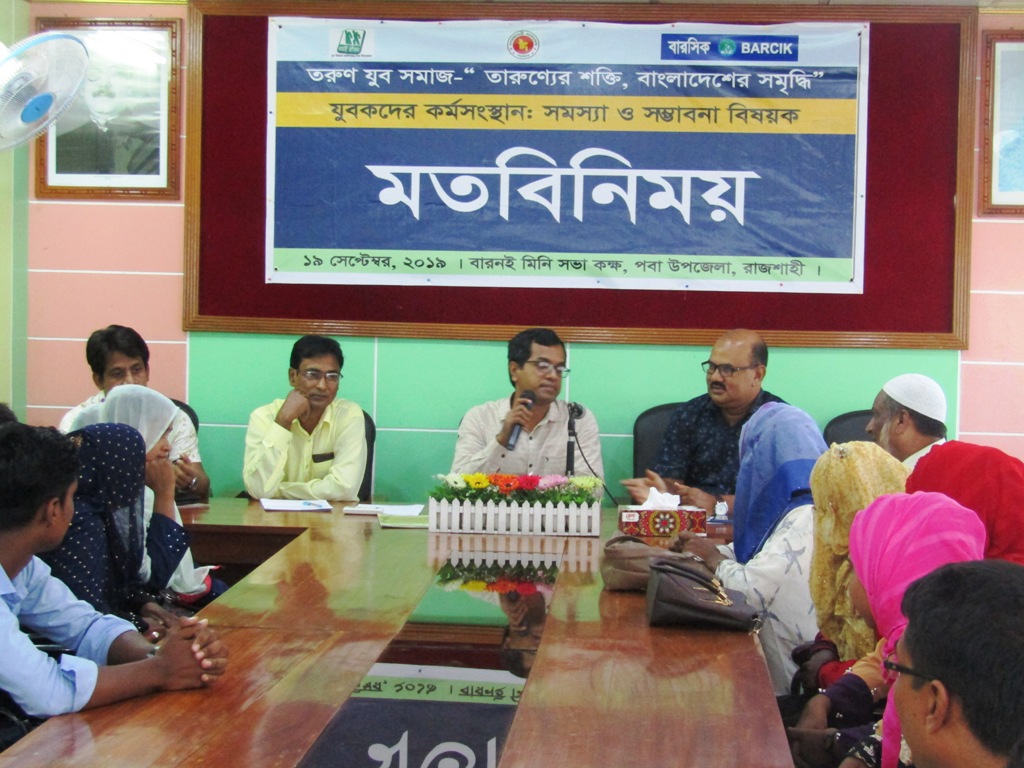 However, after almost 6 hours of pleasing travel we arrived to the cherished destination green & clean city Rajshahi. It was not that the first time I have ever visited this city but whenever I get opportunity I grasped it with two hands to visit the city because it attracts me most after my homeland Sreemangal. According to me, it is the cleanest mega city of Bangladesh I ever seen in my life in Bangladesh. The roads are neat and clean, the shops and shopping malls are well-designed and furnished, green trees in both sides of roads, and mostly, the people here are very cordial and supportive minded that allowed me to talk and interact with them easily. Nonetheless, the BARCIK staffs in Rajshahi kept waiting until we arrive to BARCIK office in Rajshahi, though that day was a weekend holiday of them all! This indicates how sincere they are to welcome us to their homeland!
Development of the people, for the people and by the people…
The purpose of my visiting to Rajshahi was to play supportive and accompanying role for Mr. Alam who has been assigned to coordinate, admin and facilitate the whole development endeavors of BARCIK in Rajshahi region. He visited this region this time to facilitate training, develop plans for internal evaluation and to brief the staffs regarding their roles during the internal evaluation. I was really spell-bounded seeing his coordinating, facilitating and managerial skills and experiences. I was also enchanted by the skills, techniques, experience and more importantly, the dedication and sincerity of Rajshahi BARCIK staffs. They are small in numbers but manage huge volume of development works in the region. Their relationship with the communities, POs members, occupational groups, government and private organizations' officials played a vital role in getting their job done. I saw few youths even after the office hours were being busy to write reports, to talk with the following day's activities and plans of actions! Their eagerness and interest to do something for themselves and their fellow communities gave me a huge lesson on how could I become devoted and committed to my assigned role during this special tour. Frankly to say, I did not have any intention to write few words regarding my tour to Rajshahi but the experience, learning I gained and the sincerity I observed could not but compel me to write this observational reports.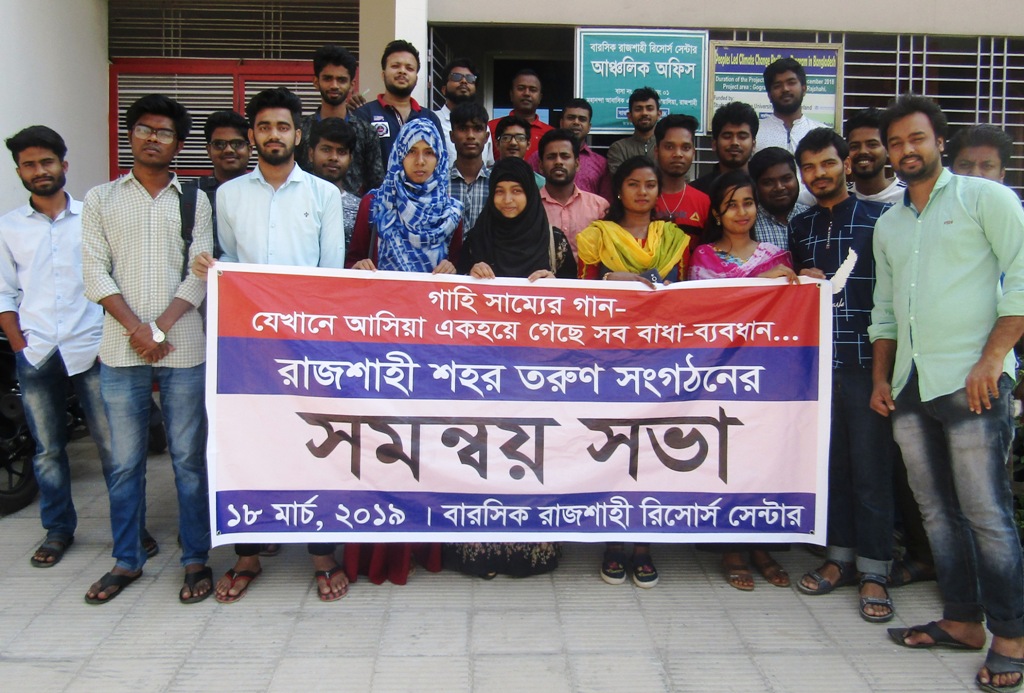 However, BARCIK while facilitating development program and activities always tries to emphasize and focus on the knowledge, experiences and demands of the local communities and places the communities, for whom the development works are designed, in the heart of its facilitation strategy. BARCIK believes it is the local communities who know well about their problems and probable means of solutions of the problems. Thus, adopting this approach BARCIK makes the communities enabled and confident to share their views and concerns and sit in the steering seat of the development. The main idea of PLD is that people are becoming active and capable to take full responsibility of their own development processes in their communities. It is a bottom-up approach and a process of sustainable development, creating avenues to share and utilize peoples' views, widespread and sound knowledge, experience, practices, and resources for all issues pertaining to their own development. It has been seen by BARCIK that planning and implementation of activities are more effective under rural people's leadership. I found the reflection of PLD while interacting with and observing the community people, members of people's organizations (POs), energetic youths and women, senior citizens as well as BARCIK staffs in Rajshahi. The staffs of BARCIK in Rajashahi play facilitating roles to equip the communities with confidence and capacity to address their own problems. Thus, the local communities are now able to plan, identify problems, design activities to address their problems and share their success with other communities to inspire them too. BARCIK keeps its regional plan flexible giving the avenues to local communities inserting their own plans with BARCIK's main plans for joint action. BARCIK having flexible plan of action has allowed space for the communities to voice their concerns to different public and private services delivery organizations through their joint actions.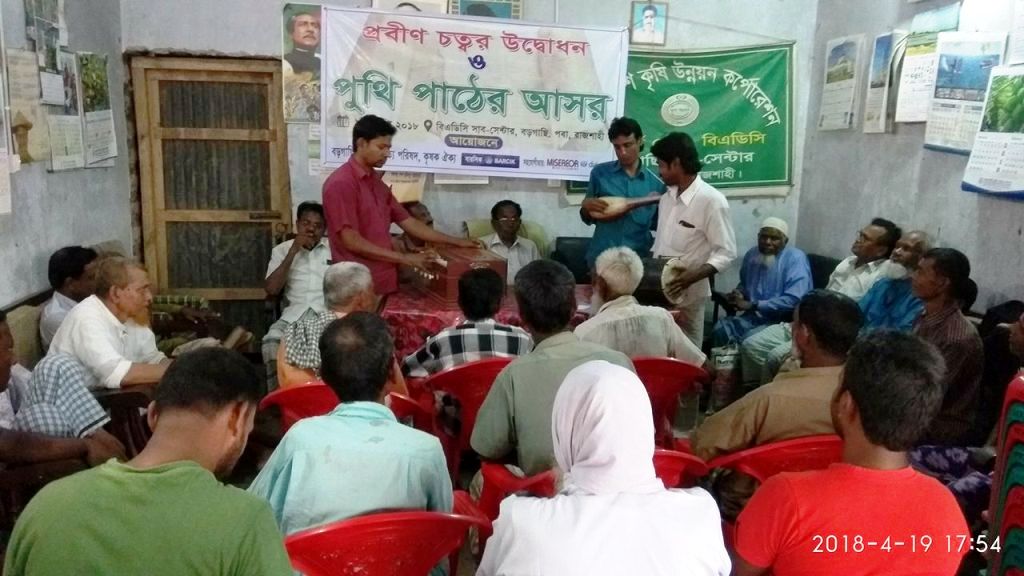 Nevertheless, about 52 People's Organizations (POs) have been formed in this region within 9 years of development facilitation of BARCIK. These POs, themselves communicate with government and non-governmental organizations demanding to create congenial environment for establishing their rights, access to services and facilities as well as natural resources etc. The members of POs have their own plan of actions, they are now able to write the minutes of their meetings, where decisions and agenda are noted in written form, and they have an organizational structure now as well. Most of the members of POs, are now confident, capacitated and experienced to arrange any sorts of development activities such as press conferences, meetings, campaigns, human chains, rallies and some other sorts of activities gearing towards persuading the policymakers to pay heed towards their concerns and needs. Thus, it has been seen that the development activities that BARCIK designed have reflected the needs and concerns of the communities leading them to treat the development works as their 'own'.  There are not only the members of POs who belong to different occupational groups, but also women, youths, senior citizens, teachers, differently able people, indigenous communities are under the umbrella of BARCIK's development endeavors who have been benefited from such a development approach adopted by BARCIK. Yousuf Mulla who received national award for his contribution in sustainable agriculture and environmental conservation said, 'We treat the development endeavors of BARCIK as our 'own'. The organization does never impose its strategy and thoughts on us, rather it allows us space to have our 'say' and 'opinions' in its development programs which allow us space and give us the platform to open ourselves and use our experience, wisdom, knowledge and techniques. 'In addition, it is the organization which respects our understanding and knowledge and tries to learn from and listen to instead of teaching us. The approach that is this organization follows and adopts speaks about our real concerns and needs'-he added. Thus, analyzing the whole development process I dare to dubbed it as 'development of the people, for the people and by the people'.
 Youth actions for social change
Robert Kennedy said, 'This world demands the qualities of youth: not a time of life but a state of mind, a temper of the will, a quality of imagination, a predominance of courage over timidity, of the appetite for adventure over the life of ease.' BARCIK thus, tries to listen to the youths, their concerns, opinions and knowledge. The organization has been working with youths since its inception. It believes youths can contribute in building a nice and peaceful world through utilizing their innovations, zeal and strengths by actively get themselves involved in the process that leads to the solution of the existing social problems. Youths are energetic and have the potentiality and creativity to make a positive difference in the society and state if they are given the space and platform and properly are motivated! Youths are social beings and therefore, they have to perform their duties properly prior to ask for facilities and services from society and state. There had been lot of instances in the past where youths played vital role in social reformation. The instances include: liberation war, language movement and fight for democracy etc. But it is really ironic that the advent and rise of information technology particularly social media has somehow detached them from their very role in society. Thus, they are now very much self-centered and selfish. No time for them to retreat and think about their role in the society. Being aware of that, BARCIK through its development works, tries to motivate the them taking active role in making positive difference in their life and society.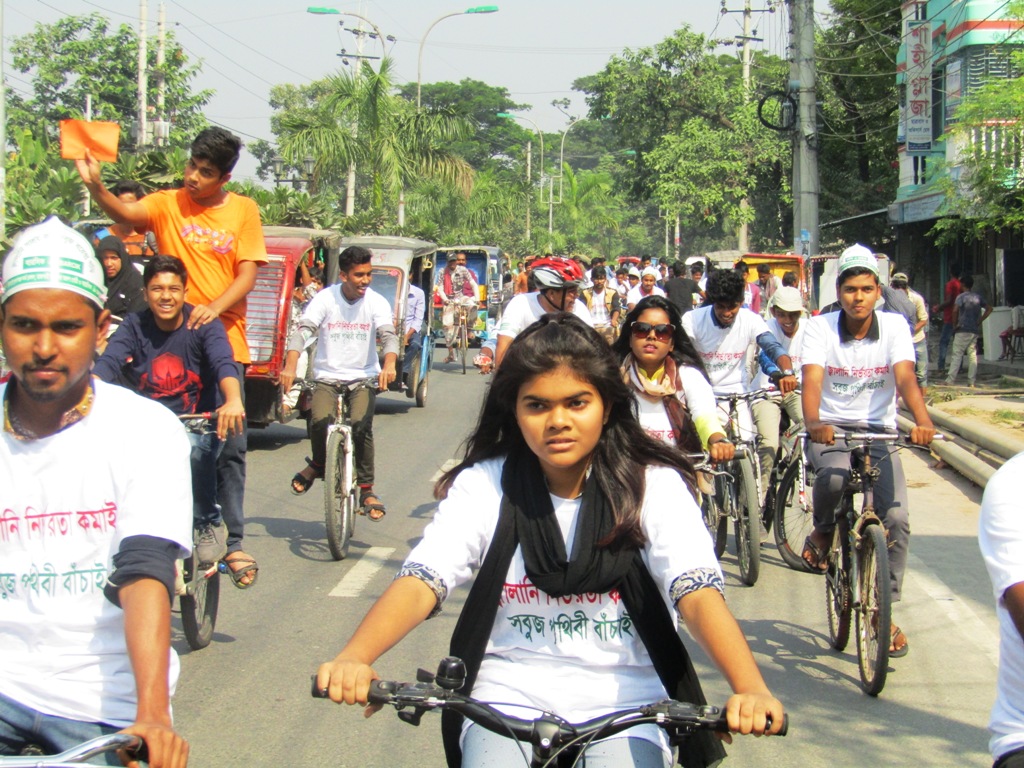 However, the initiatives taken by BARCIK to get the youths involved in its all development endeavors has resulted in the increased numbers of them doing social actions. Through the facilitation of BARCIK adopting PLD, so far, 16 youth organizations have been formed in Rajshahi region. The members of these youth organizations work on diverse issues to make positive difference in their perspective society. They have been becoming helping hands for the rural communities comprise different occupational groups. When there are needs and concerns of farmers, women, senior citizens, and girls, differently able people it is the members of these youth organizations who come forward to extend help to those community getting their problem solved. For instances, the youth organizations have formed education forum to educate the slum children, who are deprived from the light of education, in Rajshahi. Four (4) volunteer groups have been formed who coached and assisted the dropped out students and made all process to convince the children resuming their education. A Youth Forum has been established in Rajshahi with the membership all 16 youth organizations to address different problems of their perspective areas.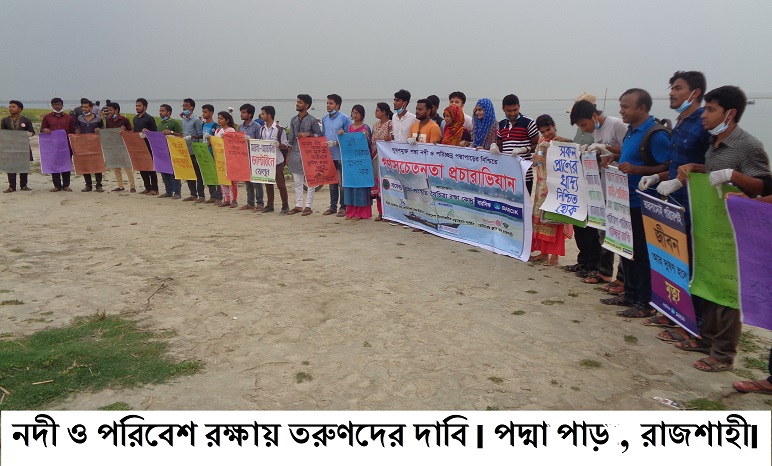 The youths have not only addressed social issues but also natural and environmental issues as well. Thus, they organized Tree Olympiad to educate the school students regarding the importance and role of local trees, biodiversity in the life of human and other life forms. They played vital role in organizing forestation at Rishikul area of Rajshahi. They arranged human chains, rallies, press conferences, seminar, meetings to persuade the policymakers and authorities releasing the wetlands, ponds and natural water bodies from the illegal encroachment of the influential persons in the area and they work to ensure 'Save Heaven' for birds and other life forms.
Notwithstanding, the youths played important role to establish 'Local Seed Library' in Ananda Mohan school in Tanore Rajshahi, and 'School of Nature' in Godagari. They also conducted campaigns to protect uncultivated food plants, and other flora and fauna and have been proactive to stand against the chemical fertilizers and pesticides which create negative impacts on human and other life forms. Thus, the youths in Rajshahi region now have become change agents for themselves and their communities and they earned respect and appreciation for their works which boost their confidence that they are 'Something' for the society.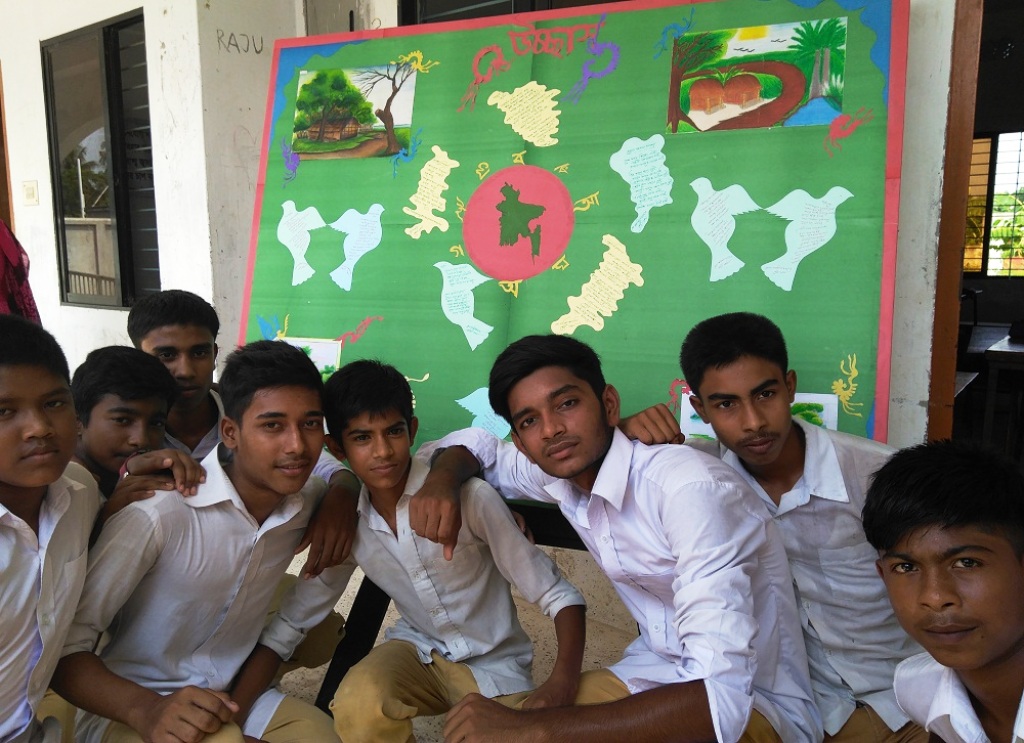 There are so many initiatives and instances which have been taken by the youths after being involved in BARCIK's development endeavors. Rafi Ahmed a youth leader said, 'We have been blessed being involved in the development works of BARCIK. The organization has given us the space and platform to exploit our potentiality and creativity in commencing development works in our areas. We have been doing so many good things these times that our parents and guardians feel proud of us.' He went on saying, 'The youths now understand their role and they can articulate and realize the needs of sustainable development for a positive social change. We have a common platform now where every one of us can share our concerns, opinions and views with others. We understand that including social issues we need also to be aware regarding the environmental and natural issues which we learn from BARCIK.' 'The staffs are cordial and dedicated towards their works'-he added. His statement clearly reflected the appropriateness of PLD which allows them space in the development works and use their creativity and potentiality to make these their own development.
The diversified interdependent relationship
The rural communities with whom BARCIK works with in Rajshahi region shared an interdependent relationship with each other which makes the works of BARCIK easier and the staffs feel that they are in comfortable zones. There are many non-governmental organizations as well as governmental organization working in the region with different goals and objectives. But the development works of BARCIK is the integration of all of their development activities because PLD addresses almost all needs and concerns of the rural communities. Thus, I found that when BARCIK addresses climate change and other environmental issues it tries to incorporate and involve the NGOs and governmental organizations' staffs and officials in the process to avoid over-lapping of development works. On the other hand, when any rural man or woman approaches to BARCIK with different demands BARCIK tries to link them with those GOs and NGOs which provide and fulfill the demand of the particular persons. This linkage process of BARCIK helps to share a healthy interdependent relationship with those GOs and NGOs representatives and escapes unhealthy competitions among the NGOs in the region. BARCIK generally does not provide any material supports to persons, it only tries to raise their confidence, and makes them believed that they can change their life and livelihoods using their own experiences, skills and knowledge. But BARCIK does try to link them with GOs and other NGOs which builds healthy interdependent relationship among the NGOs, GOs and other institutions in the region and work in an integral manner to real positive difference in the life and livelihood of the communities.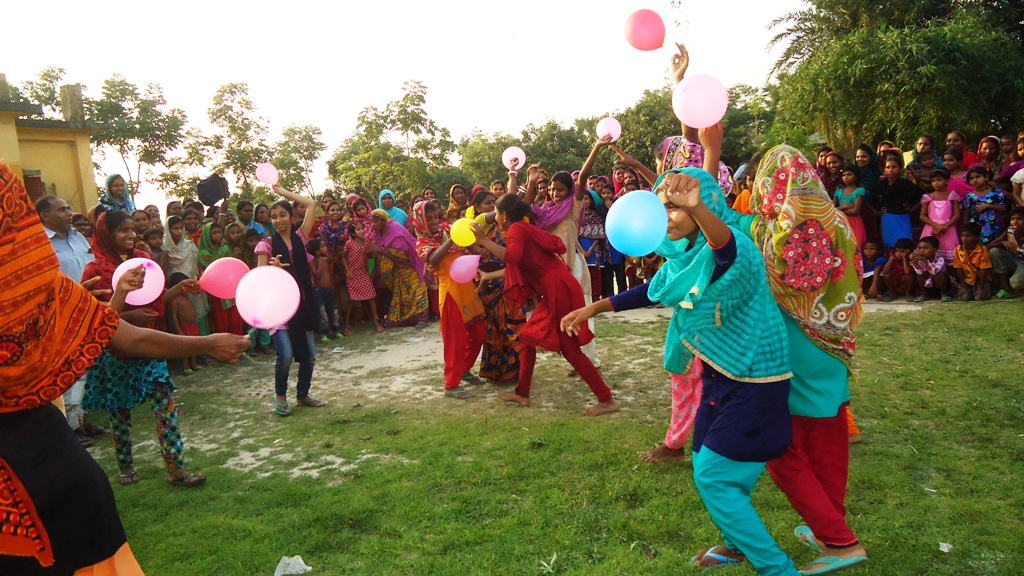 On the other hand, BARCIK gets people of different occupations, classes and ethnicity involved in its development endeavor to realize and understand the need and implications of interdependent relationship among each other. It also tries to motivate those people to think regarding the importance of every life forms and co-existence among life forms on this earth. Thus, farmers realize that they alone cannot survive if they do not take assistance from other occupational groups, the weavers realize that they cannot uphold their existence if they refuse the contribution of farmers in their life. In the same time, all occupational groups now have the realization that they need to develop a strong interdependent relationship to fight for their rights.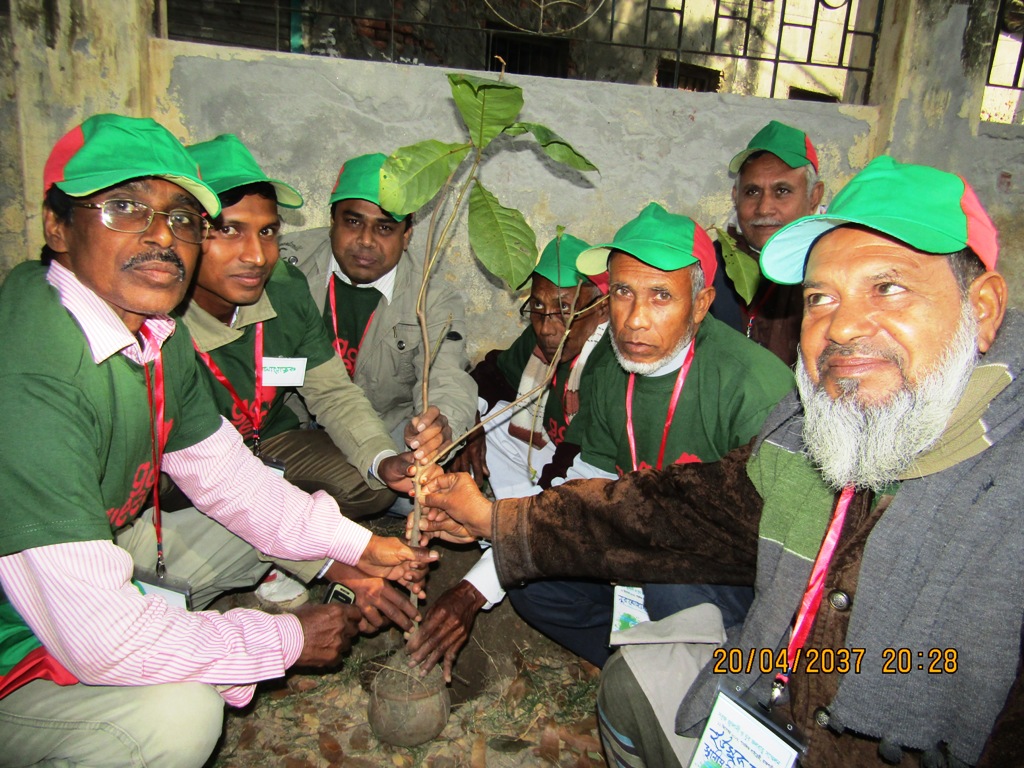 Thus, it has been seen that every occupational groups express solidarity with the fisher folk communities when they demonstrate to release the wetlands and natural water bodies from the illegal encroachment of influential persons and every occupational groups become sensitized when farmers demonstrate to provide subsidy and 'Pension Scheme' for them, the food producers. The people with whom BARCIK works  with also understand and have the capacity to articulate that interdependent relationship could not only built with humans but also with other lifeforms either they are plants or animals. Humans totally depend on all elements of the nature such as air, water, soil, fire, plants, light etc. So in order to have a sound life and livelihood humans also should take care and protect every element of nature either it is big or small. And for this, they have to build an interdependent and respectful relationship with all life forms to make this world a better living place. One of BARCIK staffs Sultana said, 'Before working with BARCIK I never think about the importance of all life forms in our life and livelihood. We shared our wounds and woes and other concrete materials with each other in the past. But today, this practice has extinct in our areas. However, coming in the touch of BARCIK now I realized that sharing and respect to each other is interdependent relationship. We have to revive this culture of interdependence for the sake of our own development'.
A joint movement for food security
Food security is not yet recognized as universal concept and it does not mean production capacity of any given state. It does have relation with national and international policies, conventions, laws, production system, trade systems and trade treaties associated with food and agriculture of the globe. According to the definition of FAO (1996), 'Food security means such a pleasing condition where people have adequate safe and nutritious food every time they need where their physical, social and economic rights are ensured and where they lead a peaceful life meeting the daily food demands of their families.' The national food policy of Bangladesh accepts this definition.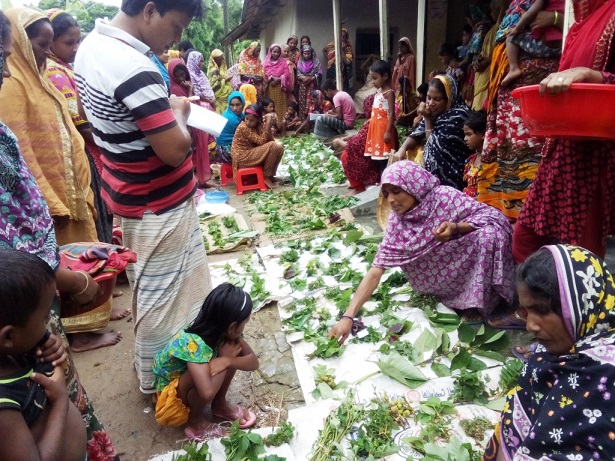 However, BARCIK through its development initiatives has been trying to work for ensuring the food security of all life forms. The farmers, students, youths, senior citizens, women farmers, weavers, fisher-folk communities, potters and even teachers of different educational institutions have come in a common platform to fight against adultery foods and commercial agriculture that curtails the right of farmers in agriculture and promotes unsafe foods. They together have arranged, organized different events and participated in many programs and activities to fight against the commercial food production system. The joint movement towards ensuring food security of humans and all life forms has become prominent in the area as many other supported and expressed solidarity with the joint movement.
On the other hand, farmers in the regions now practice sustainable agriculture where they almost abandon chemicals and use organic manure such as vermin compost and some other naturally made fertilizers. They also use organic pesticides made from different medicinal plants. A 'Barind Seed Bank' has been established where farmers collect local varieties of crop seeds and farm in their lands. The local varieties are found adaptable to the soil and climate of the areas and require less fertilizers and pesticides. Nonetheless, with the help of BARCIK the farmers conducted varietal selection in their lands to search for local suitable and adaptable to the climate of the area. Thus, the farmers so far, conducted applied research with 125 rice varieties, 18 Robi crops which require less water and 24 local vegetable to find the area specific crops. Besides, they continue practicing to farm Robi (winter) crops to release pressure on underground water.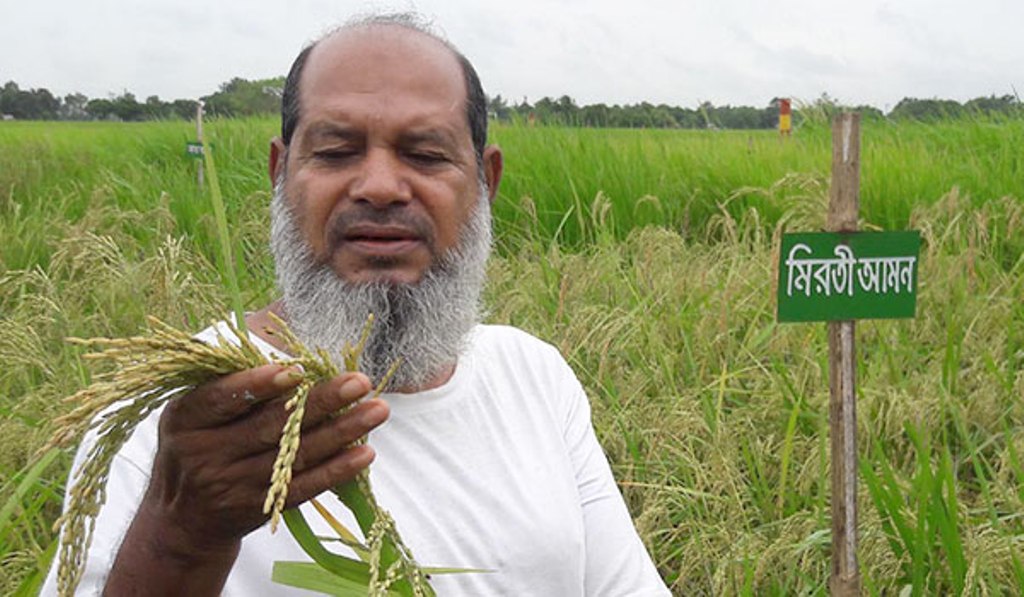 In the meantime, women from 7 families in the area have taken initiative to conserve uncultivated plants from their surroundings which are sources of safe foods and medicines. They also rear local varieties of livestock to ensure they have adequate and safe foods for their family members. Farmer Nur Mohammad thus said, 'Sustainable agriculture ensures that the foods which have been produced in the fields are safe because no chemicals are used in the productions. It ensures the control of farmers on agriculture where they can decide what to produce and what to conserve. If farmers get control over agriculture they can produce enough safe foods that ensure the food security of all. Therefore, the state needs to take actions to punish the culprits  who destroy the soil fertility and contaminate foods.' This has happened due to the facilitation strategy of BARCIK that allows the people to realize their role for their own development. This is the charisma of PLD where people themselves take their own responsibilities to make a difference in their life and livelihood.
And the trend of practicing pluralism is almost in place
A pluralistic society is a diverse one, where the people in it believe all kinds of different things and tolerate each other's beliefs even when those beliefs do not match their own. A pluralistic society ensures the equal participation of both men and women in all sorts of family and society levels' decision-making process that relate their life and livelihood. It also ensures and encourages democratic cultures and practices among the people in the society either they are men or women. Pluralism and democratic practices means that, the people with whom BARCIK works in Rajshahi region understand that every human being has their own way of thinking and different perception. So, in order to ensure happiness and harmonized life one has to respect the culture, religion, belief and way of life of different people in the society.
However, BARCIK while facilitating the development endeavor wants to make everyone who participate and take active role in development activities liberal, open minded and honest to their intentions. This leads the organization to bring diverse people, occupational and people of different belief and ethnicity in a one development umbrella. Thus, we have witnessed that Muslim community in Tanore fought hard to ensure that the Hindu communities have their own cremation site which has been a problem for them for decades. Now the Hindu community have their own cremation cite due to the contribution of Muslims. The indigenous communities at Somaspur village of Rajshahi, who have been excluded from all sorts development scheme, have been able to have their own roads which had been a big problem for them in past. This also happened due to the contribution of people of different religions, belief and opinions. On the other hand, the rich people in Rajshahi have extended financial support to rehabilitate the slum people at Namovadra who have been facing threat of eviction since they started to live in that place.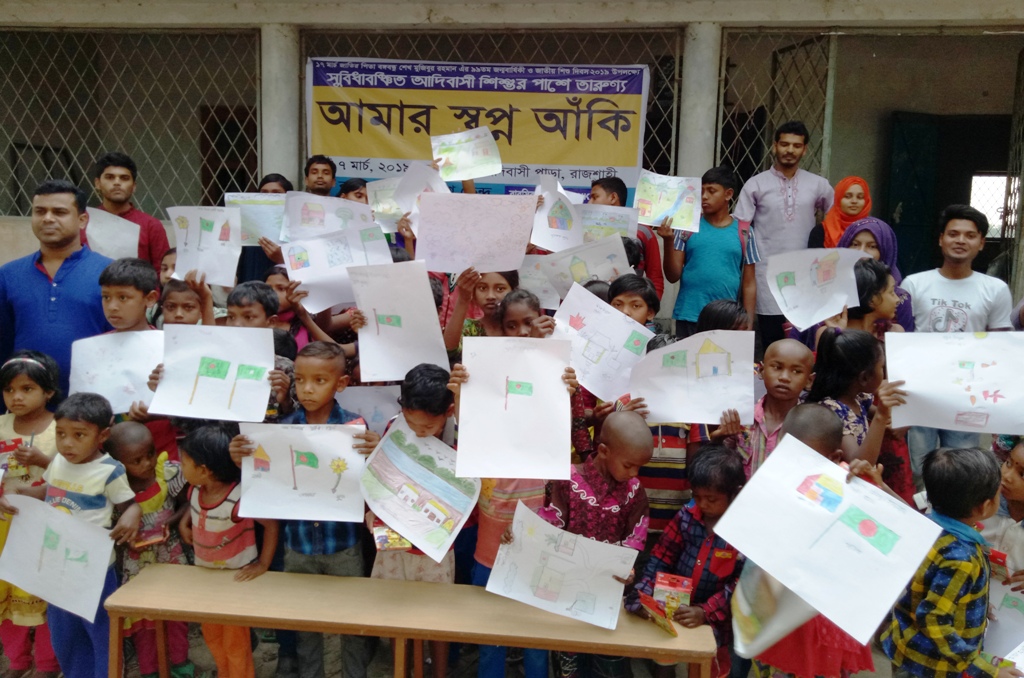 A pluralistic society promotes intellectual capacity of people. The youths, who are many times blamed for being self-centered and spend most of their times in social networks, now practice literature, recite poems, write articles to promote local culture and show respect to other culture and norms. This resulted in the establishment of Tonore Literature Parisod and Poba Folk literature Parisod in recent times with the initiatives of these enlightened segments of population in Rajshahi. Women violence and torture and early marriage have been the common crimes in the region in recent past but today the rate of this crime has declined due to the proactive role of the boys, who sometimes blamed as the main culprits of the crimes. Girls and adolescent participated in the different movements and campaign without any hindrance and family barriers and they have been able to share their views, concerns and opinion in any public gathering.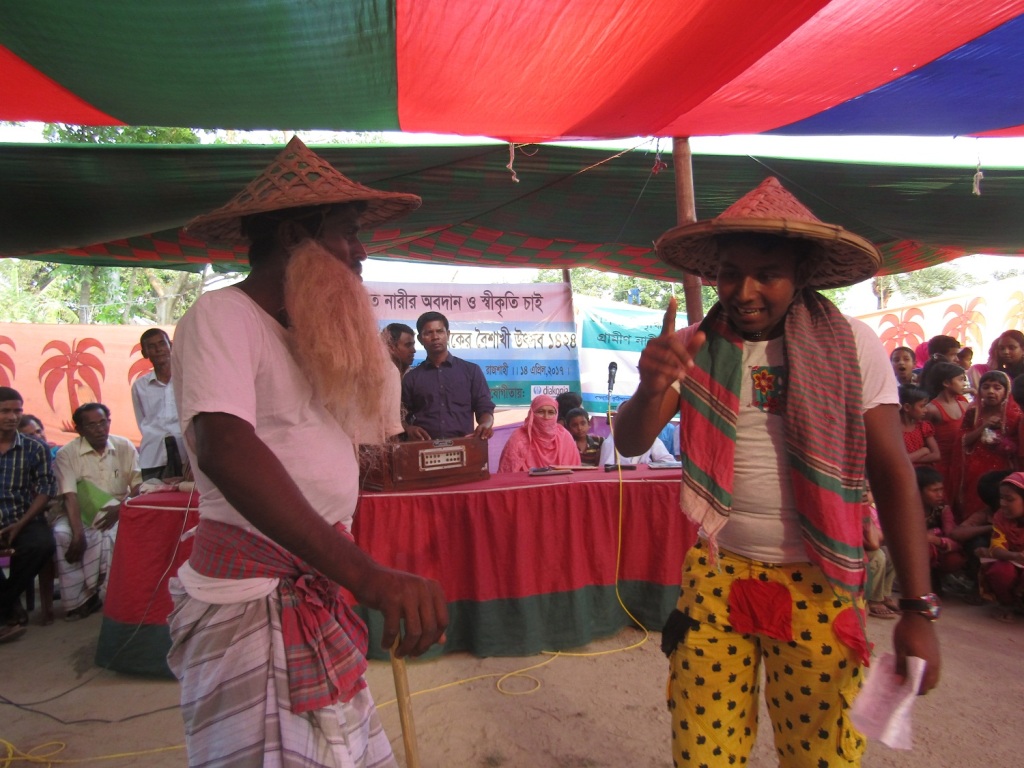 An 'Alliance' has been established with youths, students, lawyer, journalists, teachers, women, girls, and different occupational groups in the region. This alliance works with pace to eradicate the social weeds which hinder the overall development of the region. This has been possible due to the initiative taken by BARCIK to educate the people it works with regarding the needs and importance to develop a pluralistic society where democratic practices is inbuilt and everyone respects each other. While describing the implication and reflection of PLD approach in development Ashim Kumar Sorker said, 'Every development endeavor should address the overall concerns and issues of people in the society. Development means economic, social, cultural, religious and spiritual development among the people. Until this is not happening the real development will never occur in the region.' 'The approach (PLD) adopted by BARCIK has won the hearts of the communities as it paves way for their empowerment process placing them in the centre of all development works and boosting their confidence that they are 'something' for themselves and the society'-he added.
Still miles to go
Whatever has been described in this article is based on my personal observation and program reports of Rajshahi region. BARCIK targets to incorporate 28 thousands of people in PLD process in Rajshahi region within 3 years which is a very small segment of population of the region. However, it is true that BARCIK believes that if these 28 thousands people are motivated, interested and encouraged well they could take part in the expansion process of BARCIK works to other peoples, regions and state. But BARCIK has to stick to its plan and well equipped with knowledge, skills and understanding to facilitate the development endeavor adopting PLD.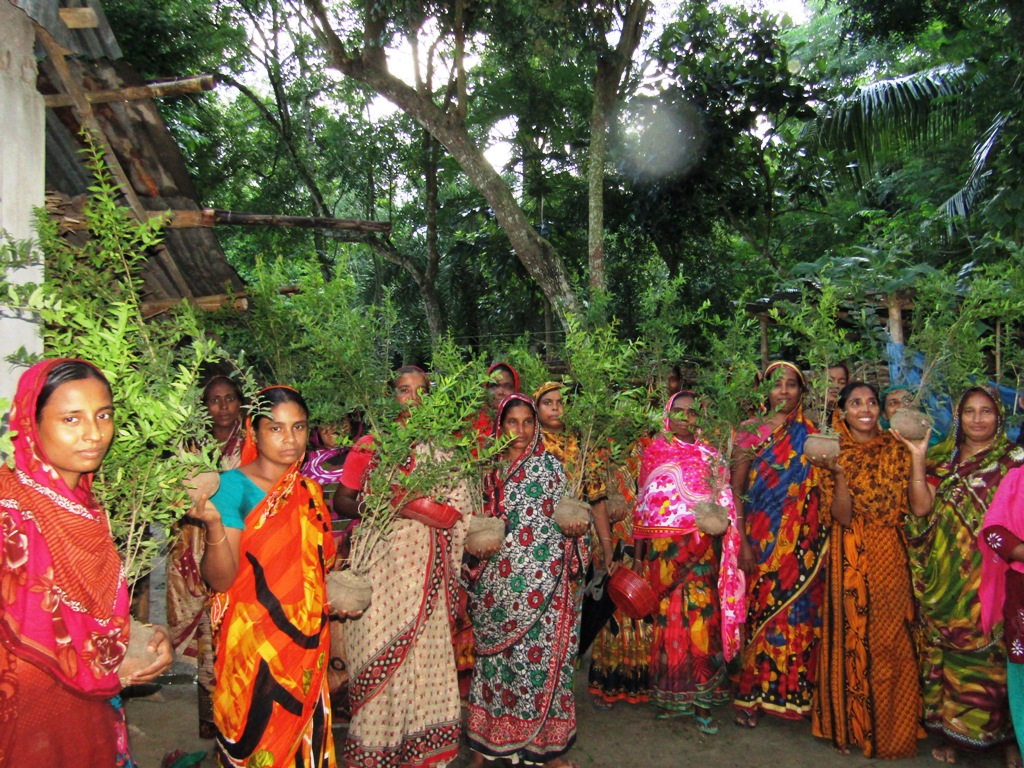 Therefore, it could be said that in order to make a huge impact in that region BARCIK has still miles to go. It needs to expand and spread its development agenda to wide range of population in that region. Besides, BARCIK still lacks some technical and human resource related skills to address and to insert the notion and essence of PLD to the academicians, members of civil society and other intellectual persons who can expand and disseminate the development approach to the policymakers, and state actors. In the meantime, some of the program participants still in hesitant mode regarding the development agenda of BARCIK. They need to be clarified, motivated and encouraged further to believe in their strengths and wisdom. If analyzed, so far, the percentage of positive outcomes is bigger than that of limitations. But the real challenge is the sustainability of this development endeavor. So, BARCIK needs to focus more on its development agenda and organize follow-up activities to overcome any limitation that hinders towards the journey of this development endeavor to sustainability.
Conclusion
The real development empowers people, boosts their confidence and makes real progress in the areas of economic, social, cultural, environmental and more importantly religious and moral improvement. Retreating to my almost 8 days 'stay' and 'visit' to Rajshahi I have seen the reflection of such improvement among the people I interacted and talked with. The staffs of BARCIK though small in numbers and a bit recessive in terms of experiences, skills and knowledge yet have done outstanding works to stay close to those people and pay heeds towards their opinions and words for ensuring overall development in the area. Their attitude, non-verbal communication and moral strengths have been the very weapons to work with those people of diverse and different thinking, occupations and ideologies. The people BARCIK works with in the area are found sincere, proactive, motivated, eager to learn and very much committed and devoted towards their own development. BARCIK needs to make the proper use of this for making overall development in the region which is the ultimate goal of PLD as well. However, so far they have harvested some success yet it is too early to conclude by saying that they are in the right path to achieve the goal that BARCIK sets when designing the project. However, I believe, it is not too far that some days the communities will be able to take over their own development without any support and assistance from the development organizations like BARCIK. If this really happens BARCIK will feel proud because it is the ultimate goal of the organization to handover development initiatives and processes to the rural communities for whom the development is very crucial for improving their life and livelihood.
(The report has been prepared based on my observation and interaction. And the information and data has been collected from the progress, annual reports of BARCIK).
happy wheels 2