Cooking fuel crisis and Women's suffering in the rainy season
---
AbdurRazzak, Ghior (Manikganj).
Ashma Akhter, a housewife from remote Sodaghata village of GhiorUpazila, Manikganj having a 5-member family is undergoing a lot of hardship in regard to cook food. It is evident to understand her hardships as her husband is ill-being burden to ensure bred for her old mother-in-law and two children as well. The flood situation in her area has intensified her problem as there has been just water and water all around. There has been knee water on the floor of the house and her bed has been raised with bricks. The kitchen and toilets have been submerged in rainwater. The family has survived with the help of neighboring and relatives. However, Ashama Akhter has the responsibility to take care of husband, mother-in-law and two children. She has to arrange meals, cook, and ensure sanitation system of the whole family. But the floodwater nonetheless has made her life difficult as though she could arrange food but have to cook once a day because of the cooking fuel crisis.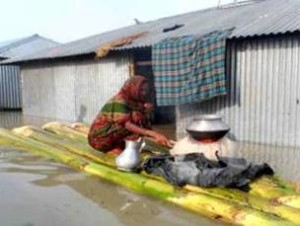 On Friday morning, when we went to her house with the boat, we found that she was standing in the knee water and cooked food on the stove. She found difficulty to fire in the stove because of wet wood. She was hitching when she tried to burn the fire through constant blowing around the smoke wave. At least 30 thousand women of the Manikgonj area have been suffered from fuel crisis due to flood in the area alike Ashma Akter.
Bangladesh has a monsoon climate that is why according to the law of nature, it is natural to rain a lot in the monsoon season. But in the past few decades, irregular monsoons and sudden floods, droughts and natural disasters are inevitable due to global climate change. Manikganj District is low flood plain on the bank of Padma, Dholeshhori and Kaliganga river. So, the annual flood is very much predictable here.
In this district, in monsoon season it is usual to face huge fuel crisis due to waterlogging and water jets, and seasonal flood. Thousands of marginalized rural women suffer from this adverse situation. Cooking energy security is one of the major preparedness for sudden monsoon and flood. But this year the people of Manikganj's flood-hit areas face a severe energy crisis. Thousands of women in this region have lost their land due to the flood and land in adjoining areas. In addition to the energy crisis, they also have to struggle to keep their livestock safe during the flood situation.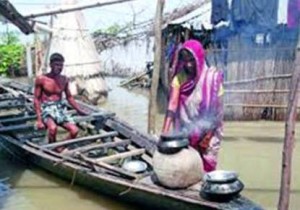 In order to mitigate their fuel crisis women of Gangdubi village of Manikganj are now busy to collect the jute stick for cooking. Rani Rajbangshi (70) of fisherfolk community thus said, "We get an opportunity to collect jute stick once a year, it is in not good in quality, which is a short cut and awakened. We give the scales to the farmers and keep the jute stick for our cooking energy in the rainy season. We're just happy to get the jute stick. Because we are fencing with jute stick around the house, kitchen along with cooking."
She further said, "The biggest benefit is to fire the stove in the beginning. Those who do not do this, they buy jute stick from us about three thousand taka per 40 Kg. In this, we get some money and we do not have to buy anymore."
Ashiya Begum of Rathura area of Baniyajuri Union said, "We now use an energy efficiency oven to save energy.In this, dung stick and dung pieces can be used. Fuel costs less and less smoke."
Gangdubi village is known as the lowest point of Manikganj. There is water and water all around the village. Houses are submerged in water. Those who live in the fisherman's profession, most of them live in boats and cooked in boats during the flood.
In this context, NigramamMajhi's wife Lakshmi Rajbangshi said, "Men are busy with fishing boats, bamboo, fishing nets, etc. for fishing. And we are busy with cooking."She also said, "To save our profession, there should be plenty of natural resources so that the female member can get adequate energy."
Meanwhile, the demand for cooking fuel has been increased during floods. So, the businessmen have raised the high price for other fuels including wood, lumber, dry bamboo, jute sticks, wooden bush, and more. As a result, the poor people of the village have to suffer a lot.
Translated by Bahauddin Bahar
happy wheels 2