Youth made an oath to stop misuse of energy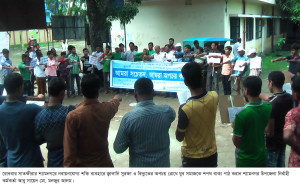 Youth made an oath to stop misuse of energy
---
Mononjoy Mondal from Shatkhira
In Shyamnagar, Shatkhira; the youth has taken an oath to stop wastage of electricity and preserving energy. The oath was read by Abu Syed Md. Manjur Alam, the executive officer of Shyamnagar sub-district.
BARCIK and Sunderban students' solidarity team jointly arranged the oath event recently (September 18th) in front of Shyamnagar upozilla press club. The words of the oath made by the students read "We are the juvenescent of this territory: strong with the power of youth. Swearing on the rights of youth, to safe keep all life, nature, environment and public health, shall use environment friendly renewable energy to preserve energy and to stop wastage of electricity. We shall play a positive role to prevent climate change. To create a beautiful green world, we shall work together with everyone in the society. May the Creator be with us, so that we can build a green world for all living creature, Amen."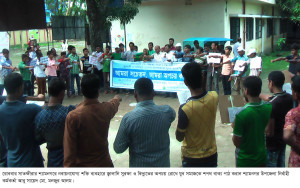 In the ceremony, among many there were present, Jahid Sumon the general secretary of Shyamnagar Upozilla press club, advisor Sheikh Afjalur Rahman, journalist Mehedi Hasan Maruf, Anisur Rahman, UP member Delowara Begum, lecturer Biprokash Mondal, BARCIK personnel Ramkrishna Joarder, Biswajit Mondal, Sheikh Tanjir Ahmed etc.
They started a rally from the Shyamnagar Upozilla Terrance with the slogan "Use renewable energy to keep the environment safe and healthy". They rallied with placards to increase public awareness regarding using energy and encourage people enhancing the use of solar energy at home. The words and phrase in their placards read 'the sun is light and energy', 'keep the town clean by disposing of the garbage', 'maintain the balance of the environment for the next generation', 'save energy use environment friendly oven', 'let's keep my school and my home clean', 'laughter in the farmers face', 'agriculture in solar', 'change in your attitude will change society', 'anger is failure' etc. The rally went through the main streets of the town to the press club at conclusion.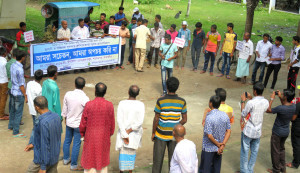 After the rally a meeting was held in which speeches were given by the upozilla vice chairman Mohsin Ul mulk, the president of shyamnagar press club Akber Kabir; the president of upozilla public organizations coordination committee Shirajul Islam, general secretary Kumod Ranjan Gayen; the president of Sunderban student solidarity team Maruf Hossain Milon, general secretary Al Imran and BARCIK official Mononjoy Mondal etc. In the meeting the orators called for a livable green world for the next generation, "To reduce the use of fossil fuels, the use of renewable energy need to come forward. The time has come to build a green earth. If you do not become conscious the earth will become uninhabitable".
Translated by Hasnain Al Morshed
happy wheels 2