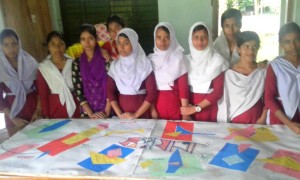 Let the dream of 25 adolescent girls in Netrakona come true
---
Parbati Rani Singh and Roxana Rumi from Netrokona
Through will power and inspiration young men and women can turn impossible into possible. To ensure their creative talents they need encouragement and inspiring messages.  Once they are derived with the right inspiration in their mind, they can do anything. If their youth, talents and point of interest to be used in the right way, they could become the beacon of peace.
 25 adolescent girls of Rameshwapur village got that kind of inspiration. Now they dream about conquering the world. To remove inequality, dishonesty and darkness from the society, BARCIK and other organizations and some other people are backing them up. After interacting with these organizations they discovered their real strength. They realized that they are stronger when they are together. That's why they created an organization called 'We shall overcome', a youth organization. They started their dream destination on January 2016.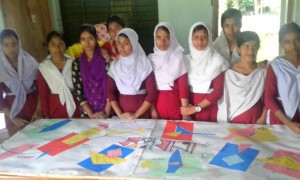 These 25 adolescent girls took an oath to become active and responsible citizen. Through this organization they started gardening, they planted fruit trees and they cleaned up their own premises. They attended various contest, printed wall papers in schools, try to learn the history and culture of their district. Apart from these, they are trying to make public opinion against problems like dowry, early marriage, eve-teasing and drug addiction.
To enlarge their boundaries of knowledge and to be responsible citizens they are reading newspapers, learning to operate computer and sharing their knowledge with others. These adolescent girls are dreaming about doing something positive for their country and the people. Our best wishes for them to fulfill their dream.
Translated by Hasnain Al Morshed
happy wheels 2