Shefali Bibi achieved the best Joyita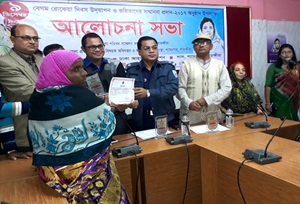 Shefali Bibi achieved the best Joyita
---
Manonjoy Mondal from Satkhira:
Shefali Bibi won the best Joyita award for sub-district level as a coastal forest-dependent woman. The Women's Affairs Department of the Government of the People's Republic of Bangladesh is honoring the women who is contributing a lot to social development in 5 categories under 'Joyita Onneshone Bangladesh'. Bangladesh government has been implementing this initiative to inspire and educate the entire women society. The 5 categories are Women in economically successful, contributing to education, successful Mother, contributing to women's repression and contributing to social development.  Primarily the application is to submit at the union level, then it goes to sub-district level.  Shefali Bibi was elected as the best winner of the Upazila Selection Committee. On Saturday, 9th December 2017, the award was officially awarded among the winners of the Upazila level winners to celebrate the International Women's Torture Prevention and Begum Roke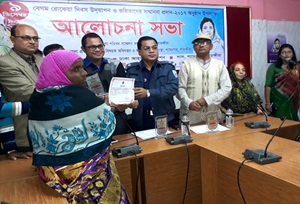 ya Day.
It is to mention that the victorious Shefali Bibi create a women's development organizations with forest-dependent women with the objective to protect Sundarban's environment and improve the quality of life of forest-dependent women. This Organization makes a various forest-based products by using forest resources except wood. They make various types of candles, show Piece, seat making, arie-jury, and boutique work using non timber forest products as ingredients. The members of the organization are also purifying the products they make like jelly (talk, sour, sweet) and jaali (talk, sweet) of Kewara and honey collected from Sundarbans. These organic products are packaged in a clean environment by selling in local markets. Sefali Begum through the dividends she has received, she purchased 20 centuries of land. She has strengthened her own house. Her children are receiving the education. Making products using non timber forest products Shefali Begum has gained economic solvency enabling her to remove poverty from her family. Her initiative to unite the forest product dependent women and eradicating poverty has brought her the prestigious  Joyita award.
 Joyita award winner Shefali Bibi said with emotions," I can never forget the joy of getting the award of Joyita. A common forest-dependent woman like me can stand here because of BARCIK. BARCIK helped me in different ways. I think that in order to improve our country, women should go ahead with men as well."
The coastal forest-dependent women Shefali Bibi received the best Joyita award at the Upazila level because of her initiative to empower women and organize them to get economic solvency. Her success story will inspire women's society.
-translated by Bahauddin Bahar
happy wheels 2