Trees contribute to the environmental balance
---
Anita Barman from Nator, Chapainobabgonj.
Bangladesh is an amazing playground of nature and life. Every form of life has the right to grow up healthy. But our natural wildlife is often at threat because of the horrors of climate change. This Horror of climate change spreads from one end of the world to the other. Because of geographic and natural disasters people's livelihood and agriculture faces horrific negative effects. The Varendra Lands of Bangladesh are also affected badly by climate change. To fight these affects of climate change The women of the Varendra Lands are implementing various enterprises every year. The plantation program is such an enterprise. By the initiative of women fruit gardens are being planted and the increasing variations of fruits are contributing to the positive changes of climate.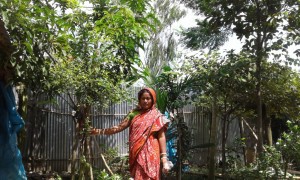 In July 2014 the Barcik Nachol Resource Centre takes initiative to plant trees which are compatible with the Varendra lands and a private organic farm called "Shobuj Shathi" donated 5000 Taka to help this program. That's how it started. After that, rose apple, guava, gooseberry, elephant apple, hog pulm, jackfruit, pommelo, star fruit, pomegranate, olive and custard apple trees are distributed among the women of Barenda, Tikoil and Pukuria Para village on Barcik's initiative. A total of 350 seed lings are distributed among 150 families of three villages. As a result, 150 families would stay ahead to fulfill nutrients and they can sell the extras to have some money.
The women of the Nari Unnoyon Shangha of Pukuria Para and Tikoil retained the fruit trees through proper care. Ms: Sojina Begum from Pukuria Para said, "Jackfruit is my favourite fruit. To have my favourite fruit right on my ground I decided to make a garden of jackfruit trees. I got the seed lings from an organization and planted it by the side, after taking care of it I retained it. Now it has grown".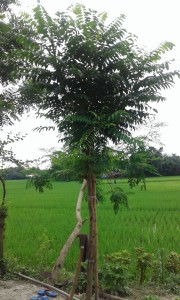 Srimoti Shantona Rani from Tikoil said, "two years ago with Barcik's help I got guava, olive, pomegranate, pommelo and jackfruit trees. I planted them on my yard. Not one of them died; all of them grew slowly. After a year the pomegranate tree had fruits from its flowers".  She also said, "it had a lots of flower for a little tree but the flowers did not sustain. At first I got 7 pomegranates without using any Insecticide. On average each pomegranate weighted 350/400 grams". She said, "The guava came around after two years. The native guava is small in size but is very sweet and tasty to eat. All the trees I got are alive now. All the fruit trees I have now like mango, rose apple, guava, jackfruit, jujube, pomegranate, pommel, olive and banana would provide my children with nutrients and save and earn money I hope."
The women of Pukuria Para, Tikoil and Barenda village did enterprise with planting fruit trees at their premises and they are contributing to fulfill nutrients for their family. With these trees every family is hoping to get fruits for their own and earn some money by selling them as well. These homegrown fruits would enrich the variations of natural nutrients and will play a tremendous role to balance the environment as well.
Translated by Hasnain Al Moreshed
happy wheels 2