The effort of Nasrin Nahar to make her luck
---
By Mofizur Rahman from Shymanagar Satkhira

Nasrin Narar lives at Pakhimara village of Padmapukur Union of Shymanagar Satkhira. Most of the villagers in this village earn their livelihood by working as riskha, van pullers, day labors and in the brick field due to having no cultivable lands as the lands are contaminated with salt. Nasrin Akhter has two kids and her husband works as motorcycle driver transporting people from one place to other. However, after getting married Nasrin Akhter face immense financial crisis as her husband's income goes for buying bred though sometimes the income does not proved enough for running a family well.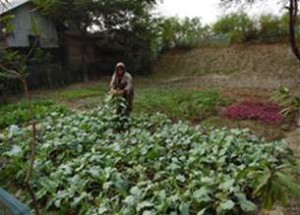 With the objective to help her husband at the initial stage Nasrin Nahar went to house of her neighbours to teach their kids. But the income was not enough. So, she starts to farm diverse vegetable in her homestead land throughout the year. She learned the technique to farm vegetable in organic manner from her father when she was a school student. Thus replicating the learning she farm diverse vegetable such as arum, ladies finger, gourd, kidney beans and spinaches and uses organic manure in the vegetable lands. Farming vegetable in an organic way has enabled her to meet family vegetable demand. She also shared her vegetable with her neighbours and relatives. Even after sharing her produces, she found some are left surplus. Thus she sells the surplus in the market and earns additional cash for her family that enables her to buy few needed things for her family. She said, "I farmed 13 types of vegetable such as ladies finger, kidney beans, gourd, sweet gourds and leafy vegetable in my homestead during the rainy season. I did the same thing last year but could not produce due to saline water caused damage." She went on saying, "But this year, I have made compost fertilizers using dungs and other materials and applying this fertilizer this year I have been able to produce more."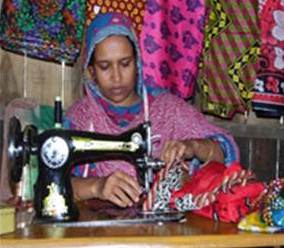 Nasrin Nahar does not confine her hard work in farming vegetable only but also got a training on tailoring this year. But due to having less cash she could not buy cloths to apply the learning which according to her she almost forget what she learned from the training. However, small support from BARCIK has enabled her to apply the learning. She said, in this regard, "I took tailoring training with aim to increase our income but could not apply it. But the help of BARCIK has enabled me to apply the tailoring learning. Now I am preparing different cloths for both male and female that crates avenue for me to earn additional cash for my family." Her daughter also learns the technique of tailoring from her she said. With the additional income now Nasrin Nahar has been able to tuition fee for her daughter's schooling.
According to Nasrin Nahar, most of the women in the Padmapukur Union spend time idly as there are no works for them. Shrimp farming has limited all sources of works and incomes for the poor she opined. There are seldom any livestock grazing in the field as there are no foods for them. There are many NGos working in this area but they never initiate any employment opportunity for the women except providing loans (Micro credit). She said, "If the women are trained on certain issues and subjects they could make way for improving their life and livelihood she opined. The small support from BARCIK has made me way and means for increasing my income and in the same time I am also trying my best possible to train other 3 women in my villager regarding organic farming and tailoring so that also could do same when they succeed."
However, the hard work made by Nasrin Nahar as well as her success will surely inspire other women in her and nearby villages.
Translated by Silvanus Lamin
happy wheels 2