A community pond re-excavated through an adivashi woman's leadership
---
Md. Shahidul Islam from Rajshahi
Adori Minos(46), an adivashi mother of two children being appreciated for her courage and leadership by villagers as she played a  vital role  for  re-excavating  a community that was the only means to meet their  urgent needs for the community.
Vugroil-a small adivashi village is located in Noahata municipality under Poba upazila of Rajshahi district which is about eleven kilometers away from Rajshahi City Corporation. In 1980 settlement started at Vugroil village. Government has allocated state owned land to solve adivashi people's accommodation problem in 1981. According to village supreme headman Mr. Johon Biswas (60), "our forefathers resided in hills, I heard that they moved from eastern Iswardi and settled at Noadapara village long years back that is close from here. At the very beginning, only seven families were settled and gradually it becomes a community where forty five families have been residing here at Vugroilo village".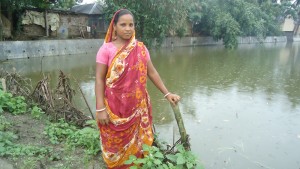 People in Vugroil village are living in hardship. Labor selling to others agricultural land is their main livings. Likewise men women also work hard as agriculture labour and maintain daily household works. They have no scope for work except agriculture after harvesting. In the time they trapped in debt by formal and informal money lenders. Moreover, Social and economical barrier restrict them from education. Therefore, child education rate is going down day by day. Noyan Biswas-a young from the community admitted in Rajshahi university but unable to continue his study due to insolvency.
In Vugroil village, there is a pond of 66 decimals that also allocated to community for fish farming and common use. The pond was used for fish farming and was managed by the adivashi community. Profit was shared to poorer for several purposes like emergency treatment, tuition fees, support for marriage expenditure etc. Some community development activities were also carried out by the profit also. Unfortunately, fish farming hampered when last year's heavy rainfall damaged the pond bank.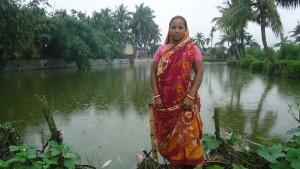 The community tried their level best to arrange money for   re-excavating and repairing but the amount was beyond their capacity. However, they contacted with several agencies including local government and other development agencies but there was no ray of hope. They become frustrated except Adori Minos who fought with courage. She started communication with concerned agencies again but the result remain unchanged. She discussed the matter in a village meeting and sought opinion from community people to rebuild the pond bank.
In this stage, Adori communicate with BARCIK and BARCIK started its facilitation to enhance their initiative. BARCIK arranged some exposure visit to Adori at Manikgonj, Tanore and Nachole upazila where some joint initiatives had already implemented by community initiatives. Through observation, it changed her outlook. Adori Minos then formed a committee in comprising with villagers to solve the problem by labor sharing. It was shared in a village meeting and accepted by everyone. The meeting also declared that by 1st week of May, 2016, it will be accomplished by participating one member from each family who work for two days. Finally, the joint initiative was implemented before schedule. Thus, the dream comes into true by their own effort.
Adori Minos has proven her leadership that brings back villagers confidence. She has been facilitating a learning centre now where free educations are being provided to children at Vugroil village. According to second headman Mr. Alfred Biswas, she(Adori) led the way by involving villagers for own development. We feel proud for her courage pro-activeness he added.  Villagers now has started fish cultivation and expressed that profit to be utilized in development purposes what they did before. Hope rear while fish rearing in their long cherished pond.
 Translated by ABM Touhidul Alam
happy wheels 2