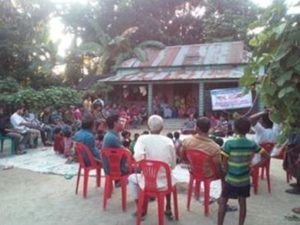 Street theater plays to raise awareness on using renewable energy
---
Happy Roy from Netrokona
It's easier to knock into someone's mind by telling stories with theatrical representation rather than just a simple conversation. It's a broad way of communication through which it's possible to be closer with people. Drama is such a way of communication. Once through stage play various situations of shortcomings and possibilities were displayed. And the audience would wait with eagerness for each character to play their part. Street theater is another medium of Drama.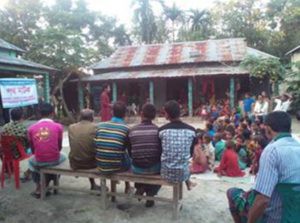 Street theater is played on street as the name would suggest. Within a small time window something educational is presented through a vibrant storytelling executed by the actors. These kinds of plays are performed live in front of the audience. But there are no stage neither are sitting arrangements for the audience. These plays can be performed in the hut-bazaar, at the crossroads or under a huge banyan tree even in somebody's front yard. The target audiences for these plays are the hardworking general people of our society. Street plays are mainly regarded as a popular way of recreation. Various non- government organizations arrange these plays to talk about different social issues. In the Anti-British Movement balladist Mukundo Das used this form to sing his poems. And he would ask the audience for their thoughts on it while performing.
In 2010 a couple of members from Netrokona organized Youth Society came to make a Drama group. They named it 'Natai Nattodol'. They performed plays on different topics. The members of this group write, direct and act in their plays. On behalf of a non-governmental organization they started playing street plays since 2014. They played dramas to raise public awareness on 'mother and child health' for that organization around Netrokona.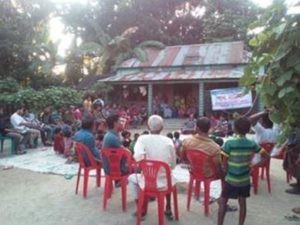 To raise public awareness the drama group has chosen street play as a medium. They are playing drama to raise awareness on using renewable energy and to preserve natural resources since 2015. They are playing their street drama in villages of Netrokona, bazaars, by the streets and in educational institutes. The subject of their drama is 'renewable energy, saving energy and to save the environment'.
The organizers said, "We try to make people conscious about using energy, environment, health, social rights etc. through our street play. We talk about government and non-governmental helps. We try to give them a picture of a better future."
Other than performing the plays the actors try to communicate with the audience during the play and listen to their thoughts. They try to learn from their mistakes. They talk about the learning of the drama. The members of the organized youth society are trying to make awareness about using and preserving renewable energy for the better part of two years which is playing a strong role to create awareness among the local folks.
happy wheels 2