Brojendranath from Rajshahi
"My husband left me (passed on) with a little child. We didn't have a house or any land. With no other way to go we turned to my parent's house to give the child and myself a place to live. To feed my child and myself I worked in other people's houses and barely lived our life. I did not know about my rights and I didn't even know where to go for what purposes, it did not come to my mind." These words were uttered by Rojufa, a widow from Madhabpur, Borogachi UP, Rajshahi.
With the fatal irony of fate despite of being a widow at an early age now she is continuing her duty to the society. And every moment she is trying to become a more active person. Following through these she was selected for the widow fare.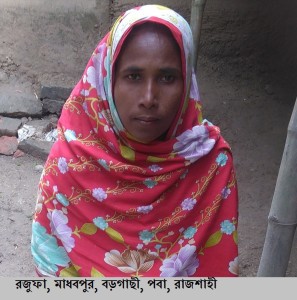 Rojufa was married to Md. Kalam from Shishsara village of Rajshashi in 1999. They lived day to day as a poor family. After three years of their marriage a son was born and shortly afterwards her husband Md. Kalam died. Because of this loss in this early stage of her life in an unknown village, she moved back to her parent's house, to raise the child. But Rojufa's father died and her mother was old and unable so she also took care of her mother. She worked all day to feed this family of three. Regardless of the weather or health sometimes in the chili yard, sometimes in vegetables farm, sometimes cooking and boiling the paddy for others she continued to provide for her family.
In the conversation she said, "My son got 4.25 in J.S.C (Junior school certificate) and 4.00 in SSC (Secondary school certificate). I cannot continue his studies anymore because it's not possible for me to continue the expenses by any means. But my son wants to go to college. He forced himself and got admitted. I could buy only four books for him after the admission. It was needed to buy 8 books for two years which was not possible for me. I have a little cow and a goat which is not ready for sale yet. I got into a loan NGO. I save money, I think about taking loan to buy books for my son but it scares me."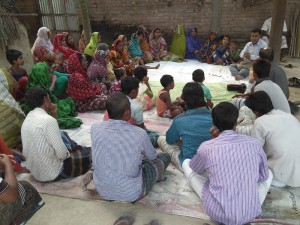 Meanwhile in Madhabpur village other women like Rojufa came together to form an organization to solve their problems and justify their possibilities. Since 2016 the activities of that organization went up and they talked about their possibilities and their motivation to entrepreneurship rose up. Through this organization the women of the village are getting their rights and status. Because of knowing the right information and communication the rate of getting services increased. Rojufa said, "I am a member of the Purbasha Women's Organization. Before I contacted the UP Member and the Chairman for widow fare, but it did not work. When I sat down in the meeting of the Purbasha Women's Organization I came to know how to get the rights and services and who is eligible for them! In the meeting then other members talked about my problems." She went on saying, "the chair person Ms. Munira Bugum and others planned to take me to the Chairman. As a result they enlisted my name to get the widow fare card. Now I get 1200 taka in every three months, which is not much but it comes handy for me to run the family."
Now Rojufa farms vegetables surrounding her home in organic way. She used worm compost fertilizer in her vegetable garden. She wishes to produce worm compost and to sell the fertilizer in the market to earn some money for the family.
However, because of this organization Rojufa became conscious about her rights and capabilities. Now she believes that with unity you can earn any of your debts. And for that it is needed to work together. She said, "If you know the right information and work together according to the process it is not hard to get the services you deserve." The Chairperson of Purbasha Women's Organization Ms. Munira Begum said, "The life of a village woman is hard and full of misery. To get the right services you need to know the right information and stay united. It's not that difficult. That's what we are doing now."
Translated by Hasnain Al Morshed
happy wheels 2