The ancient tradition of Bengal the "regatta Polo" is disappearing
---
Abdur Razzak from Manikgonj
In the rivers, canals, swamps and lakes fishing in groups with Polo (a traditional fishing tool) is an ancient tradition of rural Bengal. Remembering this tradition recently in Ghior, Manikgonj they are catching fish with polo with a festive environment. Following the announcement in the bazaar and the villages all the armature fish hunters set their destination in the shallows of Kaliganga River and the swamps and lakes of that area.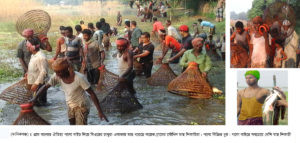 In this dry season the shallows of Kaliganga and old Dholeshwari, Tora from Baniyajuri, Nali, Sholdhara, Diyail, mailaghi of Ghior and the chok of Bortia is not deeper than ones knee to waist. And in these shallow waters every day there is a festival of fishing going on. Recently in the Rathura Chok of Baniyajuri eyewitness accounts local fish like shol, boal, karfu, rui, katla are the common captures. Some are catching smaller fish. Islam Khan from Rathura said, "I have come because this is my hobby, I caught a Boal." Another hunter Nurul Islam caught a huge boal and two karfu fish. Participants of this regatta Polo Akash Ahmed Rafiq, Afser ali, Chitta Das, Md Robin and so forth thinks that fishing with Polo is uniquely fun. When someone catches a fish, every one chats and jumps down to help. In the regatta Polo people from nearby UP (Union Parisod) and even from some other district attended on the pre schedules date. Hundreds of people celebrate this regatta with childish playfulness.
To attend in the regatta people of different ages are gathering to buy the Polo. Usually one polo costs Bdt 150-250. But during the regatta the price goes two to three times higher and they buy it with a head to head competition. A Polo seller from Baniyajuri bus stand, Ghior; Anil Babu said, "The day before the regatta I arrived with 100 Polo and they were all gone within an hour and I got a good price as well." Other than the Polo people came with Pati net, Tana net, Dharma net and other fishnets. They all came down to catch fish. But local fish is not as available as before complained some of the participants. The local people want to keep the ancient tradition alive.
Baniyajuri UP Chairman Abul Kashem Chotu told, the regatta of Polo is continuing for a long time and it creates excitement in the nearby villages. To keep it alive he expects everyone to help and wish well.
Translated by Hasnain Al Morshed
happy wheels 2