Nichula Hajong and her gourd garden
---
Gunjan Rema from Kamlakanda, Netrokona
Only the one who lives alone knows the struggles of loneliness. Nichula Hajong (59) lives at Bonbera village of Kharnoi UP in Kamlakanda Upozilla of Netrakona. She is all alone now from her family. Her husband died one and a half years ago and her only daughter is married and lives with the husband. They often come to visit, sometimes with their children so they can spend time with their grandmother.
Inspired by watching a nearby Bengali family last year with the help of her daughter and son in law she started a gourd garden. She spent BDT 7,000 on the garden last year and earned about BDT 30,000. Last year's success made her expand the garden this year. Usually she does all the work related to the garden she weeds the garden, water the crops and sometimes she appoints a worker or two to help her doing her garden with success. She uses cow dung as fertilizer in her garden. She collects cow dung from the herd at fields. After collecting all the cow dung, she makes a compost to use it as fertilizer.
Before the gourd garden she used to collect wood from the hills. Now it's too difficult for her to collect wood from hills and selling it at the market at this age. That's why she has taken this initiative of gourd gardening which is less difficult in terms of physical effort. Nevertheless, no job is easy and neither impossible. She has faced some problems to make this gourd garden but with will power and true spirit she has cast those problems away.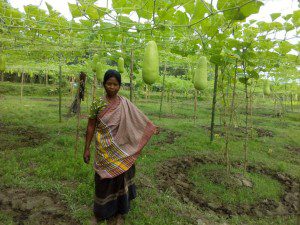 Being alone is always stressful but Nichula Hajong tries to release some of those stresses by being busy. The garden is her only hope to stay busy. Every day she spends her time in the garden. Moreover, when the garden is fruitful and ready to sell the gourd, buyers frequently comes to do business. Other than that, when she goes to the market to sell her gourd she meets lots of people who gives her company. About this she said, 'Now it's time to sell the gourd. Dealers are coming frequently at my house. The dealers are buying gourd strait from the garden. Besides, I spend my time selling gourd to the nearby market by the Bonbera village.'
She didn't make the garden just to spend her time; rather to fulfill her nutrients, making a living and overall to consume fresh organic vegetable she said. As she does not use any chemicals and pesticides she has a good demand at the market and to the consumers as well. Moreover, she is now capable of buying her necessary items which she needs from the money she earns selling those gourd.
The general scenario of Bangladesh says that at this age no women are free from heavy works. But Nichula Hajong is different. She made a decision to make a gourd garden to remove her loneliness. She thinks now her life is better than before. Before she couldn't stay at home, now she spends most of the time at home. Now she started keeping goats and cow at her premises which added as a new source of income to her.
Just like this, with willpower one can solve their problems all by themselves. Others can give advice but one has to do the job themselves. To remove her loneliness Nichula Hajong did not just achieve success, but also she did show everyone how to solve their problems all by themselves by being independent.
Translated by Hasnain Al Morshed
happy wheels 2