Autumn returns life to earth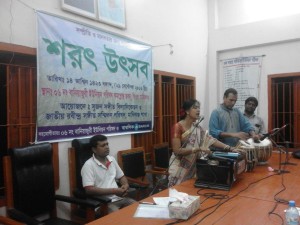 Autumn returns life to earth
---
Pankaj Paul and Subir Sarker from Manikgonj
In a famous song or poetry whenever we hear of big blue sky with bubbly white clouds or the dew drops on the morning grass, Shelly flower and white grasslands of catkin reminds us of only one thing; Autumn. The eye soothing beauty of autumn fascinates everybody's mind. To uphold the beauty of autumn and the importance of seasonal variations by artistic expressions of reading poetry and singing songs BARCIK education and cultural division arranged the autumn celebration on 29th September at Baniyajuri, Manikgonj.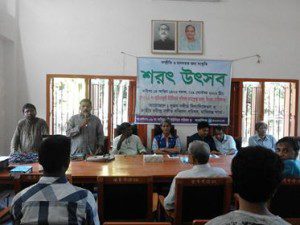 An imaginative program was held at Baniyajuri union complex hall with the arrangement and help of Baniyajuri srijon sangeet academy, National Rabindra sangeet shammilan parishad and BARCIK. The program was divided in two parts. The first episode was a meeting and the second episode was of the cultural program. Cultural personality Mukhtaruzzaman Babu was the chairperson of the meeting. At the welcome speech BARCIK coordinator Bimol Roy said "The importance of autumn is immeasurable. Without autumn there will be no seasonal variation. Without the seasonal variation there will be no beautiful Bangladesh and there will be no variation of life".
The chief guest of the program Advocate Deepak Kumar Ghosh said, "Autumn is the queen of all seasons. Life returns to earth in autumn. The intension of this program is to love the nature and being enthusiastic about it, to be liable and careful to the nature. We must learn how to be careful to the nature and therefore express our love to nature."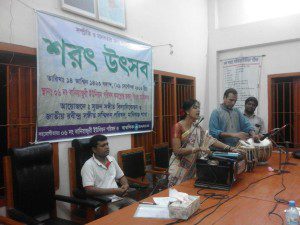 On his speech special guest professor Babul Das said, "Autumn celebration is for the first time in Manikgonj as far as I know. The culture and tradition of old days no more exists today. Today's program reminds me of my childhood. To get rid of the current unstable situation the only way is to practice our culture."
At the beginning of the cultural program, the song 'Aguner Poroshmoni chowao praney' was performed in assembly. After that, to celebrate autumn songs were performed from 'Srijon Sangeet Bidyaniketon' by Ratan Saha, Ananta Saha, Happy, Mridul Mondal, Sumona, Sinjin and so forth. Recital was performed by a distinctive poet and the joint general secretary of 'Ontorongo Shahityo Parishad' Delwar Rahman Khan, from Ghior poet Ruhul Amin, Poet Poritosh Acharya and so forth. After that, to welcome autumn through songs were performed by Satyabrata Chakrabarty and Imon from national Rabindra sangeet shammilan parishad, Shipra Shikder a distinctive Rabindra sangeet singer from Shantiniketon. The cultural program was moderated by Subir Sarkar and Pankaj Paul and the previous meeting was moderated by Nazrul Islam.
After watching this long going program the folks were very pleased and they have requested for more programs like this to held place in the future.
Translated by Hasnain Al Morshed
happy wheels 2