Netrakona youth in social development
---
The 'Nature and life' youth organization of Paradurgapur of Netrakona has been implementing some development activities to contribute in overall development of their area. The members of this organization on regular basis arrange football tournament to keep the young generation away from drugs and other social crimes. They also arrange football tournament for the girls as well. This recreation enchants the whole community in the area. The members of the organization also play role in planting local varieties of fruit and medicinal trees in their surrounding areas. The number of neem tree is very few in the area and these youths plant neem trees in their yard. They have so far planted different local and fruit trees covering 2 kilometers areas. They also take care of these planted trees by themselves.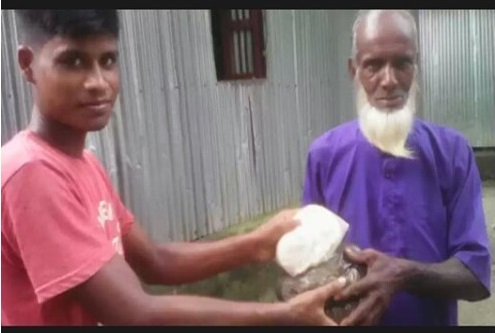 In consonance with their social and environmental works these youths during the religious festival of Muslim community known as Eid stood beside the senior and differently abled people by providing them foods and grocery needs. They collect fund from others and manage TK.100 each from themselves to buy those goods for the helpless older and differently abled people. Senior citizen Md. Zayed Mian while receiving the services said, 'Let every mother give birth to children like you. You do not have job and you are still students but you dare to stand beside us. I pray, may God bless you all with happiness and joy and help you to become good human beings.'
Teacher Parveen Akter said, 'The initiatives of these youths are appreciable. I have a pleasant feeling to think that these youths are working to contribute in village and society development. She assured the youth organization that she will be always with them and will provide support if required.
In present situation the youths are hardly seen to work for village and social development. They are now busy mobile phone and social networking which sometimes misleads them. They are now not seen playing different games in the evening time. However, the youths of Paradurgapur village have managed time to work for their village and society. If the youths of other areas work for the development of their village and society like the youths of Paradurgapur village we would have a progressive and developed Bangladesh.
Translated by Silvanus Lamin
happy wheels 2