Abdul Karim dreams of the welfare of differently abled people
---
Sattaranjan Saha and Mukter Hossein, from Harirampur Manikgonj
Abdul Karim studied up to standard five and as he came from of farmer's family he got involved in agriculture with his father. His father bought a tractor for agriculture work. Once Abdul Karim got an accident while riding the tractor in his agriculture field. The accident caused him to lose one of his legs. Since then he became physically challenged person. His struggle starts from that time. Due to being physically challenged he noticed that the attitude and behavior of people has change towards him. He became the victim of negligence and underestimation. People around him tend to show compassion towards him.
Abdul Karim said, 'Since I am not born physically challenged person that is why I clearly realize the attitude and behavior of family and society towards the physically challenged people. The people who used to respect me now neglect and show compassion towards me. This hurts me a lot.' The attitude and behavior of the people has led me to think of myself and the other physically challenged people. I start to work as a cycle mechanic to earn my living. It is impossible for me alone to do something big for the physically challenged people. I tried to communicate with other physically challenged people in my area. I found some people around me and with their support we formed Harirampur physically challenged people organization in 2012.'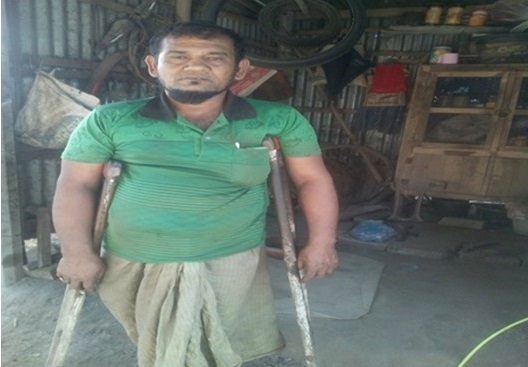 Abdul Karim through this organization tries to work for securing respect for the physically challenged people. He communicates with government and NGOs to create awareness among the mass people as well as to claim access of the physically challenged people to different services and facilities. He also tries to advocate for creating opportunity for the physically challenged people in different income generating activities so that they could earn for their living. According to his statement, BARCIK a non-governmental organization has provided information supports and links them with government and NGOs. BARCIK also motivates and implements activities to create mass awareness regarding the rights of physically challenged people. The support of BARCIK and other organizations has strengthened their organization. Presently the organization has 525 members and through campaigns and activity implementation the attitude of the mass people about physically challenged people has changed opined Abdul Karim.
Today due to the sincere efforts of Abdul Karim the physically challenged people in his area have been able to have access to food, treatment and other services and facilities provided either by public or private agencies. The approach of society and family also has changed and they are becoming friendly and sensitive towards the concerns of these people. The Upazilla Parisod of Harirampur has provided lands to the organization of the physically challenged people for building houses and the honorable MP (Member of Parliament) Momotaz Begum has provided materials for house building, economic and other human supports of the organization said Abdul Karim. Abdul Karim dreams that someday the status of the physically challenged people will be developed in this area.
Translated by Silvanus Lamin
happy wheels 2