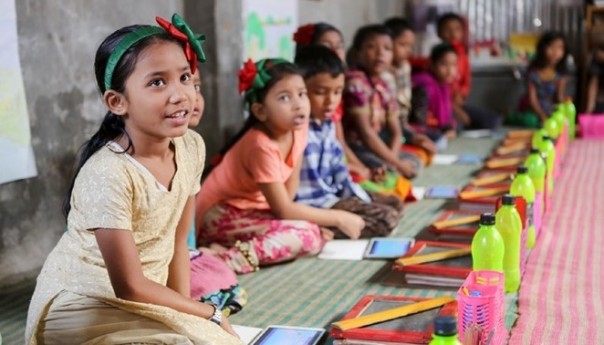 Youths for change in Rajshahi
---
ABM Touhidul Alam
 Youth (one-third of total population) in Bangladesh is the most viable and potential human resource not only in population structure but also in social structure. Without their development, a nation cannot achieve her human intended. The Government of Bangladesh has formulated policy, plans and programs for youth welfare and implemented these through GOs and NGOs, irrespective of all age-grades and regions. As part of this, BARCIK has been facilitating youths and their actions in Rajshai over the years for their socio-cultural and development through exploring their potentials.
 Education campaign for slum children
BIES (Bangladesh Innovative Education Society) a youth organization in Rajshahi city has launched education inspiration campaign for the underprivileged slum children in Rajshahi city aims at mainstreaming them through institutional learning. The youth organization comprising more than 90 students of various institutions launched the time-fitting education campaign at Namo Bhadra slum setting a target of bringing all the slum children under the campaign.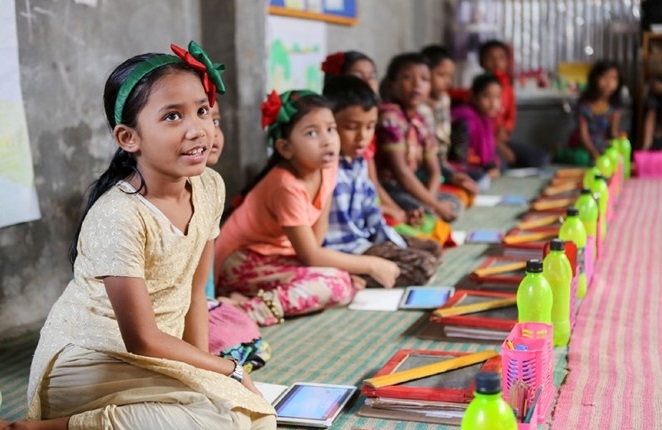 BARCIK (Bangladesh Resource Centre for Indigenous Knowledge) supported the effort. In leisure time, they have been conducting the campaign four days in a week for making the children school-oriented through expert counseling, drawing and edutainment. "We have initiated the campaign in order to educate the disadvantaged children through edutainment," said Joinul Abedeen, President of BIES. He urged the government and the affluent people in society to come forward for the welfare of underprivileged children. In the preliminary stage, the youths conducted a baseline survey relating to the problems being faced by the children. They also shared views with parents of the children highlighting the importance of education.
Safety shelter for winter migratory birds
YASC (Youth Action for Social Change) and Bangladesh Resource Centre for Indigenous Knowledge (BARCIK) jointly organized a program at Shimla Park in Rajshahi to press home the demands of ensuring food security and habitat of wildlife and birds. Experts and development activists have unanimously observed that protection of wildlife and birds has become an urgent need for maintaining ecological balance. They mentioned that wild life and birds play a pivotal role in sustainable development of the nation. So, all the government and non-government entities concerned should come forward and work together to protect them from further degradation. They came up with the observation while organizing meeting and human chain at Shimla Park in the city.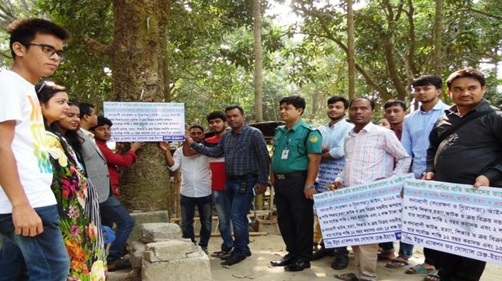 Senior assistant commissioner of Rajshahi Metropolitan Police Ifte Khayer Alam, officer-in-charge of Rajpara Police Station Hafizur Rahman, BARCIK Regional Coordinator Shahidul Islam, YASC President Shamiul Alim Shaon and its general secretary Nazmul Islam, among others, addressed the programme. Shahidul Islam, BARCIK coordinator, stressed the need for protection and preserving wild animals anyhow to have a better environment with bio-diversity. "Wild life populations are on the verge of extinction due to various threats including poaching, habitat loss and overuse of natural resources," he said. If such the trend continues, they will disappear from the environment in near future," he added. He called for full-length enforcement of the existing laws to protect the wild life. In his remarks, Ifte Khayer Alam underscored the need for generating public awareness to protect the wild animals.He also urged the youths to give information about the law violators to the law enforcers in this regard. 
Rivers protection for environmental balance
On September 30, 2018 the World Rivers Day was observed by youth cyclist group 0.6 GRZ at Tanore in Rajsahahi with the theme of this year's is 'Encroachment-pollution free rivers: Save Life and Nature.' A road march was arranged by youth cyclist group 0.6 GRZ marking the ceremony with the facilitation of BARCIK-Rajshahi. At the programme, the youth and other participants demanded to government to protect Shib, Barnoi and all rivers for the greater interest of the Barind tract and keep those flowing round the year. Earlier the cyclist group marched 60km's cycle rally from Rajshahi to Tanore creating awareness on river pollution and environment. In the program, a river platform was formed with the involvement of civil society representatives to protect rives from all sorts of unlawful events. A traditional folk event Gambhira as part of river awareness was performed by local artist.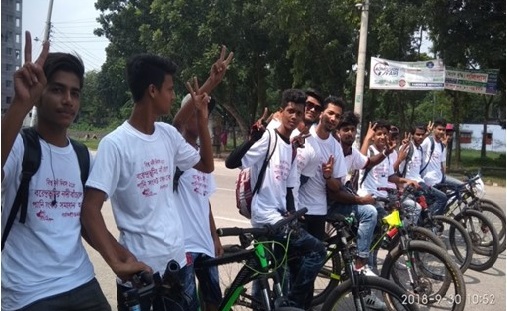 World Rivers Day highlights the many values of our rivers, and strives to increase public awareness and encourages the improved stewardship of all rivers around the world.  Rivers in virtually in our country face an array of threats, and only through our active involvement can we ensure their health in the years ahead.
Digital traffic signal in Rajshahi city
Youth organizations YASC (Youth Action for Social Change) and members of the civil societies have unanimously called for launching digital traffic signal in all points of the Rajshahi city to discipline the road traffic system. They mentioned that the existing automatic traffic signal system has become almost ineffective in the metropolis posing a serious threat to the public transports movement together with the pedestrian.The youth made this observation while addressing a human-chain-cum-street- corner meeting at Shaheed AHM Kamaruzzaman Crossing in the city yesterday. YASC and BARCIK (Bangladesh Resource Centre for Indigenous Knowledge) jointly organized the programme putting forward thirteen-point demands. Chaired by YASC President Shamiul Alim Shaon, the meeting was addressed, among others, by BARCIK Regional Coordinator Shahidul Islam, YASC General Secretary Nazmul Islam and its Women and Children Affairs Secretary Fatema Ali Meghla. Rajshahi City Corporation (RCC) had established the signal system at 21 important points out of 30 at a cost of around Tk 1.5 crore in three phases since 1994.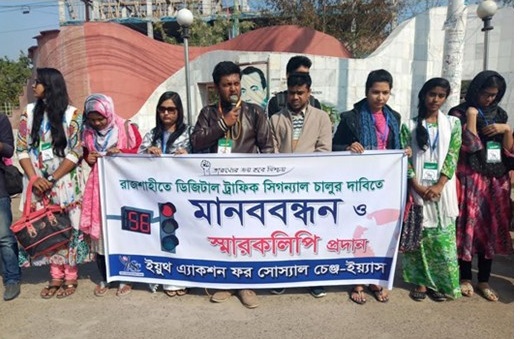 Currently, traffic division of Rajshahi Metropolitan Police (RMP) has been managing the city's traffic manually causing indiscriminate traffic movement and huge congestion at different crossings and intersections frequently. Basically, the traffic police face a great trouble in traffic management due to excessive mechanized and manual transports on the city streets alongside non-functional of automatic system and haphazard parking. To mitigate the problem, promoting digital traffic system and enforcement of traffic law has become indispensable, they added. After the human chain the youth handed over memorandum to RCC Mayor, RMP Commissioner and Deputy Commissioner to press home their demands.
 Keeping city clean
In Rajshahi Metropolitan city, a youth organization called Youth Action for Social Change (YASC) has started campaign titled 'our city, our responsiblity' become united youth to protect environmental ecosystem and pollution free clean city. They have started working to keep their surroundings clean. Along with this, in collaboration with BARCIK-Rajshahi Resource Centre, the youths are also working for raising public awareness against environmental pollution in the city.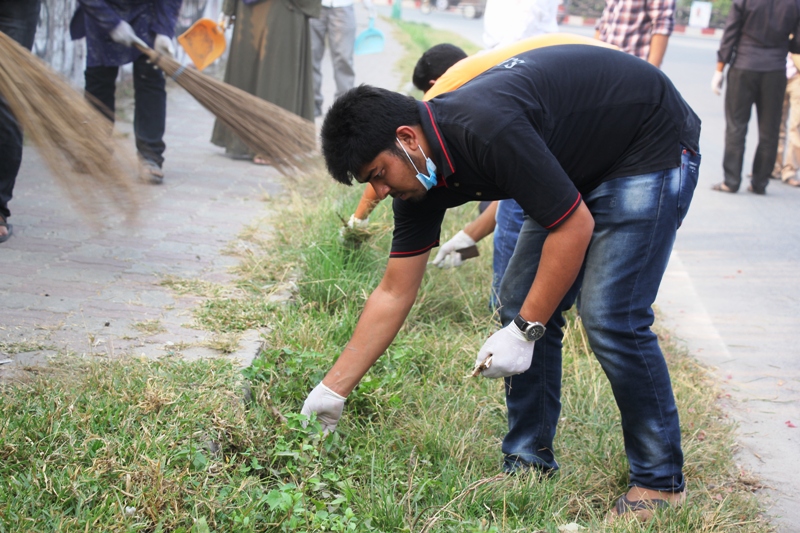 As part of the campaign, a total of 5 km road side wastes have been cleaned by the youth on August, 2018. Before action, a rally paraded the city's main points. The rally was addressed by Mr. Mizanur Rahman, chairman, 'Save the Nature'. He said, `youths have the potentials and we should use their spirit for any positive change.' He added `we often claim our rights, but we forget our responsibilities.' Representatives from YASC Samiul Alam, Nazmul Islam and Fatima Ali Meghla also present in the campaign.
It is needless to say, the youths played a valiant role at all critical junctures in the life of the nation. Young people are the most energetic and productive segment of the total population. Youth is certainly a most crucial and critical phase of life. A vast majority of this section unfortunately remains unreached, but it is a matter of fact that young people need a great amount of concentration to become the driving force of a nation.Therefore, there is no alternative to handle them properly for our long cherished socio-economic development and change.
happy wheels 2