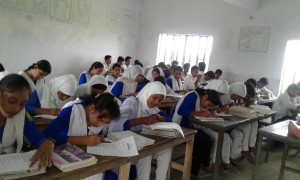 Let's love our country, people and the nature
---
By Md. Ohidur Rahman, from Netrokona
In the foothills of Garo Pahar, Netrokona district is surrounded by rivers and canals. The plentiful fish in the ponds and the golden crops of this land seduces everybody. On the other hand, Netrokona is the district of songs, the home to the great Mynensingh Gitika. The stories of Mohua, Molua and Kajolrekha are the riches of this region. The swamps of this district is home to many people with various occupations and livelihood. But many of the new generation is unaware of the history, tradition and the colourfull lifestyle of this district. The unified youth society of Netrokona took the responsibility To reach the historical, traditional and cultural values to the new generation. They are spontaneously presenting themselves in the schools of this district to focus the history and tradition through arranging cultural and entertaining programs.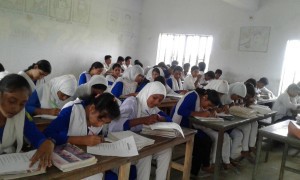 On the follow through of those activities recently with the initiative of this unified youth organization, Abdul Hamid High School, Noadia High School, Lokkhigonj High School, Telgati BNH High School, Durgasrom High School, Hazi Foyez Uddin Akand high School with Netrokona High School arranged some workshops/schedules with the slogan 'we know Netrokona, we know the country, lets enhance patriotism'. As part of this initiative, they have arranged general knowledge, instant speech and debating contests in different schools.
As results of this activities students came to learn about the stories of past struggles, the stories of war, the stories of hundreds of swamps and canals and rivers, the trees and birds, the hills, the wildlife, the sanctuary of the fish and the stories of the white land.
Through these initiatives the members of the youth organization planted the seed of peace and harmony among the students. Students learned that the communal harmony of Netrokona attracted people from other district. Students also learned that in the past, the Hindus, Muslims, Buddhists, Christians, Bengali and the Indigenous people lived together in peace. The nature bounded them all in a single string. That's why their paintings show the love for nature and humanity, they show the beautiful Forrest and the hills and the birds and all of wildlife. These activities made the students realize that it is for their own sake they must know and love their country. By loving the nature and the people of their own region, these little students will express their love for their country.
Translated by Hasnain Al Morshed (Srijon)
happy wheels 2