Barendra seed bank and mutual relationship
---
By Amrito Sarker from Tanore Rajshahi
Barendra is a drought prone region. The agriculture and culture of the people is this area is different and unique. There have been crops and humans' diversity in this area which to some reasons has declined now a day. The decline in crop diversity has been responsible for the decreased dependency among the diverse communities in the area.
However, with the objective to revive the lost varieties as well as  retie the mutual relationship among the occupational groups the farmers of Duboil village of Tanore under Rajshahi district have developed a 'seed bank and exchange center. Yousuf Mulla, a national level rewarded farmer took the lead role to establish the seed bank. He has been conserving different types and kinds of local varieties of seeds of which are almost extinct and some are in the list of extinction, for a long time.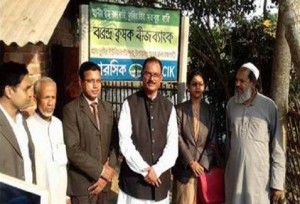 In order to share these seeds and describe their usage and importance to other farmers in 2015 he took the initiative to establish this seed bank with the support from BARCIK. The seed bank now plays vital role to increase the seed diversity in the area. In the same time, it also strengthens the ties and relationship among farmers through seed and experience exchange.
Day by day the number of farmers collecting and depositing seeds in this bank has increased. So far, through this seed bank farmers have been exchanging 200 types of rice, 30 types of vegetable and 25 types of Robi crops (winter crops) with each other.
The agriculture official of Tanore Md. Shariful Islam thus said, "The seed bank plays vital role to conserve the local varieties of crops. These vareities are less susceptible to diseases and are drought tolerant. In the meantime, these varieties are lined with the social and cultural context of the region." On the other hand, Yousuf Molla said, "We exchange these seeds with the farmers from different districts such as Rajshahi, Chapainawabgonj, Dinajpur, Comilla, Bagura, Nilfamary, Noakhali, Jhinadha, Netrakona and Satkhira districts. The exchange of seeds among us has strengthened our mutual and spritual relationship."
Appreciating the initiative of the farmers Tanore Upazilla Chairman said, "The members of seed bank have been very active to contact and communicate with the Union and Upazilla Parisod for services and for getting their problems solved which lead them solving their problem quickly that contribute to improve their livelihood.
Translated by Silvanus Lamin
happy wheels 2