The villagers made the road voluntarily
The villagers made the road voluntarily
---
By Asim Kumar Sorkar, from Rajshahi
Voluntary participation of community people in any development initiative can always play a vital role for its success. Although, participation could varies from one community to another and country to country. Community of Khariakandi Villagers of Rishikul union under Godagari built about one kilometer earthen road that will make easy to carry their harvest.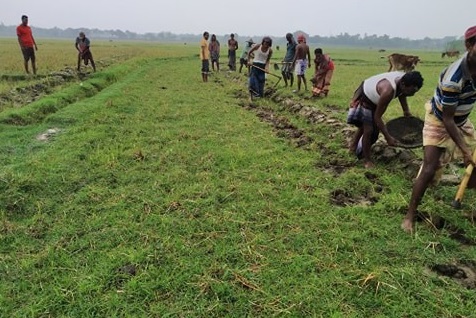 In Khariakandi Village, there is a beel (a vast low lying area becomes inundated in lower portion during monsoon). Once upon a time there was an earthen road across the beel which was used for communication and carrying of agricultural products. Due to lack of management and not repairing timely the quality of earthen road deteriorated and functionally collapsed. Therefore, a huge numbers of local farmers were in trouble to carry their product that is produced in the beel. They were not able to take their product at home for process and preservation.
A group of farmers was contacted to BARCIK staff members in this regard and discuss their problem in a meeting. BARCIK staff members facilitated the meeting. The meeting decided to take some initiatives of which to contact with local elected representative with a written application to rebuild the road for their convenience. They did it accordingly but unfortunately, the concerned authority did not take the issue into consideration and wasting time unnecessarily.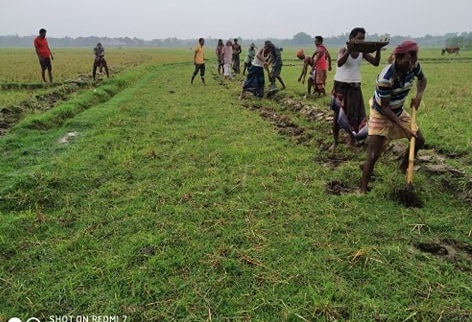 In this context, the villagers come forward and decided to make it by their own labor and they did it voluntarily. Alhaj Tayab Ali, an elder person of the village said, 'We had dreams of many days to build roads in this beel. It was possible for the people of the village. The people of the village will get the benefits of this road 'he added. Former UP member Mr. Arfan Talukder said, "There are about a hundred bighas of land in this beel. In Boro season the road will reduce the labor cost to carry paddy from field to home about one thousand taka per bigha.
Through PLD, BARCIK facilitates the Khariakandi village community and the villagers come together to take collective action and generate solutions to their common problems.
happy wheels 2