Sakhina's agriculture seed
---
Roksana Rumi from Netrokona
Rural women like Sakhina, in their compassion, have kept the of crop diversity, the combination of many varieties of vegetable seeds. They have sustained the seed sharing the culture of rural life, have served poisonous free food. Beside they kept running wheel of their lives in spite of poverty in their everyday life.
Diverse crops consortia can be seen in Netrokona district. But in the name of modern agriculture, our rural women have lost their self-reliant, environmentally friendly knowledge and experience. The chemicals dependent agriculture and green revolution have made rural women's knowledge valueless; which has longstanding experiences. This also endangers the nature .
However, in spite of such endangerment and destruction, rural women in the Netrokona region still cultivate diverse crops, and by taking an environment-friendly initiative. Their continuous efforts have been made to save livelihoods including self-help agriculture. Sakhina Akter is one of an enthusiastic woman among them.
Bhugia is a village of Ashujia union of Kendua upazila of Netrokona district. The shades are full of grains is a kilo-kilometer east of Rampur Bazar village. Sakhina Akhter (36), is the chief of Shapala Shalok farmer's organizations of Bhugia village. She is the mother of two children. Scarcity in the family did not leave behind her. She did not have the ability to feed her baby twice. Could not think of educating her children.  There is only 50 decimal of the land, including her husband's house. Sakhina Akter's husband is a poor farmer, who lives with the everyday wage.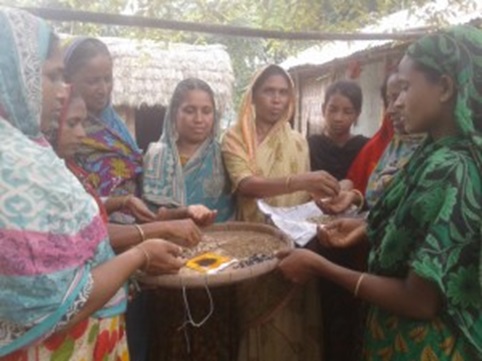 She learned from her mother the idea on how to cultivate mix diversified crop in a small land in her homestead garden with ducks and chickens keeping cattle and running the family. She distributed vegetables and pulses seeds among all the members of the organization. Besides, she also shares seeds with other women of the nearby villages of Rampur, Nagua, Bhagbatipur of Atpara Upazila. She also distributed the seeds of bottle guard, pumpkin, pulses, red spinach, radish, Chilies, other 7 varieties of the crop with these women. Along with seeds sharing, she has urged these women to preserve vegetables and pulses seeds.
Sakhina Akter has 50 ducks, 10 chickens, 3 goats and 3 cows. She used to make organic fertilizers by the livestock shit. She is an expert of making bio-pesticides and bio-fertilizers along with seeds preservation. Therefore, she used to share this knowledge among her relatives along with women in his neighborhood. So, more than 30 women are involved in this work being inspired by Sakhina Akter's work. They pledged to cultivate poison free vegetables.
Sakhina Akhter said, "I can earn some money by selling vegetables, seeds, cock, milk. There is no poison in the vegetable that I cultivate. My family and three other families do not have to buy anything from the market. Selling various crop to the market by meeting our family needs." She further said, "There is an extra value of my crop in the market. People come from my home and take vegetables. My future plan is that I will preserve the seeds of all the crops myself. Helping others with seeds. I will cooperate with others to cultivate in organic farming." Village women like Sakhina use their experience to change their life.
Translated by Bahauddin Bahar
happy wheels 2