Exclusive talks with environment medalist farmer Md. Yousuf Mulla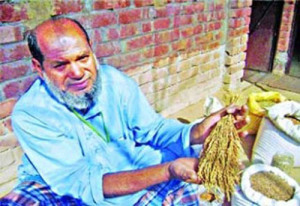 Exclusive talks with environment medalist farmer Md. Yousuf Mulla
---
BARCIKnews.com recently had an intensive interaction with Yousuf Mulla, a farmer of Duboil village under Nachol of Chapainawabgonj district who is well-known as ideal farmer to others. He has been adopting sustainable agriculture since his father was alive. He has been conserving many seed of local varieties of rice and other crops and has set an example to other farmers regarding his success in adopting sustainable agriculture. BARCIKnews.com discussed with on how he has been doing that and who encouraged him doing that and how other farmers see his success. Mr. Mulla 2013 was awarded 'Environment Medal' for his contribution in protecting the environment in 2013. He was born in 1356 (Bengali calendar) in Duboil village. He joined his father in agriculture just after passing class eight. Yousuf Mulla shared his feelings after receiving the award as well as his works. Here is the gist of his sharing: On behalf of barciknews.com Silvanus Lamin had exclusive talks with him.

BARCIKnews.com: What made you think that indigenous knowledge based sustainable agriculture is environment friendly where most of the farmers practice energy intensive agriculture for good yield?
Yousuf Mulla: I have learned agro farming from my father. He was a well-known, success and influential farmer in our area. He prepared compost fertilizers, kept seeds in hands and used livestock for land preparation. He could harvest good yield doing that. He did not depend on others for seeds, fertilizers. But today most of the farmers have to buy seeds in the market along with fertilizers and pesticides. Using the seeds and chemicals has contributed in declined local rice varieties as well as environmental pollution. On the other hand, the seed conservation of farmers disappeared due to their dependency on market seeds. Today, many wild plants, fishes and other wild life have disappeared from the nature. The loss of these plants and wild life has created diverse problems in the food production as well. The sustainable agriculture that farmers practice using their indigenous knowledge seldom plays role to biodiversity extinction. I want to provide fresh food to my family members and the cosumers. I want to keep the environment fresh. If the environment is fresh and protected from degradation, in turns it will ensure our wellbeing both physically and mentally. That is why I still practice sustainable agriculture. And, at last I got the recognition of my hard works!
BARCIKnews.com: Who have encouraged you most to do such works?
Yousuf Mulla: Frankly to say, I did not get support from my family members. My children and brothers treated my works as 'useless' and 'time wasting'. They even told me what would I do with the 'old' things! Actually, I want to have my own identity in the society. My neighbour knows me in the name of my father. He was a success man in his works and people still recall his memories and works. Besides, when I met BARCIK, I was inspired by their works. The organization has recognized my hard works and still encourages me much. The organization has facilitated my work in forms of advices and sometimes minimum resources. It will not be possible for me to get the award unless BARCIK did all the necessary communication and process. The organization, on 18 April, 2013, submitted an application on behalf of me for the award. I am greateful and thankful to all BARCIK staff.
BARCIKnews.com: Please share your feelings with us about the award.
Yousuf Mulla: Right now I am very excited. I have no words to express how much happy I am! I could not imagine that I would have such an opportunity to receive national award from the Prime Minister! I am really happy and being encouraged to contribute more to ensure environmental sustainability. It is the national recognition of my hard work!
BARCIKnews.com: You have been awarded for your contribution to protect the environment. Would you please briefly share what have you done that leads you to national award?
Yousuf Mulla: I have been practicing sustainable agriculture since the day I first got invovled in agriculture. I have been conserving diverse and almost extinct local rice variety since 1978. Today there are more than 60 types of local rice varieties in my collection and conservation. Some of them are not found in the area, even in different parts of Bangladesh today. I did not use chemical fertilizers and pesticides in my life. I prepare compost fertilizers and use in the fields. I have a nursery of local varieties of trees as well. I conserve local varieties of vegetable and spinaches as well. My success in protecting environment and conservation of diverse varieties has stanched the attention of the media leading the daily national Prothom Alo to publish a feature based on my conservation works. This feature has changed my life!
BARCIKnews.com: Do your family members feel proud of your achievement or what is their reaction?
Yousuf Mulla: Yes, when I was told that I have been selected for the award, it was my family members who have reacted so positively. They told me that they have been doing the wrong thing for years by discouraging me to conserve extinct crop and rice varieties! Now, they will do the samething that I have been doing. They will contribute to make my effort more successfully by collecting more resources and farming the collected seeds in the fields.
BARCIKnews.com: Do other farmers and occupational groups come to you for advice seeing your success in agriculture?
Yousuf Mulla: Yes, every day farmers and other occupational groups from my and other villages come to me for advices and for seeds. I share my experience with them and provide seeds to them without cost. Even farmers from other districts make phone call to me asking for advices. I share with them too. GOs and NGOs representative also come to me for interview and to document my works. When people learn that I am going to receive a national award for my works, people from my village and other areas rush to my house to see me and talk to me. They also feel proud of me. This thing has made signficant impact on my future work and plan. I want to incorporate this people in my work.
BARCIKnews.com: If you are asked to say few words to the new generation and other age of people what would you say?
Yousuf Mulla: Every life on the earth is important and has inter-relation with each other. Every life has the right to live! So, I would say to them to love the nature! I would invite them not do anything that accelerates the loss of biodiversity, deteriorates the forest and kills unseen life. If the rate of biodiversity extinction is increased it would create big problem in all aspects of human life. I would say, love the nature, the nature will love you, will provide you food and other things needed in life!
BARCIKnews.com: Thank you for talking to us.
Yousfu Mulla: Thank you too.
(Yousuf Mulla has a mini museam which he initiated in 1974. There are almost 150 kinds of different social, cultural and agriculture materials, instruments, ornaments, old coins, utensils, designs, old books, papers and some other rare materials in his mini museam).
happy wheels 2