An Ideal farmer Mothi Ghagra
---
BY Gunjon Rema, Kalmakanda, Netrakona
Mothi Ghagra lives in Kalmankanda at Taranagar village. Agriculture is his main occupation. He manages the schooling of his kids and livelihood cost of his family through farming diverse crops, rice and other agriculture works. His is very keen and interested to learn new things associated with agriculture. Thus, he has received different agriculture training from different organizations and persons. He participated in the exposure visit arranged by BARCIK where he shared his experiences and knowledge as well as learn ranges of things from the other farmers. He even visited Nepal where he learned the new technique to farm crops throughout the year, particularly farming vegetable using the sacks.
Mothi Ghagra has succeeded in farming 4 verities chili in sacks. He started the farming 3 years ago. He collects sacks and put soil, organic fertilizers and cow dung inside the sacks and transplants chili seeds. This way, he farmed chili in 14 sacks which fulfills his family demands and allows him to sell the surplus in the markets that earns him additional cash.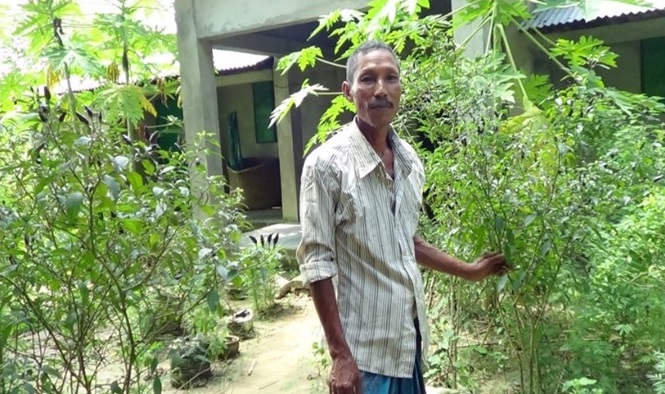 Mothi Ghagra including farming crops in different ways does has a nursery where he plants different vegetable and trees seedlings. Thus, every year he earns BDT 8-10 thousands. He tries to plants different crops fruits seedling so that he could earn more he said. Mothi Ghagra has been using organic manure and pesticides for the last 7 years to nourish the health of the soil and cast away pests. He learns the technique to make organic manure and pesticides from the different institutions and now he tries to replicate the learning he gained. Thus, for the last 2 years he started to sell some of the organic manure and pesticides to other farmers in his locality and this earns him BDT 6 thousands every year. He tries to motivate and advice other farmers to make organic manure and pesticides for using in their crops' field to keep the soil healthy. Thus, this way, he has become very popular among the farmers in his area.
Mothi Ghara always tries to learn new things and his every efforts center round the agriculture. He has a dream to learn the technique of breeding and BARCIK provides him that opportunity. He learns the technique in a workshop arranged by BARCIK where experienced farmers on breeding taught him practically. Thus, gaining the learning he tries to replicate it that enables him to create Hatibanda and Suhag new rice varieties. Now he is trying to develop other varieties crossing the Hatibanda and Suhag.
He loves farming and this leads him to work hard. He farming diverse crops and vegetable every year which fulfill his family demands and enables him selling the surplus in the market. His produces are chemical free and tasty that leads him to sell them very quickly in the market. He advises and helps the other farmers to practice sustainable agriculture and he never gets tired to help other farmers if they come to him for advice and helps. Thus, he is now an ideal farmer at Taranagar village.
Translated by Silvanus Lamin
happy wheels 2