Rasheda Akhter, Manikganj
We often hear this phrase in our own language, in the form of the famous song by Jagoroner Gaan. But the young girls of Basudevpur Government Primary School have made this phrase a literal one. Hailing from Krishnapur Union in Manikganj district, they have proved that if given the chance, they are more than ready to prove their worth.
There was once a time when playtime for girls literally meant musical chairs, sewing, biscuit games and pillow passing. But times have changed. Now, girls are more involved in games previously biased towards men. Entering the fields of football, cricket, volleyball and badminton, girls have proved their merit in the field of athletics by bringing home glory and honor via their respective fields of sports.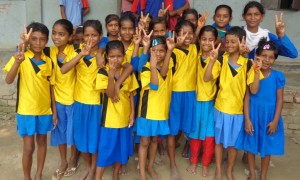 Basudevpur Govt. Primary School has recently formed a 20-member football squad comprising of students form 3rd, 4th and 5th grades. Captained by Khadija Akhter, the team members Suma, Laboni, Suborna, Shirin, Selena, Mohua, Sumaiya, Moina, Fatema, Bithi, Alifa, Parvin, Shirin (2), Mou and Safia are being coached by Sufia Begum and Md. Asaduzzaman Khan. They have taken part in various union, upzila and district tournaments.
On the 10th of May, this school took part in the Bangamata Fazilatunnesa Tournament 2016 against Rajibpur Govt. Primary School. The match, which started at 10 am, rolled on to a tie-breaker where the girls from Basudevpur defeated their opponents by two goals, spreading the message that they can accomplish such achievements too.
When talking to these talented young ladies, we discovered that the reason for their success was primarily because of the unconservative mind-set of their parents. As goal-keeper Safia Akhter put it, "My parents realized my passion for football and they never stopped me. That is why I was able to play". The same tone could be heard resonating from Mohua Akhter, "I am in the field only because my parents encouraged me to be here. If they had not done so, my brother would not be able to bring me here and encourage me play on". Mohua's brother, Md. Saiful Islam seemed remarkably nonchalant about his sister's hobby, "Games are not gender discriminating anymore. I love to cheer my sister on in the football field and feel extremely proud in her achievements."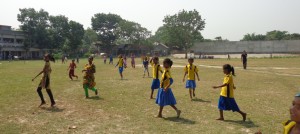 Asking Sufia Begum, she said, "Our girls are not only participating in sports but also in singing and recitation at the upzila and district level. We do not care about the results, it is the effort that we are looking for."
Md. Asaduzzaman Khan provided the same opinions about the progress of his students in the field of sports. "We are not going to exaggerate about the abilities of our girls. In our modern system, they are not scared to approach us and we do not hesitate to share our knowledge with them. Moreover, the support they get from home is tremendous. Their parents' encouragement is instrumental in their progress."
With this in mind, the teachers and students of Basudevpur Govt. Primary School walk down the roads of success towards glory with new dreams and hopes and all we can do is pray that these bright young men and women reach their ultimate destination.
Translated by Adit Narayan Adhikary
happy wheels 2