How a day labor becomes sustainable agriculture's trainer!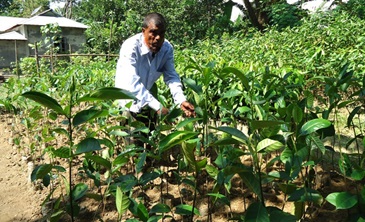 How a day labor becomes sustainable agriculture's trainer!
---
Md. Abdul Motaleb of Kalmankanda under Netrakona district is a successful farmer who produces crops adopting sustainable agriculture. He makes the maximum use of his fallow lands to farm crops and vegetable as well as initiate nursery in an organic way. Farming chemical free vegetable and making nursery has earned him financial solvency as well as respect in the society. BARCIK recently has an exclusive talk with him where he spontaneously speaks up regarding the reason of choosing organic agriculture, his past life, struggle, success, leadership, becoming trainer and future dream. BARCIK representative Gunjon Rema here shares the substances of the exclusive talk with Mr. Motaleb for the viewers of the website-
BARCIK: How are you?
Md. Motaleb: I am fine with the grace of Almighty Allah!
BARCIK: What are you doing now?
Md. Motaleb: I am doing some household works and planting some seedlings in my nursery
BARCIK: We know that you are practicing sustainable agriculture along with making a nursery. How did you get involve to this?
Md. Motaleb: BARCIK made a rice research plot in my land in 2012. They use organic fertilizers and pesticide to nourish the plants in that research plot. BARCIK also assigned me to take care of the research plot. I used quick compost made from earth worms, cow dung, straws and stalks. At the initial stage, I was not confident enough it would produce good yield but the result made me hopeful. Since that I have been adopting sustainable agriculture using organic fertilizers and pesticides. BARCIK also helped me to get training on how to make a nursery that led me to start my own nursery in 2013.
BARCIK: How many years have you been adopting sustainable agriculture?
Md. Motaleb: As I said early, I have been adopting this sort of agriculture since 2012. My main objective is producing safe food for my family as well as for others. I know that chemicals are harmful for soil as they destroy the fertility of the soil and kill benevolent insects and pests. I do not want to destroy the fertility of my soil using chemicals. So, I started to abandon chemicals since that time.
BARCIK: What did you do before adopting sustainable agriculture? And what made you think to leave the previous works?
Md. Motaleb: I worked as day labor and maid from my early life. It was really painful for me to work there as I could never do anything according to my choice. Actually I had no choice there. I was dependent on others. I have some lands which remained fallow but could not manage time to make them productive. I learned that farming organic crops, vegetable and making nursery could ensure my living. Learning that leaving the previous job I started to make the best use of my fallow lands. After one year, I saw, yes I can continue doing this work as I am benefited and independent.
BARCIK: What made you think to adopt organic agriculture where other farmers use chemicals for producing huge yields?
Md. Motaleb: I know that using chemical one can produce good yields for a certain period of time. But using chemicals we destroy the fertility of the soil and chemicals kill many benevolent insects and pests as well. Chemicals also expose negative impact to the environment. Thus, I decided that I will not let my soil to get polluted. I used organic manures and pesticides. I experienced, using the organic manure and pesticide reduces my production cost. It keeps the environment healthy. I thought I have a very small amount of land and if I use chemical to destroy the fertility and health of its soil the consequence will not be good for me in near future. So, I just decided to adopt sustainable agriculture.
 BARCIK: How did you learn to make organic manure and pesticide?
Md. Motaleb: BARCIK staff, particularly agriculturists trained me on how I can make these sorts of fertilizers and pesticides. They made frequent visit to my house so that I can learn this technique for my own good.
BARCIK: What else you are doing now?
Md. Motaleb: I made organic manure and pesticide for using in my lands and I tried to sell the surplus in the market. However, in the initial stage no one was interested to buy them from me. Then I distributed the manure to my fellow farmers with free of cost. After few months, these farmers came to me asking for more and they even wanted to buy them from me. Thus since then, many farmers came to me to buy the manure and pesticides. I also trained some 17 farmers on how they can make these manures and pesticides by themselves. I have formed a committee comprised the farmers who use organic fertilizers and pesticides. We sit every month to discuss about the progress and to encourage other farmers adopting sustainable agriculture. Today, I am also involved as trainer to teach the students in high schools on how they could make manures from the earth worms, straws, wastes and dungs. I have delivered training to the students and teachers of Janata high school, Udoypur high school and Sonnasipara primary school in Kalmakanda so far. I work as trainer of organic agriculture for DSK (Dustha Sastha Kendra). I also provided 30 tree seedlings from nursery to plant in the roadside of the Kalmakanda highway.
BARCIK: Do your family members support you in this regard?
Md. Motaleb: Yes, all my family members support me and they always encourage me to continue doing this sort of good work.
BARCIK: Do any other farmers adopt sustainable agriculture or come to you for advices seeing your success?
Md. Motaleb: Some farmers in the area have started to adopt sustainable agriculture and they make a frequent visit to my house for advices. I always try to encourage them and tell them regarding the benefit of sustainable agriculture. I told them that "If you farm organic crops and vegetable at least you get safe food, the soil of your lands will be healthy, your production cost will be small; you can contribute to ensure safe food for others and make the environment fresh. I also told them that whatever they know and learn from me to share that with other fellow farmers.
BARCIK: Do you get any favor to market your organic produces? If get what are they?
Md. Motaleb: Yes, I get some additional favors. Those who once bought vegetable from me they always wait for my vegetable in the market. When I take my vegetable in the market I can sell all within small span of time. People like and want to consume chemical free vegetable and as they know that I produce vegetable without chemical that is how they prefer to have my vegetable.
BARCIK: Previously you worked as day labor but now you do your own works and benefited. You also get social recognition what is your feeling about it?
Md. Motaleb: Previously no one respects me. I was never invited in any social and religious festival. But today, I am financially solvent and am invited in many social and other events. This is the recognition I get from the society. I can say few words in those events which boost my confidence. Frankly to say, I really feel good now.
BARCIK: What is your future dream?
Md. Motaleb: I have a dream to provide higher education to my daughter so that she could choose her own life and living. I also want to expand my nursery and will make huge availability of fruit tree seedlings rather than wood trees! The production of worm compost is not in accordance with the demand. So I want to initiate a cattle farm so that I can make huge amount of manure to serve the interest and meet the demand of the farmers. If I can initiate the firm, I can get cow dung and milk that will lead me to produce more organic manure and earn additional cash selling milk. I also dream of forming a farmer club where we all farmers can discuss about our problems, share our experience and skills as well as possibility so that we can unitedly contribute to ensuring safe food for ourselves and the population of Bangladesh.
BARCIK: Do you want say few words for other farmers in Bangladesh?
Md. Motaleb: I have nothing to say but would like to request all to practice sustainable agriculture that keeps the soil, the environment and us healthy
BARCIK: Thank you very much for your time
Md. Motaleb: Thank you too.
happy wheels 2