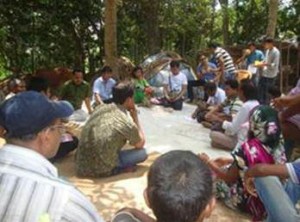 Farmers seed banks and the experience gathered
---
Md. Zillur Rahman
An exclusive programme organised by non-government organization BARCIK had members setting off to Burundi in Mankganj upzila on the 23rd April, 2016. Participants for this unique interaction with the farmers of the area included high ranking officials from 15 organizations all around the nation such as ALRD (Association for Land Reform and Development). Hailing from different corners of the country, members and the farmers' union all gathered together in an effort to gather new experience in seed banks as well as inspection and observation of the new research in crop cultivation.
The very origin of crops are seeds. Seed quality ultimately determines the quality of crops cultivated in the fields. From old times, preservation of seeds served only the purpose of farmers of the land. However, since 1960, control of seeds shifted to the hands of various multi-national companies. Even though, these seeds were distributed free of cost at first, the increasing demands and number of farmers turned seeds into a highly profitable commodity. Farmers became consumers and their lands were exposed to damage. This marketing of seeds has been continuing ever since and has caused farmers to cultivate one type of crops in their farms, leading to a decline in land fertility. As a result, farmers' unions are being set up to finance new crop research and preserve seed banks for their respective requirements.
The Seed Bank
Observing the activities in Burundi, the visitors started off by inspecting the seed banks, which contains 152 species of crops, 59 kinds of vegetables cereals, spices, oil, jute and almost 5 kinds of organic pesticides. Exchange of seeds and information on these species are instantaneous, thereby easing preservation. Participants witnessed and extracted information regarding the process of seed management, production, fertility and freshness and exchange. According to one committee member Goshai Das, farmers cultivate according to their needs. This not only meets family requirements, but also produces a vital income source in exchange of selling the remaining crops. All these crops are cultivated organically and the seeds then preserved. In order to preserve these seeds properly, selection of the host tree or fruit is always important. These ripe fruits are dried in the sun for a continuous 3 to 4 days, from 10 am to 1 pm regularly. They are then cooled and washed. Afterwards, they are mixed with the barks of neem trees and put in an airtight container for the next season for preservation.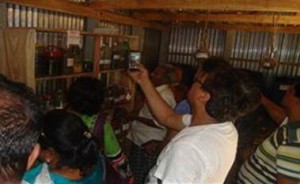 The seeds are distributed for free among the members of the seed bank and surrounding villagers. Byodonath Sarkar of the seed bank says, "This union was created to serve the needs of local farmers. The seeds are open to anyone who need them, their quality is always monitored by a trusted source, they are not open to marketing and can be easily recovered or repurchased following any natural disaster. Even the finance of this bank has been provided by the members and farmers, along with valuable contribution by BARCIK. The seed bank is managed by a 5-member committee that holds a meeting every two months to make sure every member carries out their respective duties sincerely." According to General Secretary of the seed bank management committee Sushil Roy, all varieties of seeds are grown in the fields, by one farmer or another. If the seeds belonging to any farmer are damaged, others of the same species are preserved from other farmers growing the same crops, and so farmers can always extract seeds of high quality from the seed bank.
Rice Research
The two main rice crops cultivated in Manikganj are the aman and boro species. However, water scarcity, pests, droughts, adverse weather with hail and lack of high quality seeds makes it very difficult for mass farming in the area, increasing production costs. This is why, farmers along with BARCIK are researching vastly on seeds which can adapt with the environmental conditions and land quality in the fields. The visitors observed all these research processes quite closely, gathering new knowledge in the field of agriculture. As explained by Bodyonath Sarkar, the present varieties of rice grown in the area are only the Bridhan-28 and Bridhan-29. Boro rice is cultivated after mustard but the production and cultivation costs are very high, hindering mass production of the crop. No species of boro had been yet discovered that is resistant to most pests, adaptable to extreme conditions and yet cheap to produce. The bhaoilya crop grown has very little produce and therefore causes more loss than profit. The situation becomes even more ominous in the rainy season when floods wash away the crops and the produce becomes almost negligible. To counter all these problems, farmers and BARCIK members alike have joined hands to research into new varieties of crops to find a solution.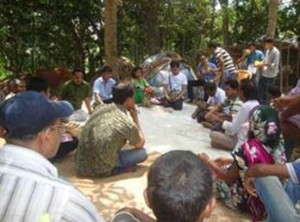 So far, 8 kinds of crops have been found which counteracts these problems- kaishyabini, makbul, rajbhog, begunbichi, chinigura, aamshayl, molladigha and hijaldigha. Seeds compatible with the land and conditions in Manikganj are collected from farming areas all round the country and carefully preserved and then grown organically. When they are ripe, farmers select their own seeds in a festival held annually. The farmer then cultivates the crops and extracts the seeds which are then submitted to the seed bank for further use and preservation. Pankaj Biswas is among the many farmers who have benefited vastly from this programme. He had also attended a agricultural workshop arranged by BARCIK in Thakurgaon, directed by Mr. Bong Kaiban. taking their help, Pankaj had tried his luck with three different rice seeds and had struck gold on his very first try. He now owns seven lines himself and is currently trying to cross-produce kalamanik with the Bridhan-29 for a new and longer sustainable crop. BARCIK coordinator Syed Ali Biswas and ABM Touhidul Alam provided transparent information on the activities carried out by their organization and the farmers' union. They also gave insight about Bodyonath's intentions regarding the seed bank and his beliefs on the farming infrastructure, education and health. Visitors also expressed the value of exchanging priceless information about the upcoming research into rice cultivation and the invaluable seed bank.
Translated by Adit Narayan Adhikary
happy wheels 2